Ask the experts
Here is a selection of Q&As from Your Cheshire & Merseyside Wedding magazine. If you would like your question answered by our experts, please email it to editor@yourcheshiremerseyside.wedding.
To view more Q&A's on a different topic, please select one from the list below.
Hot topic: Big-day themes
Local pros solve your problems
---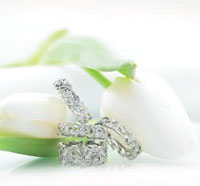 Ringing the changes
Q. We're having a retro-inspired day as I love all things vintage. For our wedding bands, what styles would be a nod to the era that I love?
A. Sara Hignet says: True vintage rings must be more than one hundred years old, but there's such a growing demand for such beautiful pieces that modern wedding bands in the vintage-style are becoming increasingly popular.

The most common characteristics in vintage bands are millgrain detailing, where tiny beads of metal follow the edges of the ring, floral engraving and pave diamond settings. Art Deco, Victorian and Etruscan are a few popular styles for you to choose from, each offering an elegant yet unusual design. Etruscan-style jewellery has a smooth surface with a lace-like filigree design or patterns composed of tiny granules of gold. Tending to be thick, the bands intricate detail makes them stand out.

When shopping for a ring, think elaborate but balanced. Designs featuring rubies, sapphire and emeralds were particularly popular at the time, which is an option to keep in mind. Larger diamonds were a thing of rarity in Victorian times, clustered diamond rings, or coloured stones and large pearls surrounded by small diamonds were popular, so you'll find these designs in Victorian-inspired rings.
---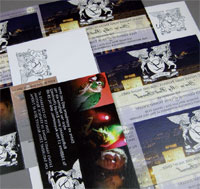 Say it with stationery
Q. Our big-day theme is reflecting our love of music, and we'd really like to get creative with our invitations. What could we send to our guests to give them a feel of the day?
A. Ling Warlow says: At Dragonfly Couture we love a good theme to get our teeth into! There are some obvious suggestions such as incorporating musical staves and notes into the invitation design. We have chequebook-style invitations which can include custom printed tissue interleaves. Why not have the sheet music of your favourite song printed on to the tissue paper? A lovely subtle touch.

A recent invitation I designed for a '50s-obsessed couple included the sheet music for That's Amore. However, I always advise couples to think outside of the box. We've produced festival-style tickets and circular invitations designed to look like records before, but why not take it one step further and use a CD as your invitation? The wedding details are printed onto a disc, perhaps with your favourite tracks on, pop it into a cardboard sleeve with your cover design and there you have a creative invitation with a highly personal touch, reflecting your love of music! This could easily be done at home, if you can't print directly onto the disc you can buy printable CD labels. If not, we're always here ready to create a custom design just for you!
---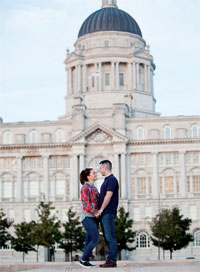 Snap shot
Q. My hubby-to-be and I love Liverpool and we're very much in to our retro culture and music. How could we channel this into a fun pre-wed engagement shoot?
A. Kevin Brown says: We always ask plenty of questions prior to our engagement shoots, mainly to get a feel for the style that our couples are looking for. We always include a pre wedding shoot in all our packages, to us it's a really important part of the whole wedding experience. The pre-wedding shoot is a great opportunity for photographers to get to know couples and make them feel comfortable in front of the camera, as not everyone likes having their photograph taken. Many couples say the pre-wed shoot was fun and made them feel more at ease with the camera on their wedding day.

The opportunity to dress up a bit and play up for the camera helps us produce some lovely, keepsake shots. For a couple into their retro music it would all depend on who their favourite artists are and then maybe dressing accordingly, within reason. The Pier Head, Liverpool is the perfect place for a shoot with a musical theme, with Liverpool being at the heart of some fantastic groups and artists over the last fifty years.
---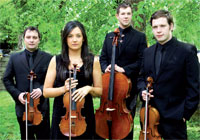 Must be the music
Q. Our theme is a mixture of styles, quite traditional with contemporary twists. I'd love to hire a classical string group, but how versatile would that be with regards to repertoire if we wanted some modern songs too?
A. Nikolas Gjylaci says: Today's string quartets hold a diverse repertoire and they're not only equipped with classical music but also have arrangements of jazz and modern pop tunes too. Every professional quartet should be able to adapt and arrange any contemporary tune you might require for your special day.

After finding the string quartet you like, I'd suggest browsing through their song list page as they may already hold the piece you require. If not, then before booking your group, ask them if they can accommodate new pieces. You may wonder: "Is my piece going to sound nice once arranged?" My answer would be that it all depends on the group. If you hire professionals, then you shouldn't worry. Each professional group hires a professional arranger and they do the job to an exceptional standard and it doesn't cost you any money. While on the other hand, if you hire semi-pro's they may not be able to accommodate the request or, if they do, then there's a chance that it wouldn't sound as you've envisaged.

How do you book a professional string quartet? There are plenty of answers to that but the shortest two are: check they display videos online of themselves playing, and make sure the price is between £500 and £600 for two-hours. Any less then that you'd be hiring semi-professionals as they're relatively cheaper.
---
Contact our experts...

Kevin Brown
Photographer

Ling Warlow
Stationery designer

Nikolas Gjylaci
Musician

Sara Hignet
Jewellery specialist
---