Ask the experts
Here is a selection of Q&As from Your Cheshire & Merseyside Wedding magazine. If you would like your question answered by our experts, please email it to editor@yourcheshiremerseyside.wedding.
To view more Q&A's on a different topic, please select one from the list below.
Hot topic: Breaking traditions
Local pros solve your problems
---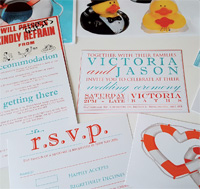 Interesting invites
Q. My hubby-to-be and I are quite cool and funky – we'd say – but we're struggling to find a modern and fun invite design. What do you suggest we could opt for that would be informative but reflective of our personalities?
A. Claire Purcell says: If you're having trouble finding wedding stationery to suit your style and personalities it's worth seeking the help of a designer. They can create something modern and fun using cool fonts and colours while making the invitations informative for your guests.

If you just want to keep the invite simple yet stylish, consider making a wedding website that your guests can use to find all the information they need such as maps, hotels, gift lists, etc.

At Design the Day we recently created a stationery suite for a very stylish couple getting married at Victoria Baths. The couple wanted to incorporate the history and colours of the venue and have a bit of fun with the 'swimming' theme. We opted for a variety of trendy fonts in bright colours, information and RSVP cards with fun illustrations on the back, all neatly packaged in a pocket wallet tied with red and white striped ribbon. The on-the-day stationery included personalised rubber ducks for place names and we even created a watercolour painting from a picture of the couple as a thank you card!

You can use your wedding stationery as a great way to reflect your personalities and style and it can also set the scene perfectly for your special day.
---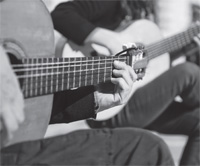 Acoustic ambience
Q. We love live music so this is a must for our ceremony, however my hubby-tobe and I aren't keen on the traditional classical numbers. What could we opt for to incorporate our love of live musicians but with a more contemporary feel?
A. Trevor Jones says: Choosing to have a live musician perform at your wedding creates both a visual and atmospheric effect that makes a big difference to proceedings; helping to make it a day to remember and adding a touch of class to the occasion.

When you're looking for your supplier, enquire whether they not only play traditional wedding ceremony music such as Wagner's The Wedding March and Pachelbel's Canon in D, but do they also have the experience to take specific music requests from the bride and groom and arrange these specifically for your day?

This will give you the opportunity to incorporate more contemporary music, thus making your ceremony extra special by combining the traditional, romantic sound of the classical instruments with a more contemporary repertoire.
---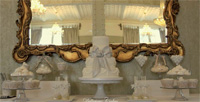 Sweets for my sweet
Q. My hubby-to-be and I aren't very traditional and definitely both have a sweet tooth. What could we offer our guests instead of the traditional tiered wedding cake?
A. Kate Kane says: There are no rules that say you can only cut into one cake at your reception. A perfect option for you both would be a dessert table – a wow-factor display of tasty treats.

With so many delicious things to choose from including tiered cakes, mini cakes, cupcakes, cake pops, cookie pops, mallow pops, mini meringues and jars of sweets, there truly would be something for everyone. You can design your dessert table to suit your colour scheme or theme of your wedding.
---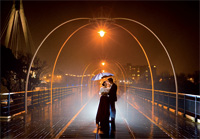 Modern matrimony
Q. Many photographers claim they have a contemporary style and we're really keen to avoid traditional set-up shots. What key qualities should we look for in a photographer if we're after a modern-looking album and photos?
A. Matthew Rycraft says: The key qualities to look for in a photographer when wanting a modern-looking album:
I believe it's important not to completely avoid having wedding photographs that are 'set-up' but to find a photographer that can embrace it in a unique style making them look natural and creative. You'd be surprised how many shots don't look like they've been 'set-up' but in fact are, then with a little finesse don't look traditional but artistic and creative.
Having the ability to direct certain photographs of the day and then evoking emotion is a great quality for this type of photographer to have. Capturing natural and exciting moments at the right time is what makes the photograph look real – which it is, the reaction is real, however, in some cases this need to be created. Then by adding artistic composition, by framing, reflections, shooting through objects or by using lighting techniques, a contemporary style is created. A photographer should be able to think outside the box to move away from the 'traditional' wedding image.
I believe your photographer should shoot with the album in mind should you want it to be modern. There needs to be some sort of structure of the day for the wedding story to be told in an album. Without this, parts of the day may be missing. It's integral to tell the full story and sometimes this needs to be created, or 'set-up'. So having the ability to still shoot traditional but creatively, is a key quality to have.
Traditional wedding photographs need not be boring with the perfect blend of emotion, creativity and great use of lighting.
---
Contact our experts...

Claire Purcell
Stationer

Kate Kane
Cake maker

Matthew Rycraft
Photography

Trevor Jones
Guitarist
---