Ask the experts
Here is a selection of Q&As from Your Cheshire & Merseyside Wedding magazine. If you would like your question answered by our experts, please email it to editor@yourcheshiremerseyside.wedding.
To view more Q&A's on a different topic, please select one from the list below.
Hot topic: Al fresco weddings
Our local pros solve your problems
---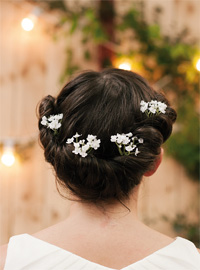 Boho beauty
Q. We're tying the knot outside and I'm wearing a boho-style dress but I'm unsure of how to accessorise it. Can you help?
A. Rebecca Kwiatkowski says: I'm a little biased but I always think the perfect accessory for a bohemian bride is to wear flowers in her hair. Whether it be real, silk or dried, there are so many ways to incorporate blooms into your wedding hair style.

Get a whimsical look by wearing your tresses in loose waves and finish with a delicate floral crown or, for an understated look, add a flower comb or clip into an up do. For a truly decadent boho look weave an intricate flower garland into a plaited style.

If you want to match flowers to your bouquet or centrepieces, choose real blooms and do your homework first. Many varieties will wilt in a matter of hours, so choose those that will have a longer life span out of water. Silk flowers benefit from staying perfect all day long and with a huge range available out there, you'll be able to find the perfect match.
---
Sweet symphony
Q. We love acoustic music and would like to have a string quartet play within the grounds of our venue – where we're hosting our al fresco drinks reception. What do we have to consider?
A. Nikolas Gjylaci says: Live acoustic music is a great choice for weddings, whether it's for the ceremony, reception drinks or the wedding breakfast. A string quartet is the most preferred group because of its versatile combination of instruments and gentle acoustic timbre.

A couple of usual requirements you should bear in mind would be four armless chairs where possible, a space of 3x2metres (they usually set up in a half circle), wooden string instruments must stay under shade and away from direct sunlight as it may cause damage to them. Usually under natural shade is fine or a gazebo (3x2metre) would suffice.

Most string quartets are now equipped with a range of musical genres to suit every occasion and will definitely add a touch of class to your al fresco day.
---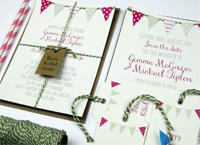 Be inspired
Q. We want our guests to get a feel for our al fresco nuptials from our invitation. It's going to be a very relaxed day, taking place in tipis with a festival vibe. Although it's a summer's day we want to avoid floral motifs – help!
A. Ling Warlow says: It sounds like a fabulous way to celebrate your nuptials. There are so many options available these days; for a relaxed vibe why not consider having your invitation printed on something other than paper such as wood or even fabric? Floral motifs are everywhere but if you look hard you'll find lots of great invitation designs focusing on typography – imagine a poster invite for the best music festival ever! Ticket-style invites also work really well for this kind of event, as does the watercolour trend.

But, if you prefer a look with a little bit more going on, nothing makes people smile like bunting, it's always a winner. Whatever you decide, relax and enjoy choosing your stationery, there's never been such a wealth of creativity on offer as there is today. Here are a few images from Dragonfly Couture Stationery to inspire you.
---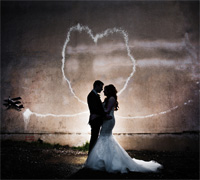 Brilliant backdrops
Q. We love our urban venue, although it doesn't have much in the way of outside grounds. If we have glorious weather, we'd like to make the most of it by travelling from our venue to some local beauty hot-spots for our bride and groom shots. Do you recommend this and is it logistically possible?
A. Matthew Rycraft says: Absolutely, I'd always recommend visiting some local locations that mean something, we've even scheduled this in when the venue has lovely grounds.

Places like; where you got engaged, a local park you visited as a couple, local architecture that means something to your heritage such as the Liver Building in Liverpool. Logistically speaking, there shouldn't be any issues as most photographers will be driving, so choose locations relatively close by with parking facilities and they'll just drive ahead and wait for you. We have, on occasions, headed straight to the venue, parked and jumped in the wedding car to visit some beauty spots, this can make moving to a few locations easier and quicker.

It's always best to choose a local photographer with good knowledge of the area and the venue; who's also used to travelling between venues with limited time. This is a good way of making sure you make the most of the best locations around the venue at a good speed so you don't miss too much of your wedding.

A schedule of the day is incredibly important; we sit down with every client beforehand to make sure we have the time for the photography but also make sure you have enough time to enjoy your wedding day. It's always best to chat to your photographer about schedules before you visit the venue for the final rundown as the venue will need to know when to expect you to plan for the wedding breakfast.
---
Contact our experts...

Ling Warlow
Stationery designer

Matthew Rycraft
Photography

Nikolas Gjylaci
Musician

Rebecca Kwiatkowski
Accessories designer
---