Ask the experts
Here is a selection of Q&As from Your Cheshire & Merseyside Wedding magazine. If you would like your question answered by our experts, please email it to editor@yourcheshiremerseyside.wedding.
To view more Q&A's on a different topic, please select one from the list below.
Hot topic: Winter weddings
Our local pros solve your problems
---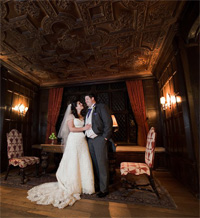 Shooting indoors
Q. For our December nuptials, if the weather is dark and miserable we're worried about the photography. How can we rest assured we'll have an album we love?
A. Kevin Brown says: Winter weddings can be quite challenging especially as the days tend to darken quite quickly after 3pm, more so when the weather's overcast. Usually this means photographers tend to use their lighting kit more and this can make us more creative, even on rainy days we can achieve stunning effects.

Balancing the light indoors skilfully results in some very dreamy effects giving all the lovely twinkly lights in the background, candles always look fantastic, and we end up with a set of very vibrant and colourful images, especially around Christmas time, which can look quite magical in an album.

If possible, try and make the ceremony no later than 1pm if you're hoping for some outside shots, it's not a problem for us it just gives us a few more choices. We've shot winter weddings before where there's been crisp blue skies and a nice sunset captured before the wedding breakfast!

Finally, when choosing your photographer ask to see examples of weddings shot in the winter months.
---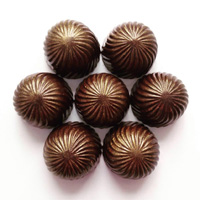 Delicious dining
Q. For our winter nuptials we want a wedding cake and a dessert table. What festive flavours and treats should we opt for to reflect the season?
A. Kate Johnson says: Winter is the perfect time to indulge, so a wedding cake and desert table is an opportunity to really spoil your guests! A stunning tiered chocolate cake makes a beautiful winter centrepiece. Try a rich dark chocolate sponge and bring in your favourite flavours in frosting or ganache. A different flavour combination for each tier gives lots of options – whether it's rum and raisin, chocolate orange or salted caramel. The cake could be presented with a natural finish such as drip cakes or with exquisite chocolate decoration to give a glamorous effect.

A beautiful petits fours selection works well for an evening party. These bite-sized treats gives guests lighter options to try and pair well with winter cocktails.

Macarons in pale, icy hues and lots of sparkle can be flavoured to match your favourite tipples – try gin and tonic, prosecco or cosmopolitan!

Handmade chocolates also make brilliant petits fours – they aren't just for favour boxes – a mixture of white, milk and dark chocolates caters for all tastes. Plate them up on glass cake stands and watch your guests indulge themselves – just make sure there are some left for you!
---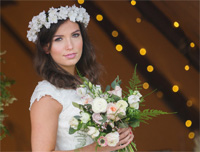 Festive blooms
Q. I'd love to wear a flower crown, is it appropriate for winter weddings?
A. Rebecca Kwiatkowski says: Flower crowns are no longer just for summer and can definitely work for winter weddings. If you're planning a rustic feel to your wedding an autumnal flower crown or hair comb is perfect to add a pop of colour into your hair accessories.

Our autumn and winter 2016 collection features a huge range of seasonal blooms, succulents and berries to finish off any boho look.
---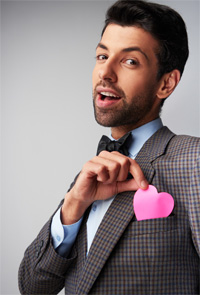 Suited and booted
Q. What suit should my hubby-to-be choose for our December big day?
A. Danielle Harvey says: Of course, for traditionalists you can go all out with the tail suits as your groom-to-be won't get hot with the shirt, waistcoat, tailcoat, and top hat ensemble.

However, for those on-trend couples, tweed-style suits are big this winter. With a favourite of colour combinations and patterns, there's suit to fit all tastes. Finished off with a buttonhole of berries, or thistle, this look really has the winter wow factor.
---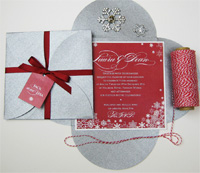 You're invited
Q. We're having a real festive wedding, holly, baubles and mulled wine galore. What can we do with our invites so they really have the wow factor for guests.
A. Ling Warlow says: Oooh that sounds so nice, you really do need your invites to convey the right atmosphere don't you?! I'd be to go all-out on the festive theme, but in a stylish way. Not too many colours, and try and avoid having red and green together – but beyond that, there's so much you can do!

If you want something really different, there are companies out there that can print baubles – why not send a bauble in a box? For a more traditional invite, snowflakes are always a stylish way of getting a Christmas vibe across, and pairing white snowflakes with coloured backgrounds works really well – try having a little crystal in the centre of the snowflake for a festive effect. Tying the invitation up like a parcel and adding a personalised label for guests is another great touch. Finally, a lovely way of combining festive elements without going overboard on colours is having the colours peeking through cut outs – see how the gold peeks through the cut out in the deep burgundy pocket? We've added a nice red ribbon on this one and it just screams mulled wine and Christmassy wedding cake – gorgeous!
---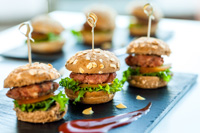 Big-day menus
Q. We're tying the knot in January, but we're avoiding festive schemes and are having a retro-themed day, (think Grease,) what style of food do you suggest we offer our big-day guests as we still want it to taste divine and look amazing?
A. Darren Wynn says: "A retro-themed wedding day means that you can really go all-out with your theme. It's sure to delight both your wedding party and guests by offering a great sense of novelty and nostalgia.

I'd recommend going down the classic American diner route when designing your menu – think mini corn dogs for canapés and burgers served with traditional skinny fries for mains. This type of dining doesn't have to be too simple and straight-forward, as if you want to go for something more opulent you could try swapping your traditional beefburgers for meats such as sirloin steak or lamb served in creative dishes, for example burger baskets or even vinyl record bowls. This style of serving is also a quirky way to complement your aptly themed tables.

To add a refreshing twist to simply serving wine, go for mini bottles of alcoholic sodas presented with colourful retro striped straws. These would be perfectly accompanied by popping candy cupcakes, ideal for those with a sweet tooth, and you could even offer them to your guests as take home treats or favours.

Seeing as though your theme ties in with the movies, why not serve up mini tubs or bags of popcorn for snacks in-between drinking and dancing?

Not only is this style of eating delicious, the relaxed approached will ensure that there is something for everybody to enjoy, add the element of sharing and offer memories that will last long after your wedding day has passed. Grease really is the word!
---
Contact our experts...
Danielle Harvey
Features editor

Darren Wynn
Caterer

Kate Johnson
Chocolatier

Kevin Brown
Photographer

Ling Warlow
Stationery designer

Rebecca Kwiatkowski
Accessories designer
---