Ask the experts
Here is a selection of Q&As from Your Cheshire & Merseyside Wedding magazine. If you would like your question answered by our experts, please email it to editor@yourcheshiremerseyside.wedding.
To view more Q&A's on a different topic, please select one from the list below.
Hot topic: Themed weddings
Our local pros solve your problems
---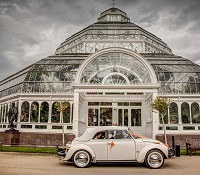 Inside out
Q. We'd like an al fresco wedding reflecting our love of the outdoors, however we're concerned about the weather. Should all venues offer a contingency plan?
A. Rosemary Sorrell says: No matter where you decide to tie the knot, you can never guarantee the weather. With that in mind, any venue must provide a contingency plan.

Depending upon time constraints of the course of your day, it could be a case of postponing your al fresco ceremony by 15 minutes to one hour while the shower passes, or you could relocate to somewhere else on site that's undercover or indoors.

If the weather conditions continue to be gloomy after the ceremony, the venue should offer an alternative space that meets the capacity of your guests, meaning that staff members must be prepared for Plan B and turn the room around fast and effectively with minimal hassle.

Emergency umbrellas are a must for both the bridal party and guests; not only to keep dry but large white umbrellas make for a pretty picture too, especially when photographers capture dramatic artistic shots of the bride and groom huddled together surrounded by water droplets.

Here at Sefton Park Palm House we're very lucky to ultimately showcase the outdoors inside. As a Grade ll* listed Victorian glasshouse, which is home to an impressive plant collection, we offer the feel of a garden wedding without any cause for concern when it comes to bad weather.
---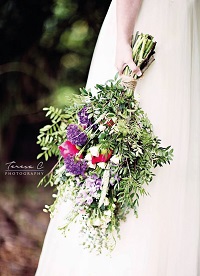 Floral dilemma
Q. We're tying the knot in February and having a Valentine's-themed day. I'd love beautiful romantic blooms, but it's n expensive month for flowers as it is, what do you suggest that won't cost the earth at this time of year?
A. Jenny Armstrong says: Winter weddings can be truly magical – there's something so romantic about a bride wearing a fur stole on a snowy day!

Flowers always make weddings extra special and choosing blooms that are in season is the best way to go, not only cost wise but also for your wedding photographs, when you look back at your wedding album you want to remember the time of year you got married.

Here are three suggestions that could work:

♥ Early spring flowers such as tulips and hyacinths are available from January and can be cost-effective, soft shades of blue and pink mixed with white would be very pretty.
♥ Red roses would be a romantic choice, although they're expensive you could add a purple lissi and hypericum berries to cut down on the amount of roses needed and also create a dramatic winter colour pallet.
♥ If your budget is really tight, think about using minimal flowers but masses of foliage with different textures and colours to create a boho effect.
---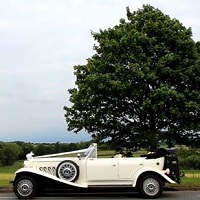 Drive of your life
Q. We're having a fairytale-themed big day at Leasowe Castle; what transport suggestions do you have that epitome romance?
A. Janet Boyle says: The beautifully built 1930s-style Beauford in Olde English White oozes charm and elegance of times gone by. With a classic white leather interior and wood trim, she's guaranteed to draw attention. Beautiful and romantic in all seasons, with the opportunity to have the roof up or down given the weather, it's simply a stunning car.
---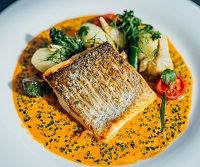 Travel plans
Q. My fiance and I have spent the summer travelling around Europe, and would love to show this in our big-day menu. What could we offer our guests to give them a feel of the different places we've been?
A. Danielle Youds says: For me, Europe has always represented simplicity and showing off wonderful produce that's been cultivated with love – it's about great ingredients! I'd consider an antipasti menu to start, comprising wonderful olives and charcuterie such as Serrano ham, Chorizo Iberico and Salchichon, paired with European cheeses like Manchego, Taleggio and Brie de Meaux. All of which are traditionally served with Sunblushed Tomorosso, extra virgin olive oils and artisan breads – highlighting the skill in the production rather than in the cooking.

Nowadays, there are many fantastic producers offering British versions of European favourites, take cold-pressed mutton and Cumberland slicing sausage for instance. This quirky British twist is ideal for couples wanting to appeal to more traditional families.

Europeans like to celebrate mealtimes and breaking bread together, so I'd suggest a main served family-style. A roasted joint of lamb or suckling pig with sides including herb polenta, roasted Mediterranean vegetables and assorted potatoes is a great main course example. Sides could be served to share around the tables and be accompanied by a variety of 'nana's homemade sauces' passed down through the generations, or at least something that tastes like them.

Cheese is the preferred option to follow dinner, but for couples with a sweet tooth, they could celebrate the liqueurs of Europe with tempting treats such as Limoncello cheesecake or Amaretto profiteroles.

All in all, the emphasis should be on family time at dinner with something slow and leisurely that celebrates both the meal and the notable occasion – it's not something to rush through to get to the dancing!
---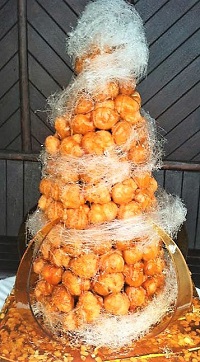 Tiers of joy
Q. We wanted to avoid the typical roses and hearts when it comes to our wedding cake creation. What design elements would you go for to create a romantic showstopper?
A. Rupert Worden says: A tower of cheese may not be the first thing that comes into a wedding couple's mind, or even that of the guests, but wedding cakes have come a long way from the days of vanilla or chocolate. Couples today are entering the realm of personalisation, because so much is possible; and yes, you can be inspired from the unlikeliest of avenues when it comes to your wedding cake.

If there's one thing that can be guaranteed, it's that the wedding cake makes the list for one of the most anticipated elements of the day, and we've seen over the last year some brilliant requests, and equally met the challenge.

Are you fan of pancakes? Macaroons? Truffles? We understand that not every marriage is the same, no two couples alike, no wedding cake an equal or identical to the previous or the next. We love how flavours, choice and a passionate understanding of what people want, and challenge our pastry chefs to come out with creations that make the final main dish something truly bespoke.

Have you ever considered a cupcake tower? The thought may throw you a little, but think, two distinct cupcake flavours couldn't better express the different personalities of the people getting married that day. Think of what it is you love about sweet or savoury flavours, how that matches your menu and how today to put your own take on it; love is personal and your wedding cake should be too!
---
Contact our experts...

Danielle Youds
General manager at Fonseca's

Janet Boyle
Central Wedding Cars

Jenny Armstrong
Florist
Rosemary Sorrell
Senior Events Manager

Rupert Worden
Director at The Fine Dining Company
---