Ask the experts
Here is a selection of Q&As from Your Cheshire & Merseyside Wedding magazine. If you would like your question answered by our experts, please email it to editor@yourcheshiremerseyside.wedding.
To view more Q&A's on a different topic, please select one from the list below.
Hot topic: Al Fresco Weddings
Our local pros solve your problems.
---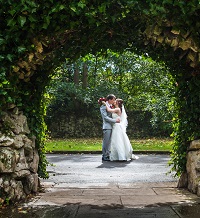 Back to nature
Q. We love our wedding venue, but there's not much in the way of outside space. If the weather's nice, how easy would it be to pop to the local park for some photographs?
A. Graham Moreton says: The idea of getting married at your dream wedding venue should definitely not be ruined by the amount of outdoor space available.

As an experienced professional wedding photographer I've photographed at a variety of venues, from country houses with acres of land to small backyard marquee weddings and achieved the same stunning results! It's down to planning, lighting, a spark of creativity and trusting your wedding photographer.

I meet all my couples at the venue at least a month before the day to chat over photograph ideas, wet weather plans and the timings for the day. This preparation allows us, if necessary, to schedule in venturing to a local beauty spot to capture bridal and newlywed images.

Making sure you have an allocated wedding day car to take you to your chosen photograph location should be next on the agenda!
---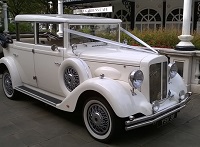 Period romance
Q. For our summer wedding we're banking on great weather so we can opt for an open-top car. Our theme has a slight nod towards the Art Deco period – what vehicle do you suggest?
A. Janet Boyle says: We love the Regent, it's perfect for this period as it's a 1920s-style vehicle oozing elegance and charm. The six-seater Regent car has a half-drop landaulet-style roof and spare wheels on each side – adding extra character to this already beautiful vehicle.

We're often asked for this car by those wanting something to suit a Great Gatsby-themed wedding, and it can be either the lead car, or follow as your second vehicle. Either way, you can be sure to turn heads when you arrive, it's extremely photogenic and attracts attention – and rightly so!
---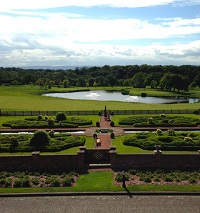 Bringing the outside in
Q. We'd like to have our ceremony and reception outside, but should the weather not allow for this, what contingency plan should the venue put in place to ensure our day runs smoothly?
A. Maddie Ellis says: Any venue you choose with outdoor facilities should be able to offer an alternative location if the weather decides to take a turn on your special day. At Carden Park, if our couples request an outdoor ceremony in our gazebo with a champagne reception, we'll always set up an alternative area inside so that it's available at short notice.

We'll check the latest weather report and discuss which area the couple would prefer to use and make our recommendations before the celebration starts.
---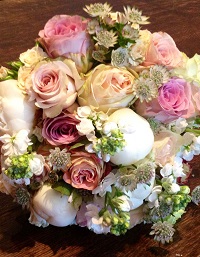 Summer scents
Q. For our summer wedding, we're having a pastel colour scheme. What flowers will be in season to complement our chosen colour palette?
A. Jenny Armstrong says: For summer weddings there's so much choice when it comes to flowers and a pastel theme is perfect. I'd suggest using lots of blooms with different textures and scents, I truly believe that flowers can make a wedding so try not to cut costs here.

A favourite flower of so many brides is the beautiful peony, not the cheapest available but when it's in season it's an absolute must for any bridal bouquet. The scent is just gorgeous and whenever you buy them it will forever remind you of your special day – for a pastel pink hue, choose the Shirley Temple variety. Mix these with English stocks in lilac, pink or cream, sweet peas, garden roses and hydrangeas, and you've got your perfect palette.

Hydrangeas are great for centrepieces and when in season they can be huge! They're available in lots of pastel colours such as pink, blue and lilac, even something as simple as five in a vase can look stunning and really create a summery feel. If your budget allows, tall vases with hydrangeas, peonies and roses would look amazing and fill the room with the wonderful fragrance of a summer garden.
---
Contact our experts...
Graham Moreton
Photographer
Janet Boyle
Central Wedding Cars
Maddie Ellis
Wedding Co-ordinator
---