Ask the experts
Here is a selection of Q&As from Your Cheshire & Merseyside Wedding magazine. If you would like your question answered by our experts, please email it to editor@yourcheshiremerseyside.wedding.
To view more Q&A's on a different topic, please select one from the list below.
Hot topic: Wedding dilemmas
Our experts solve your wedding dilemmas
---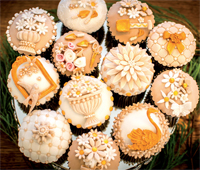 Let them eat cake!
Q. We're holding our summer nuptials outside, and then retreating to an open-sided marquee; what should we bear in mind when choosing our wedding cake?
A. Jessica Kemp says: The cake is such an iconic centrepiece at a reception, the decision shouldn't be taken lightly. The design of your big-day bake should match the theme, and colour scheme. If your wedding is outdoors, consider a garden-themed cake. It's the perfect opportunity to introduce gorgeous traditionally British summer flavours.

Should it be a hot day, I'd definitely keep away from meringue, buttercream and whipped cream as they'll melt – your best option would be a fondant-covered creation.

When it comes to flavours around this season try vanilla sponge with a strawberry or raspberry jam filling, lemon cake with lemon curd, pink champagne, or chocolate cake for the all the chocoholics out there. The most important thing is to make sure both of your favourite flavours are incorporated in to one of the tiers!

Consider small servings; in the hotter weather people have the tendency to eat less, so cupcakes are a great option – the perfect bite-size sugar rush!

Nature is one of the things you have no control over, so we need to embrace it and have a contingency plan, this isn't pessimistic, just realistic. Prepare a basket with brollies that will keep your guests dry, but more importantly a canopy to protect your cake and buffet.
---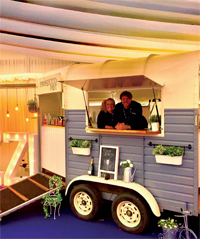 Bottoms up!
Q. We'd like to give our guests something to enjoy at our al fresco reception while we're having our couple portraits taken. What interactive ideas will get our guests mingling?
A. Dan Wheatcroft says: It's the question every couple asks themselves when organising a wedding, 'How can we entertain our guests while we're having our photos taken?' and there's loads of great ideas out there depending on your theme.

Should your day have a quirky vibe, then lawn games such as boules are brilliant fun alongside a picnic for an hour or so.

Then there's always a photo booth and a whole host of entertainers you could hire to serenade and entertain loved ones.

If you're having a more traditional wedding, then drinks and canapés are always a winner. You could even have a little prosecco van pouring fizz or, if you're feeling extravagant, a champagne fountain! Here at The Prosecco Pot, we serve everybody's favourite fizz on tap in a vintage-style horse box; we can even turn the taps round so that guests can serve themselves, which we've found very popular. We can also lay out our cocktail making kit so guests can create their own bubbly cocktails and pimp their prosecco.
---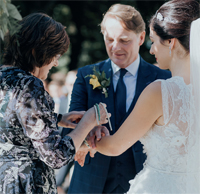 I do!
Q. The type of wedding we want isn't suited to an official ceremonial procedure, what alternative ways are there to tie the knot?
A. Sue Williamson says: It could be that you want to get married in the same spot as your proposal, or your first picnic together, or another location that has special meaning. Imagine the romance of your wedding ceremony in the woods amongst the bluebells, on a beach, on a mountain top or even in your own garden!

If you have both decided to get married in a church – that's great! But what if one of you has a different belief and a church wedding is not entirely appropriate or not possible? Then you will probably decide on a licensed venue with a registrar to conduct your ceremony. If this is the case, and if you were hoping to make reference to either of your beliefs as part of your ceremony or include cultural traditions, then you'll be in for a big surprise. A registrar will not include any religious or spiritual content whatsoever! Your music will be limited, as will your readings and timings.

You do have another alternative, a celebrant. More and more couples are fulfilling the simple legal obligations at a registry office, which takes 10 minutes at a small cost, and then having a personalised ceremony afterwards.
---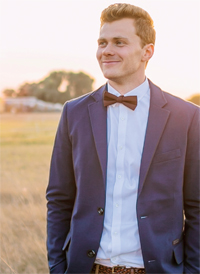 Keeping your cool
Q. Weather permitting, we're hoping to tie-the-knot outside. What do you suggest my hubby-to-be should wear?
A. Danielle Harvey says: The preppy-look is on trend and perfect for summer grooms! Team tailored shorts with an open-collar shirt – roll up the sleeves – and finish off with a quirky pair of braces and dapper bow-tie. This ensemble is the epitome of seasonal fun, ideal for al fresco nuptials.

Alternatively, if this is too casual for your bride-to-be who wants something more traditional, then opt for a contemporary slim-fit two-piece suit in a cool, light-weight fabric. Again, keep it more relaxed with an open collar and casual shoes.

For colour combos, pair navy suits with pastel shirts or floral prints, or opt for a pale-blue hue for your attire and keep accessories pale yet interesting – perhaps some tan brogues and a feature-piece watch to draw the eye in?

Do: Add a pop of colour to really set off your big-day pictures.

Don't: Wear your sunglasses for snaps – not cool!.
---
Contact our experts...
Dan Wheatcroft
Drinks bar owner
Danielle Harvey
Features editor
---