Ask the experts
Here is a selection of Q&As from Your Cheshire & Merseyside Wedding magazine. If you would like your question answered by our experts, please email it to editor@yourcheshiremerseyside.wedding.
To view more Q&A's on a different topic, please select one from the list below.
Hot topic: Wedding worries
Our experts solve your wedding worries
---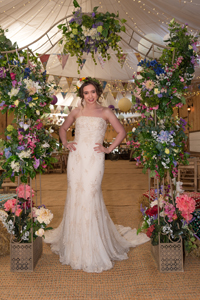 Wild and free
Q. We're having a spring wedding and plan to get married al fresco. What dress styles do you suggest to give a relaxed feel that I'll be comfortable in all day?
A. Carol Dinwoodie says: There are lots of pretty dresses around that'd be great for outdoor nuptials. I'd recommend a soft A-line or column style, which are free around your legs and easy to move in. Steer clear of mermaid styles, which can be hot and restrictive.

In terms of fabric, look for floaty textures such as chiffon or tulle, these will flow romantically outside in the breeze and create a stunning, bohemian look for your big day that'll look dramatic in your photography.
---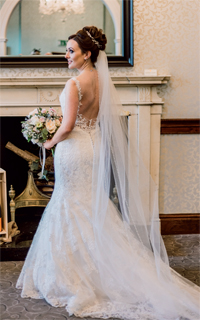 Lovely locks
Q. I have very thin hair, what can I do leading up to my big day to get my tresses looking their best and what style would you recommend to hold all day?
A. Katy Corcoran says: If you think you're limited because you have thin hair, then you couldn't be more wrong! Fine hair is predominantly soft, therefore I advise my clients not to use conditioner on their roots, this makes it more manageable and easier to manipulate in to the style you want. Coconut oil is amazing for leaving your locks healthy, glossy and thick.

I often get asked what are the go-to styles for all-day hold, and I'd suggest a beautiful up do. Use padding underneath the hair for volume and to stop pins from sliding out, it also gives a more comfortable feel, as the grips are not touching your scalp. If you wanted to wear your locks down then I'd suggest pin curling the hair the night before to give volume, taking it out an hour before the ceremony. Lastly, hair extensions are a personal favourite as they hold a shape well and can even come pre-curled.
---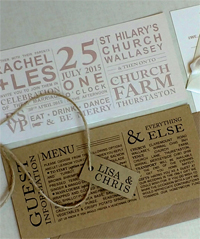 Be our guest
Q. We're having a festival-inspired wedding. How can we hint at our theme in our wedding invites without giving it away?
A. Ling Warlow says: I love designing invitations that give a hint at a theme. A little flower, or touch of colour can be like a code for your guests to crack. When coming up with ideas I'd start by thinking about what a festival means to you. In a recent commission we included the branches of a tree hung with dreamcatchers, feathers and crystals. Rustic touches such as twine would give a more relaxed vibe too. Others may think about the weather aspect – so how about a picture of the happy couple wearing wellies?

For a more subtle hint, why not choose a design with the emphasis on the words and typography? Your designer could set the design out to look like a ticket or a flyer, but how about going luxe with pearlised board – it is a wedding after all! Choose wording to tie in with the feel of your day too. Opt for 'join us as we tie the knot' instead of the formal 'we request the pleasure of.'
---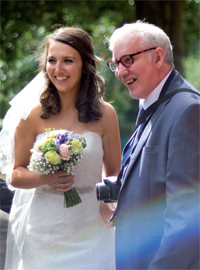 Picture perfect
Q. We don't want any staged, formal pictures but there are lots of people that we want photos of on the day. How will a photographer make sure they're all captured?
A. Lucy Price says: It's a documentary photographer's job to focus on the people and the moments throughout your wedding day so we become pretty good with faces! Although the photographer might not know the guests it does register with them who they have and haven't captured. We'll always try our best to get each of your loved ones in at least one image, but if there are some really important people you definitely want photographed then just have a chat with your photographer so they can make a note. It's also worth asking one of the bridesmaids or ushers to point that person out so they're not missed.
---
Contact our experts...
Carol Dinwoodie
Bridal Reloved Liverpool
Katy Corcoran
Bridal & Occasion Hair Specialist
Ling Warlow
Stationery designer
---