Ask the experts
Here is a selection of Q&As from Your Cheshire & Merseyside Wedding magazine. If you would like your question answered by our experts, please email it to editor@yourcheshiremerseyside.wedding.
To view more Q&A's on a different topic, please select one from the list below.
Hot topic: Advice on fashion, venues and food!
Our experts solve your wedding dilemmas
---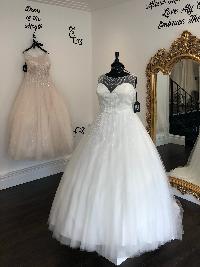 The perfect fit
Q. I'm struggling to find sample dresses that fit me, so I can't see what they'll look like on the day. How do I find the right style for my curvy shape?
A. Marisa Rooney says: No one wants to put a big deposit down on a dress when they haven't seen it on their own body, so it's worth visiting a curvy specialist who can give you a choice of styles to try in your size and a wealth of experience to guide you through the selection process.

Try to choose from a range that's specifically designed and cut to enhance your figure. These dresses will feature extra boning and wider internal straps to give you the choice of not wearing a bra – I say the less layers the better!

Lots of girls talk about weight loss when they come to my shop, but it's amazing what you can do just by getting the correct shape. Understanding how the lines of a gown work for particular body shapes by balancing proportions can make you look two sizes smaller.

The number one concern of my customers is covering their arms, but once we find a dress that suits them, more often than not these worries disappear. Making the dress work for the bride and not the other way round is what we're all about.
---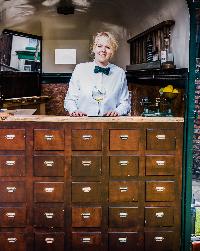 Happy hour
Q. We're having an outdoor tipi wedding but we've got no idea about organising food and drink – please help!
A. Carly Timmins says: With the rise of outdoor weddings, so many suppliers have tailored their offering to be able to provide their services al fresco.

We offer drinks served from our mobile horsebox called Ginny. Packages include prosecco, beer, cocktails and, of course, gin and tonic. If you're concerned about the weather, we can set up a gorgeous rustic-style bar inside the tent, as well as having Ginny outside to take advantage of fine weather and photo opportunities.

Alternatively, if your caterers are providing a bar, you could consider hiring a mobile bar for the evening. We make sure your guests are well refreshed with premium seasonal gins and cocktails.

Make sure that your drinks menu reflects you as a couple and includes your favourite tipples. We offer bespoke packages, personalised to each event.
---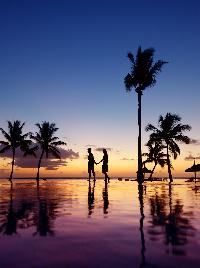 Wanderlust
Q. We're getting married in October and we'd love to go on honeymoon straight afterwards. Where is best to go at that time of year?
A. Sarah Roberts says: During the first part of October you can expect great weather across the whole of Europe. Cooler and less crowded than the summer, you'll be able to snag great rates even at some of the most prestigious beach resorts. Alternatively, why not opt for a more active, cultural break combining several cities across Spain and Italy?

Later in the month, you'd need to look a little further south for traditional beach weather, casting your net as far as the Canary Islands, Crete and Cyprus. However, try to avoid October half term in these destinations when prices rise with the influx of family travellers.

Mid-haul beach destinations like Cape Verde and Dubai both average 28 degrees during October, but they're polar opposites. Traditional, low-rise resorts infused with a mix of colonial cultures versus a destination at the height of development with sophisticated hotels and attractions.

If it just has to be long haul, the Indian Ocean – encompassing the Maldives, Seychelles and Mauritius – offers the ultimate in laid-back luxury retreats aimed specifically at couples. While parts of Asia and South Africa, with their wealth of culture, nature and landscapes, can satiate your more adventurous side.
---
Glitz and glam
Q. We're getting married in a grand stately home. What glamorous touches can we add to fit with our venue?
A. Hayley King says: Stately homes and mansions are the perfect choice if you want a regal and timeless look for your wedding. With the buzz created by Harry and Meghan's big day, they're more popular than ever.

Choosing a colour palette that ties in with the original features of the building is a must. Metallics are a big trend this year and they blend in brilliantly with this environment – think gold, silver, copper and champagne.

Hiring in chairs to match with the look can totally transform a room. For extra glamour, try adding in small details such as napkin rings, brooches, sequinned table linen, gold cutlery and charger plates.

Velvet is a hot look this year and it's always luxurious. Try using it in a rich, deep colour for tablecloths or chair drapes. Damask and marble elements will also enhance the opulent vibe. Finally, tall centerpieces, chandeliers and candlesticks are all winners.
---
Contact our experts...
Carly Timmins
The Gin Joint
Hayley King
Simply Bows and Chair Covers
Marisa Rooney
Beautiful Brides Liverpool
Sarah Roberts
Travel Counsellor
---