Hannah met Mike on a night out with friends and thought he was good looking as soon as she clapped eyes on him. "We got chatting after too many double vodka and Diet Cokes and ended up exchanging numbers. The rest is history," she tells us. "Mike and I are polar opposites in personality, but we just seem to work well together," she continues.

The pair began to discuss the topic of marriage in earnest around six years later and within a couple of months were looking for engagement rings. "I chose the ring so that Mike could go back later to buy it once he'd decided how and when to propose," she explains. He opted for Ladies Day at Aintree races, already one of Hannah's favourite annual events. The first race came and went and Hannah was determined to quickly get some food before the next. "Kudos to Mike for instead persuading me to have our photo taken on the balcony of our stand overlooking the winning post," she says. It was here that he popped the question. "It was the best win I had that day," Hannah laughs.
The couple are from Crosby and were keen to have a Catholic church ceremony in their own parish. The beautiful St Joseph's was the gorgeous setting of choice, surrounded by greenery and just a stone's throw from Crosby beach. Hannah had dreamt of getting married there since childhood. For the reception they'd provisionally booked another venue before visiting Titanic Hotel, "But that was forgotten as soon as we saw the West Bay function room," Hannah remembers. She continues: "It captured the history of our amazing city with a sophisticated and modern feel. We were so grateful for the way our wedding coordinator at the hotel handled our changes due to the pandemic restrictions. Every effort was made to ensure our day was perfect, which was very much appreciated."
Join us as the beautiful bride shares more details of their
special day...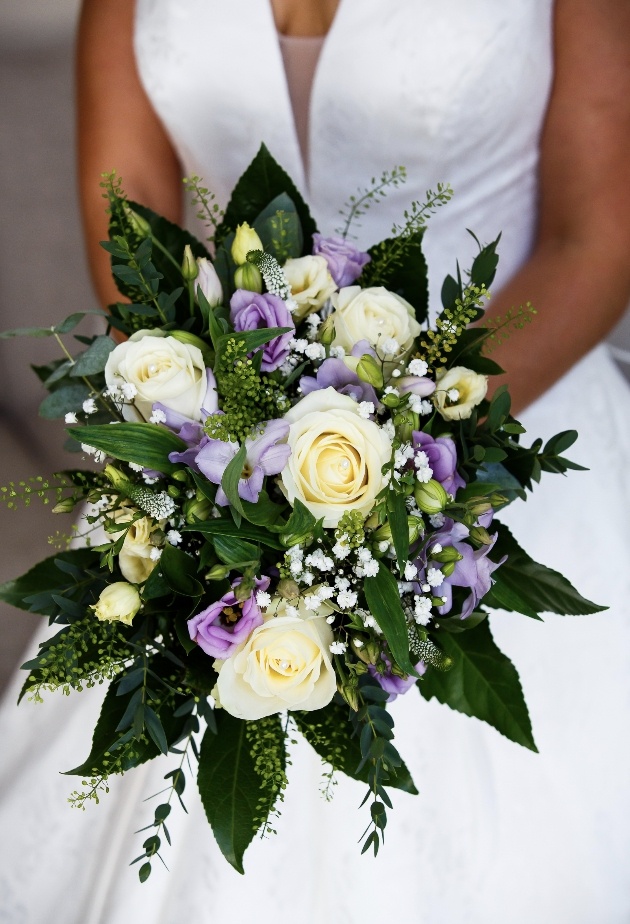 With a plum colour palette in mind Hannah and Mike set about enlisting help to style their big day and Red Events Creative was chosen to provide the venue décor. The expert supplier adorned the space in fairylights, centrepieces of silver candelabras, lanterns decorated with beautiful plum and lilac blooms, white chair covers with plum sashes, and a pretty moongate with green foliage and hanging tea lights, which served as the backdrop to the cheese cake.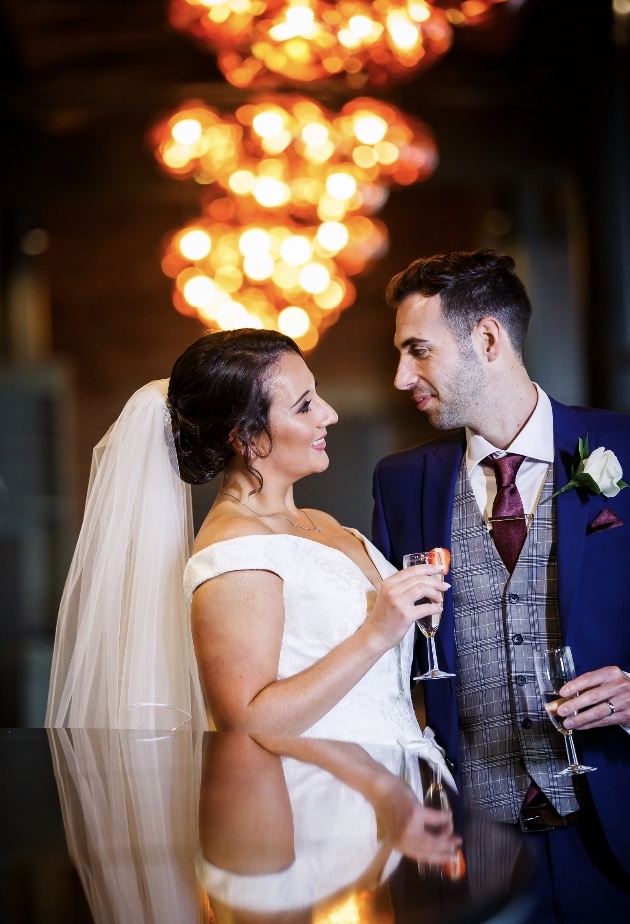 The lovely flowers were provided by a local Crosby supplier, Flowerbox. Hannah's bouquet featured roses, freesia, lisianthus and gypsophila in lilac, cream and white. "After the wedding we gave my bouquet to my 98-year-old nan who lives in a local care home and was therefore unable to attend. It was nice to be able to include her somehow," Hannah tells us.
The tables were named after locations in Liverpool: Anthony Gormley's Another Place, Liver Building, Anfield and Goodison. The couple took photos of themselves at each place and used these as table numbers for a personal touch. The menus and seating plan were appropriately selected from Tatty Lashes' 'In Our Liverpool Home' range, and place names were purchased from Etsy to be stuck in wine corks. The family made a valiant effort in drinking enough bottles of wine to supply enough corks for the original guest list, even though they weren't all needed in the end!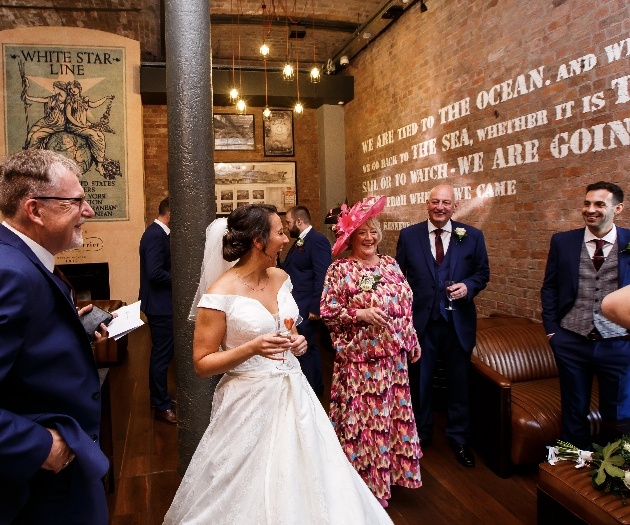 "Mike and I aren't huge cake people, so we decided on a cheese cake quite early on – there's nothing better than cheese and crackers after a few drinks," Hannah says. They visited Birkdale Cheese Company for a tasting and the team there helped them make their selections for a showstopping wedding (cheese) cake.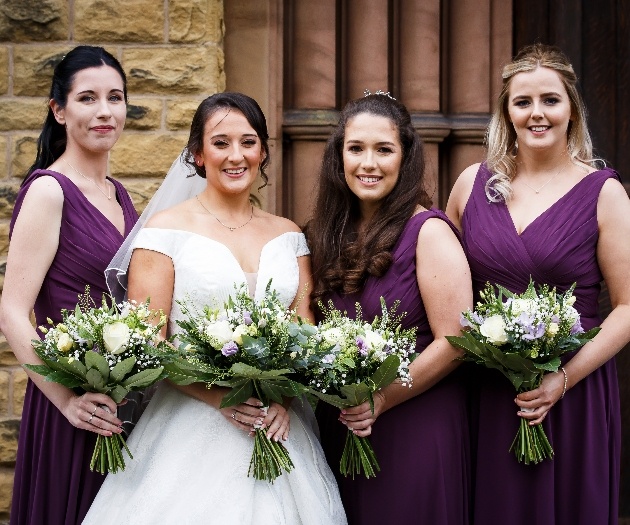 For the favours the pair bought miniature bottles to fill with pink gin and label with "we tied the knot, now take a shot" stickers. Hannah remembers, "It was a simple plan but my parents' dining room smelt like a distillery by the time we were finished! I was glad we only had 15 to do rather than the original 95."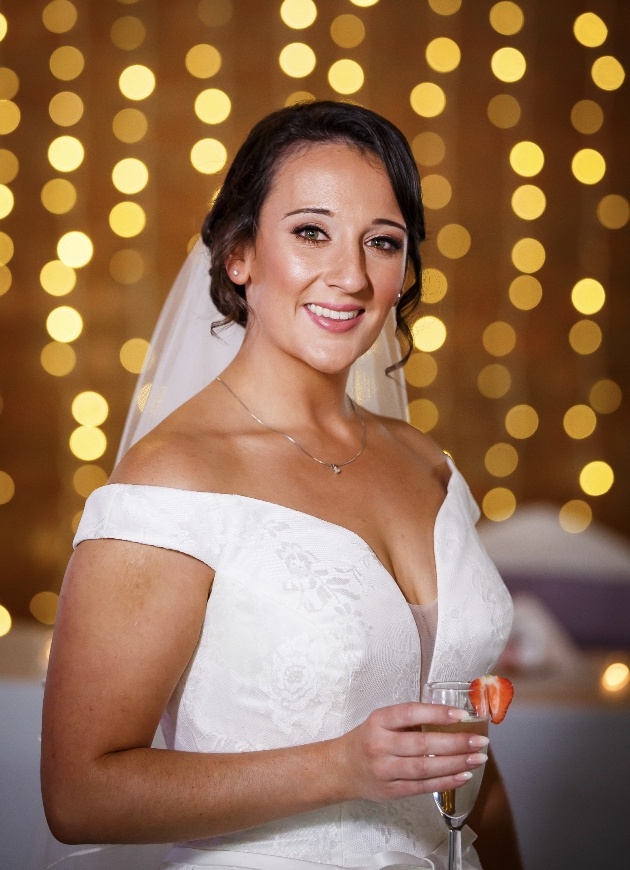 Hannah kept an open mind when it came to the all-important dress. She noticed that Boutique Brides of Crosby was holding a Ronald Joyce trunk show and thought this would be a good place to start. "I fell in love with the first dress I tried on. It wasn't anything I thought I'd ever go for, but it suited me perfectly," she says. Hannah had selected Celine, an ivory off-the-shoulder, A-line with a full skirt cinched at the waist. She paired the gown with a mid-heel shoe from Phase Eight, which she was happy to have lasted all day in, but wisely came prepared with a pair of sparkly cream trainers for dancing. Although sadly, these didn't get the outing that was intended for them due to Covid restrictions on music and dancing.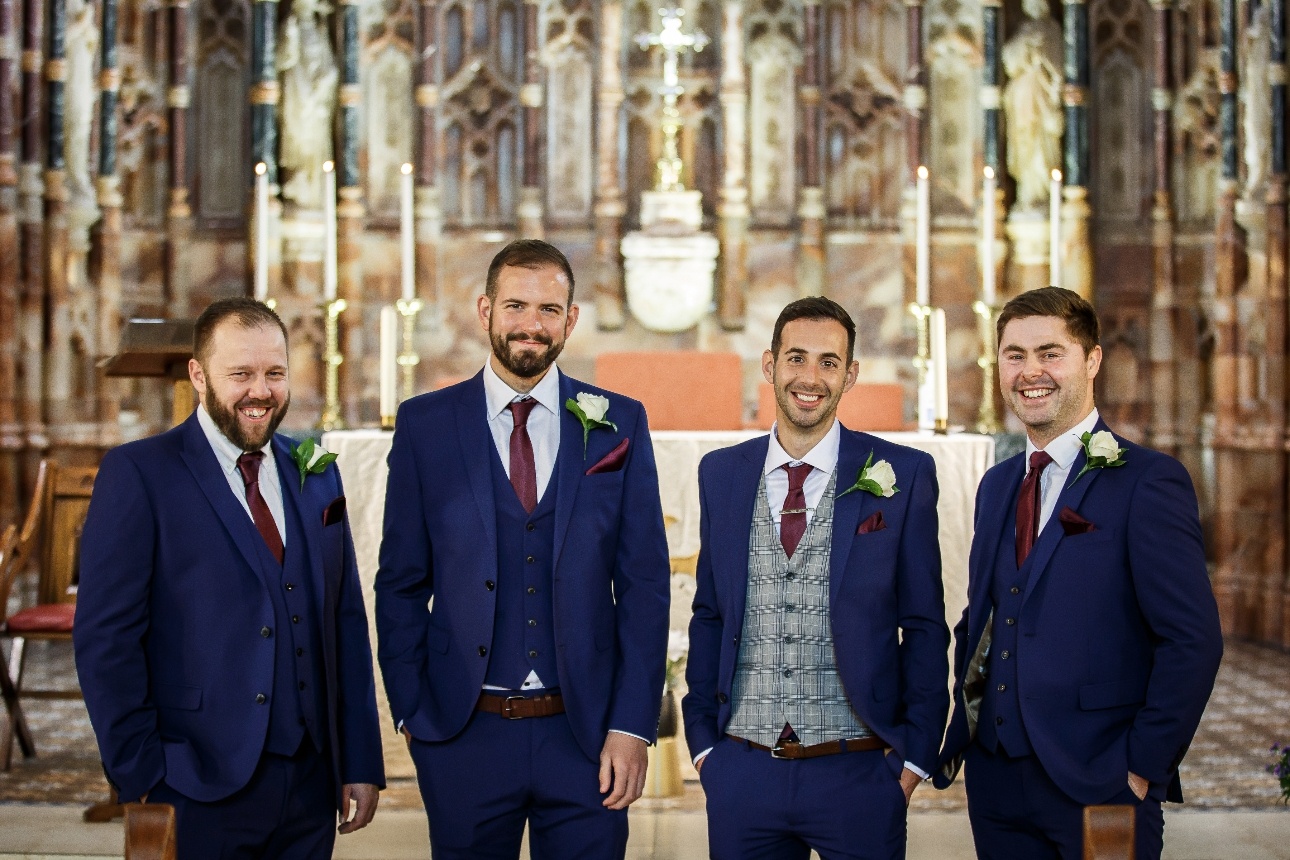 Mike wore a blue suit from Next, as did his groomsmen and the fathers. They were all three-piece, but the groom paired his with a different coloured waistcoat to stand out as the man of the hour. All of the gents completed their look with plum ties and pocket squares, and Hannah gifted Mike cufflinks and a tie clip engraved with their initials. Finally, not allowing Covid to compromise style, Mike wore a face mask to match his suit.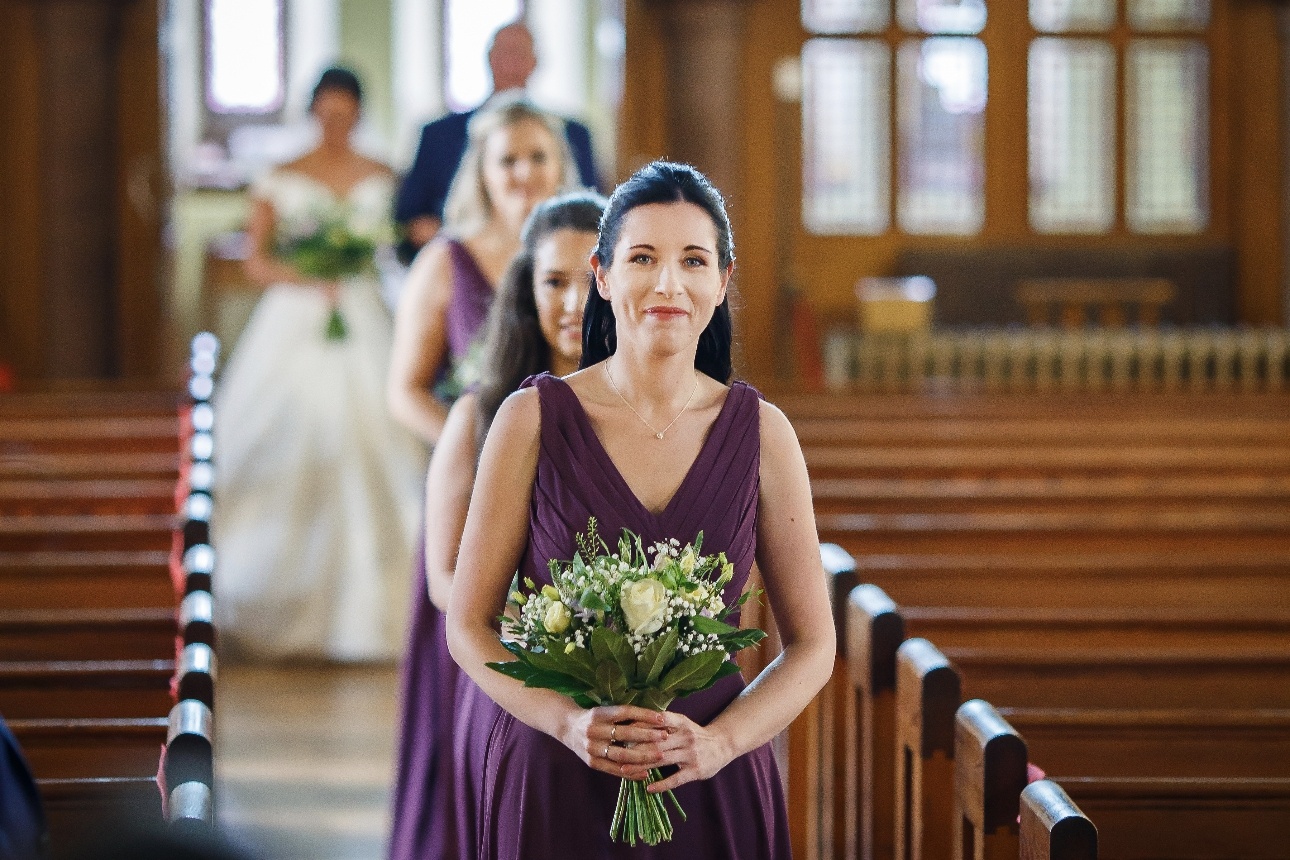 Hannah knew she wanted her best girls to wear the same shade of plum and gave the choice of two beautiful styles – a one shoulder or a sleeveless with a cowl back. "All three preferred the latter, which looked great on them," Hannah shares.
Since the DJ had to be cancelled due to pandemic-related music restrictions, Hannah and Mike put together their own playlist, which played softly in the background while they ate. "We entered the room to One Day Like This by Elbow and had our first dance to Follow Me, Follow You by Genesis. Only we were able to dance, but it was still special," the bride tells us.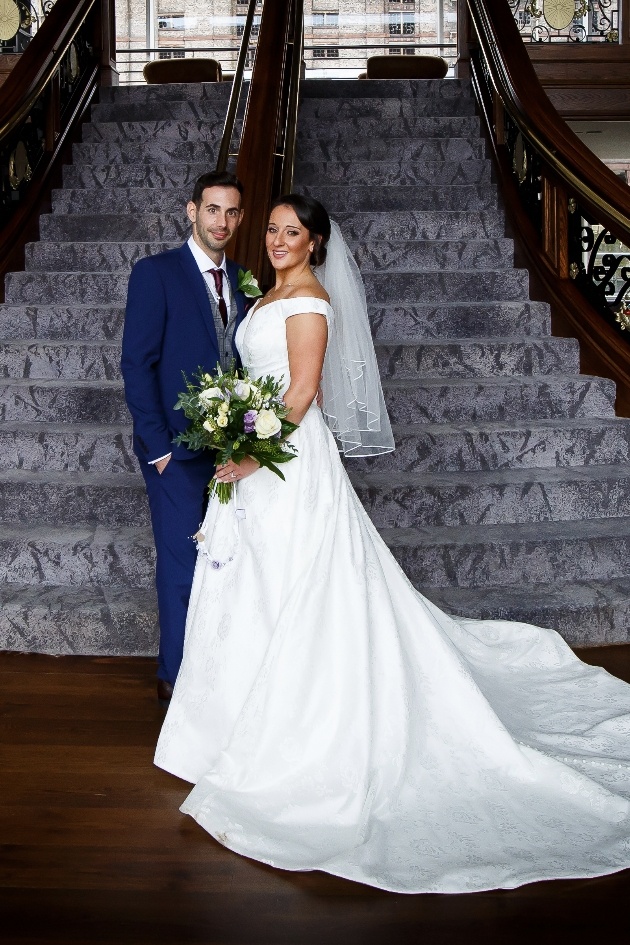 The newlyweds and their guests were able to make use of the hotel's VIP lounge for table service drinks until the 10pm curfew in groups of six. "It meant we were able to chat to all of our guests and enjoy their company rather than just through Zoom, as had been the case in the preceding months," Hannah says.
Hannah tells us about the rollercoaster of emotions they experienced replanning and hosting their big day in the midst of a global crisis: "We started planning our wedding 18 months ahead and were filled with grand ideas about what we wanted our day to be. However, the stress of replanning under such difficult circumstances was horrible. Our guest list was cut from 95 to 30, then two weeks beforehand down to 15. All enjoyment had gone from the process and we just wanted the day over with, which was really sad.
"In hindsight though, stress aside, we wouldn't have had our day any other way and made sure it still stayed true to us as a couple. We were waved into the church by friends and family who couldn't attend and we were overwhelmed by the support shown. Everyone was willing our day to go ahead, as it was something to bring joy. Plus, we were able to enjoy our guests' company as well as having time to reflect, just the two of us."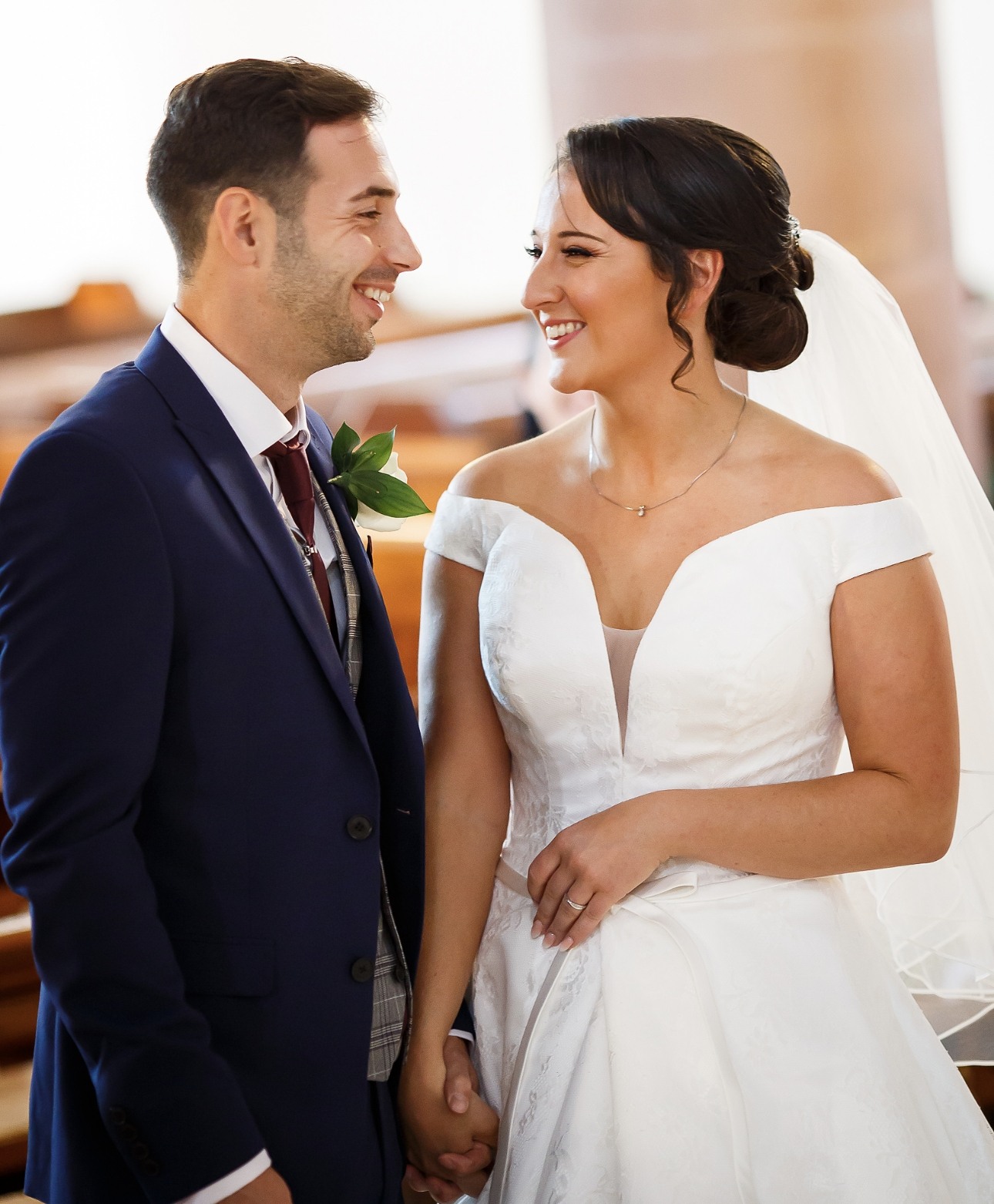 The newlyweds are planning to host their evening party next year, around the time of their first anniversary, with loved ones from their original guest list all in attendance. We wish them every happiness.
Hannah and Mike's contact book