While Emma and Joe originally met through a mutual friend, they didn't start dating until a year later when they bumped into each other on a night out. Joe proposed during a country walk at Entwistle Reservoir in Lancashire early one Sunday morning. "He took me completely by surprise – I hadn't even done my make-up!" Emma says.
When it came to the venue the pair were looking for somewhere with traditional touches and a modern vibe. Liverpool city centre was the perfect choice of location as it was most convenient for friends and family from both sides. "We love the history of the buildings around there, and there was so much to do for guests who'd travelled up to make a weekend of it," Emma explains. And where could be more historical and indeed iconic than The Liver Building? Their vows at this city treasure were followed by celebrations at the super-chic Oh Me Oh My.

Read on as bride Emma shares her memories of the wonderful wedding day…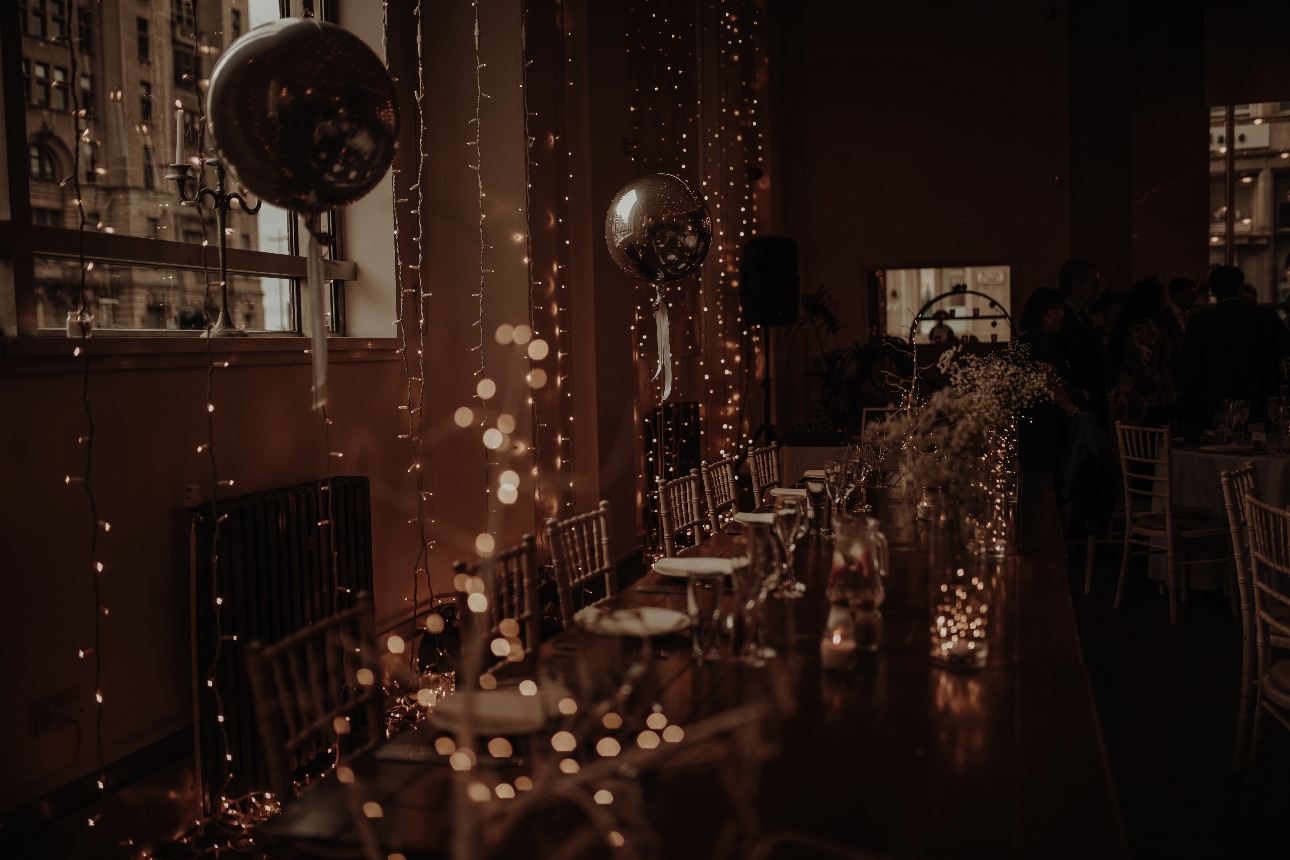 "All I wanted was a twinkly magical warm feeling," says Emma of her venue styling goals. She was already most of the way there with their choice of location as the clean and spacious ceremony room at The Venue at The Liver Building comes adorned with fairylights. What's more, Oh Me Oh My boasts a fairylit backdrop installation and offered the couple its Twinkle and Twilight package. Surely, a match made in heaven! So, Emma set about building on this foundation and purchased clear glass vases to fill with fairylights and gypsophila – simple yet incredibly effective.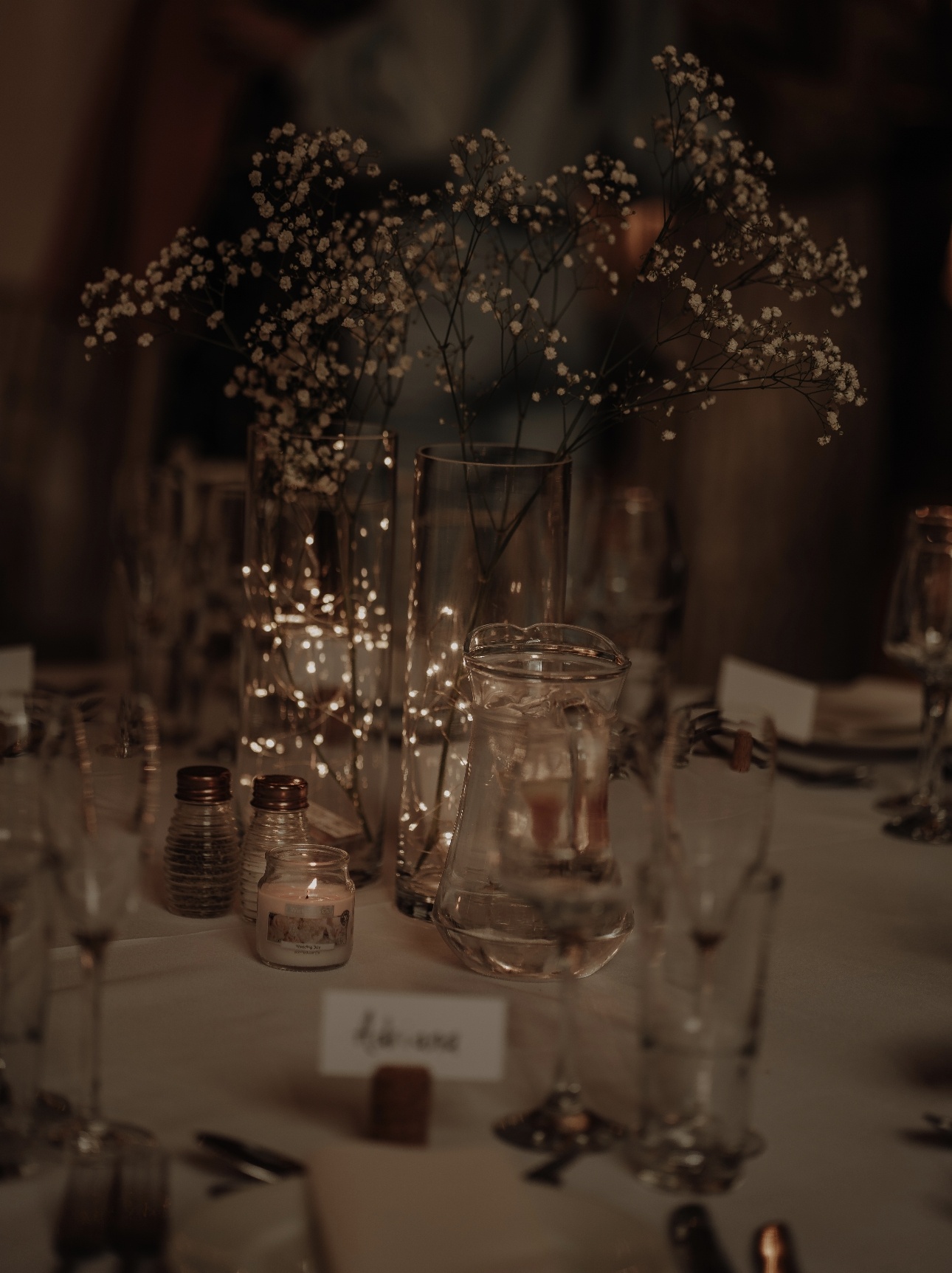 The venues were also decorated with silver balloons complete with wedding date and married names, which looked fab in their respective settings. The metallic and pearlised seating plan was handmade by the talented Ling at Dragonfly Couture Stationery. In lieu of wedding favours the couple opted to donate to local cancer charity, Maggie's. The big-day bake, with one lemon tier and one chocolate tier, looked ultra-glam covered in edible pearlised glitter. "I got a silver topper online and our lovely florist added a couple of cream roses," Emma tells us.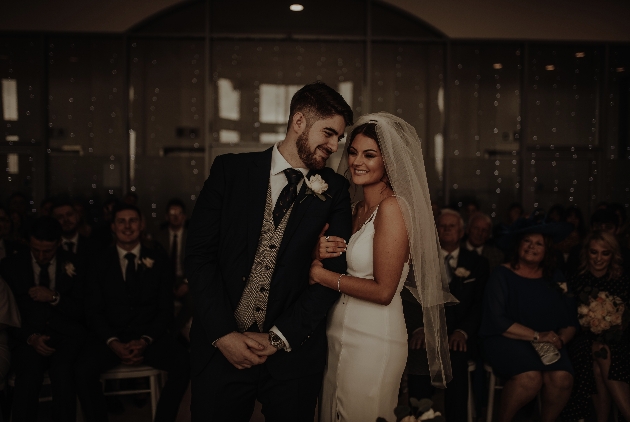 The bride's wedding dress was customised by The Real Alice Couture, who removed the lace that was originally covering the top and added some twinkly straps. "I wanted it to be fairly plain with a touch of sparkle," Emma explains. Her stunning shoes had clear heels containing stars, and even better it's possible to have them dyed later, enabling her to wear them again in the future. The something blue tradition was well and truly covered by her mum's engagement ring, which contains a blue stone, and a necklace gifted to her by a friend with a matching gem.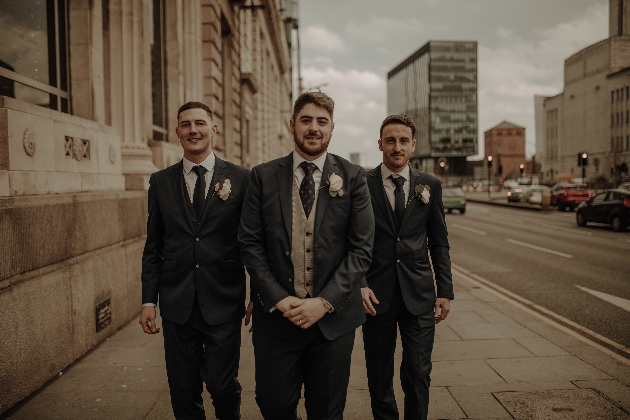 Joe had two best men and seven groomsmen who all wore navy. The groom stood out by pairing the dapper look with a different colour waistcoat and tie. He accessorised with his grandad's watch and his bride's grandad's pocket watch.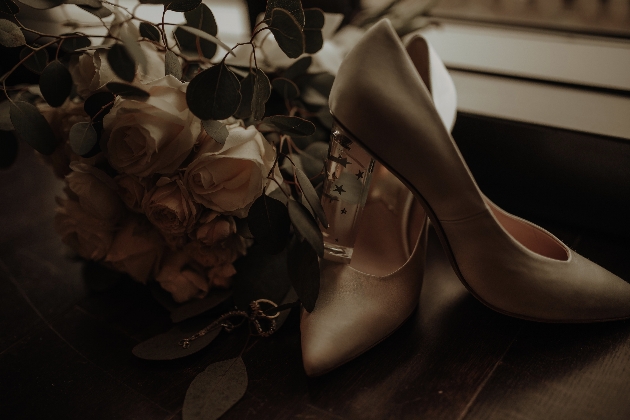 Emma has a lot of friends she considers to be close, but never really wanted bridesmaids. "I'm quite low key," she tells us. "So, I asked my oldest bestie if she'd walk down the aisle before me if I gave her some flowers and got her hair and make-up done. I told her she could wear whatever she wished. It felt so easy and just how I wanted it," she continues.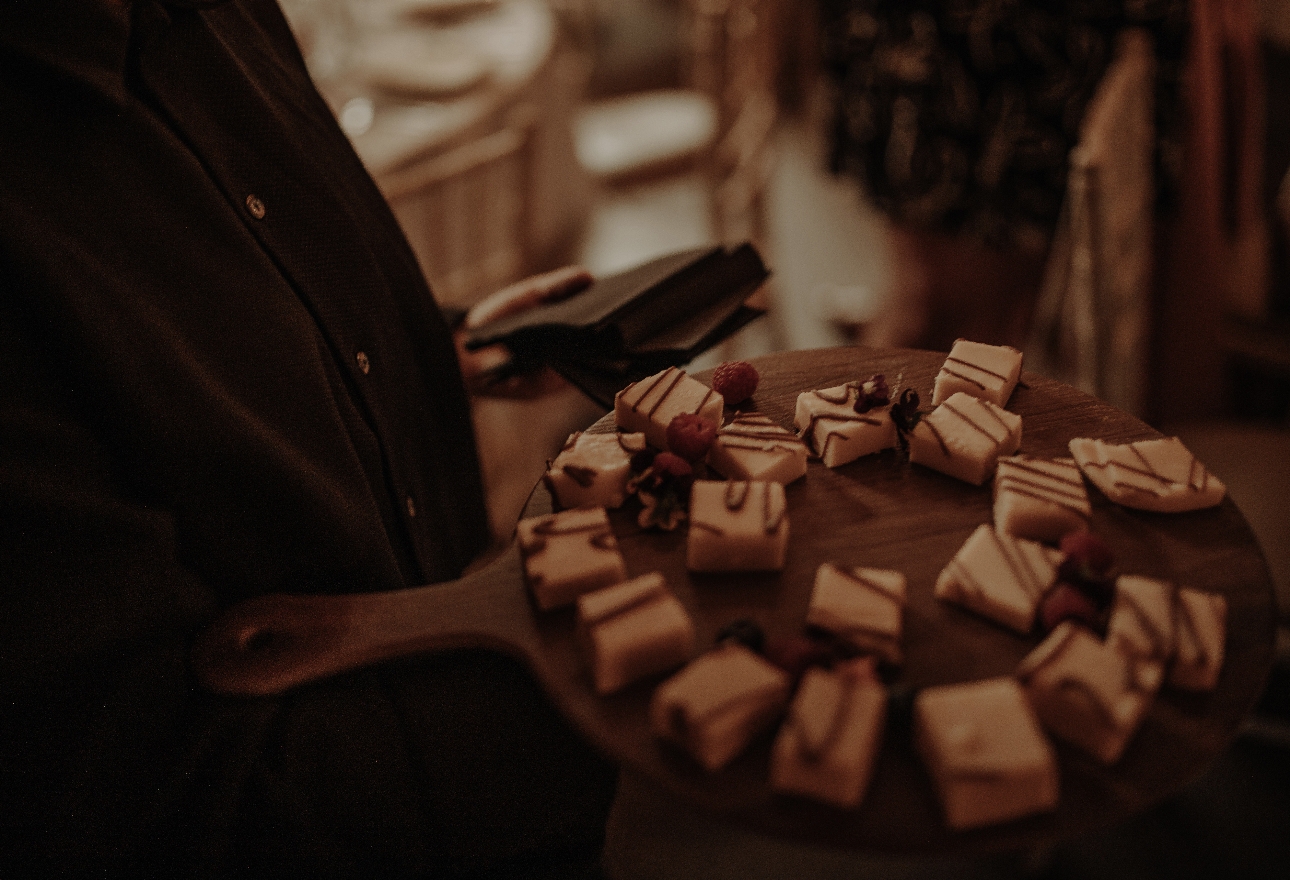 The couple's guests were treated to twinkle and twilight cocktails and chocolates on their arrival at the reception, while duo The Mutuals played a live set. "We just wanted a relaxed and happy feel," Emma tells us. A six-foot cardboard cutout of Jurgen Klopp waited for Joe at the bar as the newlyweds entered to You'll Never Walk Alone, sung at full volume by their guests. "What started out as a joke actually became one of the highlights of the day," Emma remembers.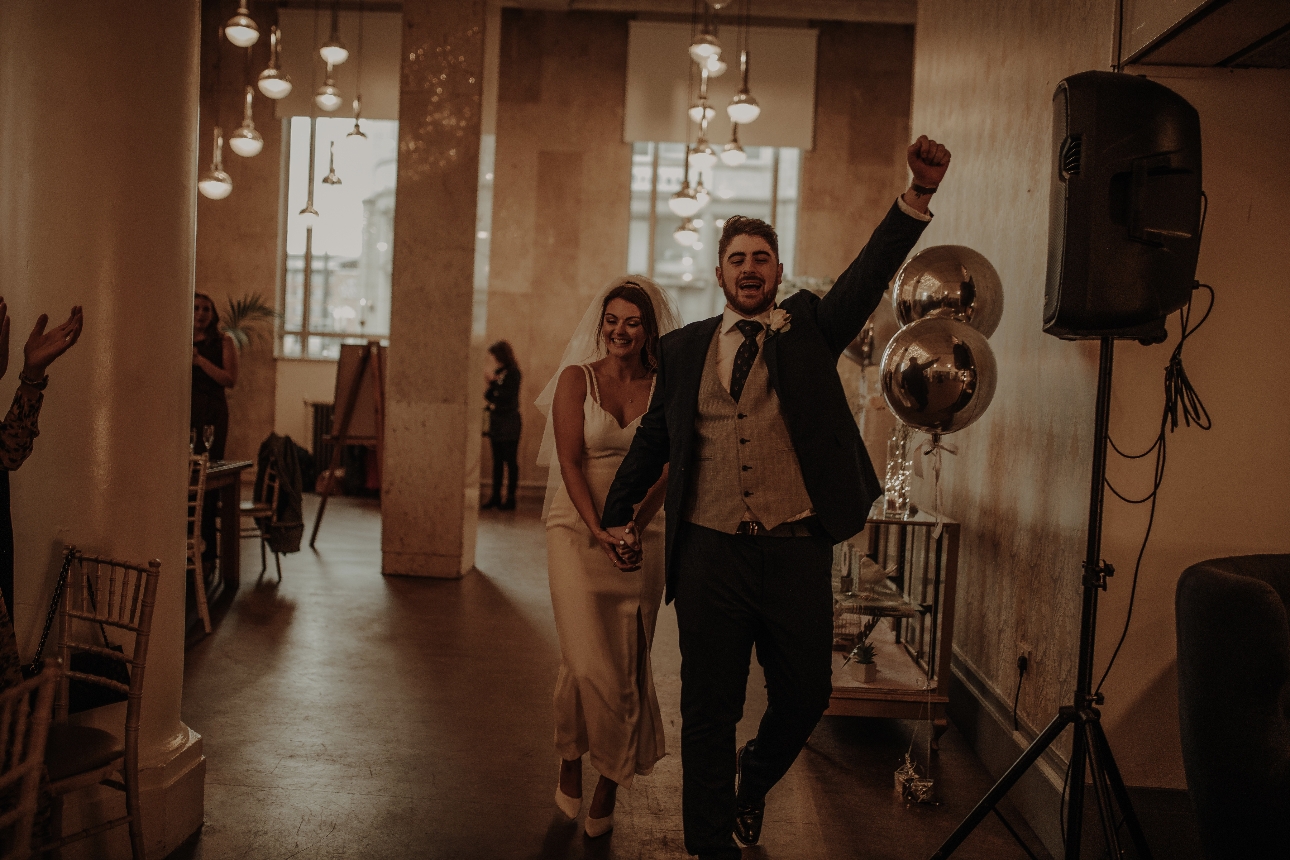 They decided on sharing platters for the wedding breakfast, which were placed in the centre of each table to get guests interacting and chatting. "Oh Me Oh My is famous for leaving their guests well-fed, which suited us as we didn't want anyone going hungry. Starter had a mezze vibe, which was followed by a fairly traditional chicken supreme and pork belly main course, with roasties and root vegetables," Emma describes. The meal was rounded out with chocolate brownies, fruit, and caramel profiteroles on slates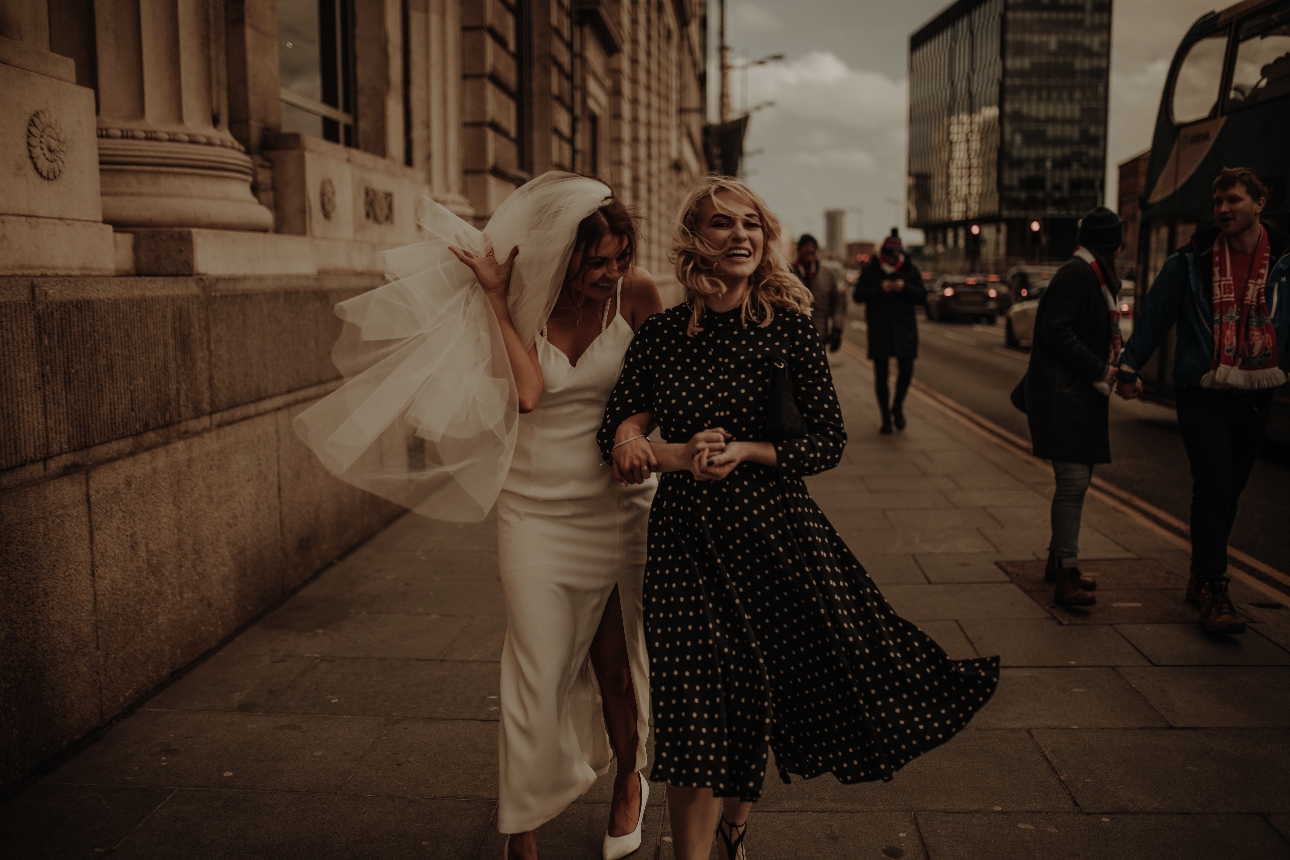 "Try to relax and remember it's the one time in life where you get to choose all the people you love to be in the same place at the same time. So, appreciate it all as it happens. As everyone says: it goes so fast! " – Emma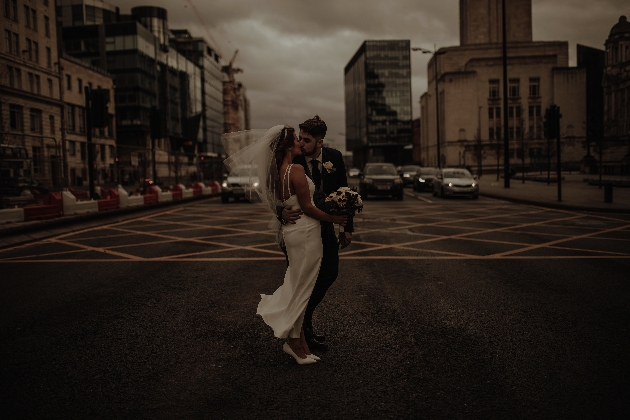 A stand-out moment for the bride was walking down the aisle with her dad and her best friend, Nicola, to I Can't Help Myself (Sugar Pie Honey Bunch) by The Four Tops. "It was all that we'd imagined. Everyone was happy and unafraid to talk and laugh."The best men delivered one impressive speech. Together with the groomsmen they pulled together a video of past Liverpool FC players offering the newlyweds messages of congratulations. "We didn't expect it. They absolutely went above and beyond," Emma remembers. The bride can't speak highly enough of her wedding professionals: "Becky at the Liver Building and Danielle at Oh Me Oh My were brilliantly helpful and made the day go so smoothly. Esme, our photographer, was also incredible. She reassured Joe when he was waiting for me, and captured the whole mood of the day perfectly. She's a gorgeous and super-professional girl and we got lucky booking her."
Emma and Joe's contact book