Kim and Edward met while they were both working at Liverpool's Arena and Convention Centre. So, their paths naturally crossed day-to-day and they gradually got to know each other. One day Edward invited Kim to a work night out with a few colleagues from his team. However when she arrived, much to her surprise, herself and Edward were the only two to have turned up. It was then she discovered that in fact there never was a work night out planned, it was merely a ruse devised by Edward to ask her out on a date. "While devious isn't a characteristic most would look for in a husband, Ed does have many other qualities," Kim assures us. "He's kind, funny and perfect to me," she explains.
Edward was quickly forgiven and the pair started dating. Three years down the line on Christmas Eve, Edward proposed in front of both sets of parents, with the twinkling lights of the tree in the background and a couple of bottles of Möet & Chandon on hand. It's a time of year that's special to the couple, so it meant a lot that the groom-to-be had chosen it to pop the question.

Sadly, their original 2018 wedding date had to be cancelled when Kim was severely injured in a car accident and needed to focus all efforts on her recovery. It took a full three years before she was able to build up the strength to undertake normal activities again and the pair rescheduled their wedding for 5th June 2021. Plans were still somewhat hampered by the pandemic, but Kim says, "It felt long overdue, so we were delighted when the government announced we could share our special day with 30 of our closest friends and family."

We caught up with Kim and Edward to find out more...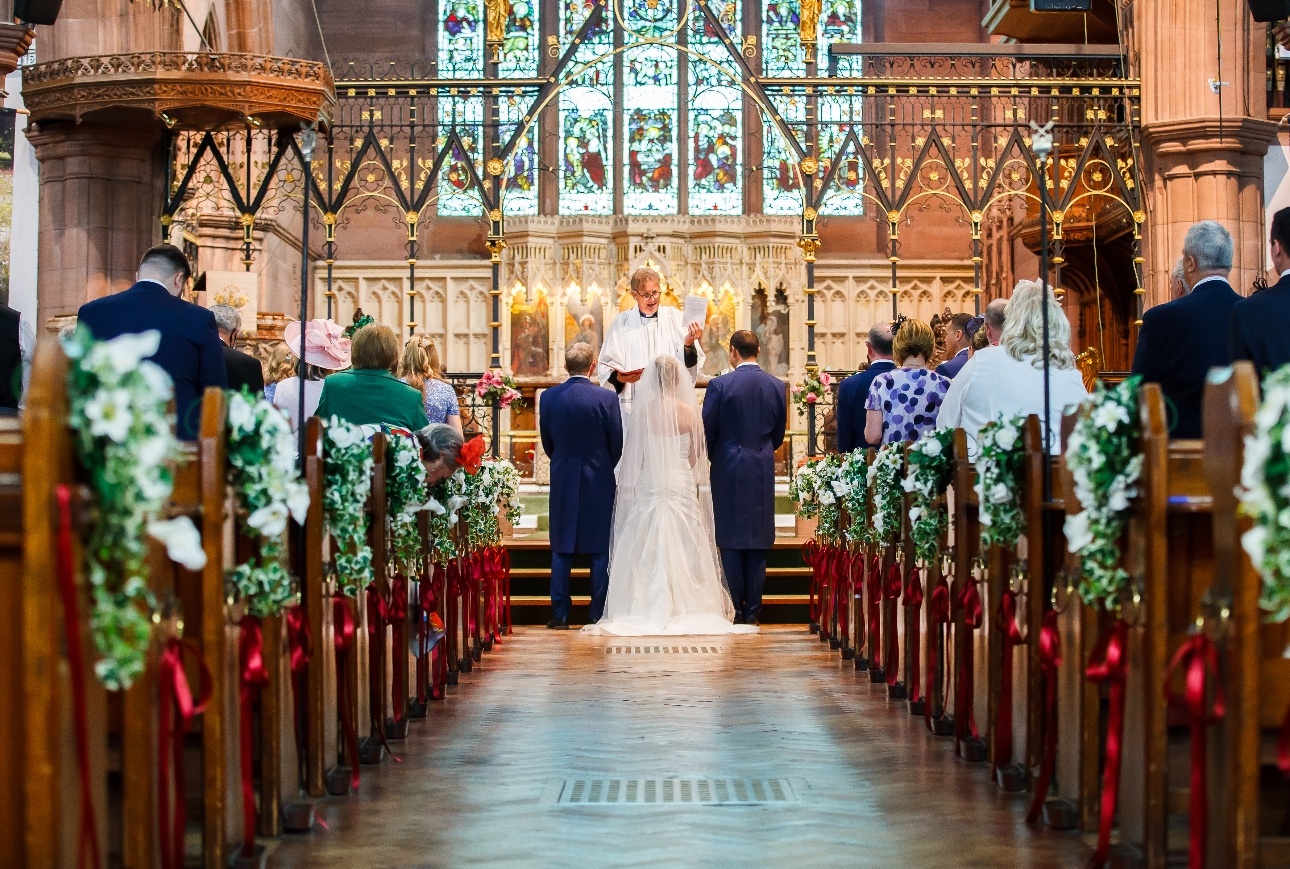 The couple had been attending services at St Peter's Church in Woolton together, so it felt right to have their ceremony there. It's actually a spot famous for its Beatles connection as it was here that John Lennon met Paul McCartney in 1957, and the surrounding graveyard is where Eleanor Rigby of the eponymous song was laid to rest. For the reception Kim and Edward purposely chose a venue with the guest list restrictions in mind: "We didn't want it to lack atmosphere if it was too big for the number of people we could invite," Kim explains. So, they opted for a Chinese meal at the recently refurbished Ying Wah restaurant, conveniently just a short walk from the church.

Once appetites were satisfied, the wedding party headed over the road to the Woolton Village Club, where they spent the rest of the evening celebrating.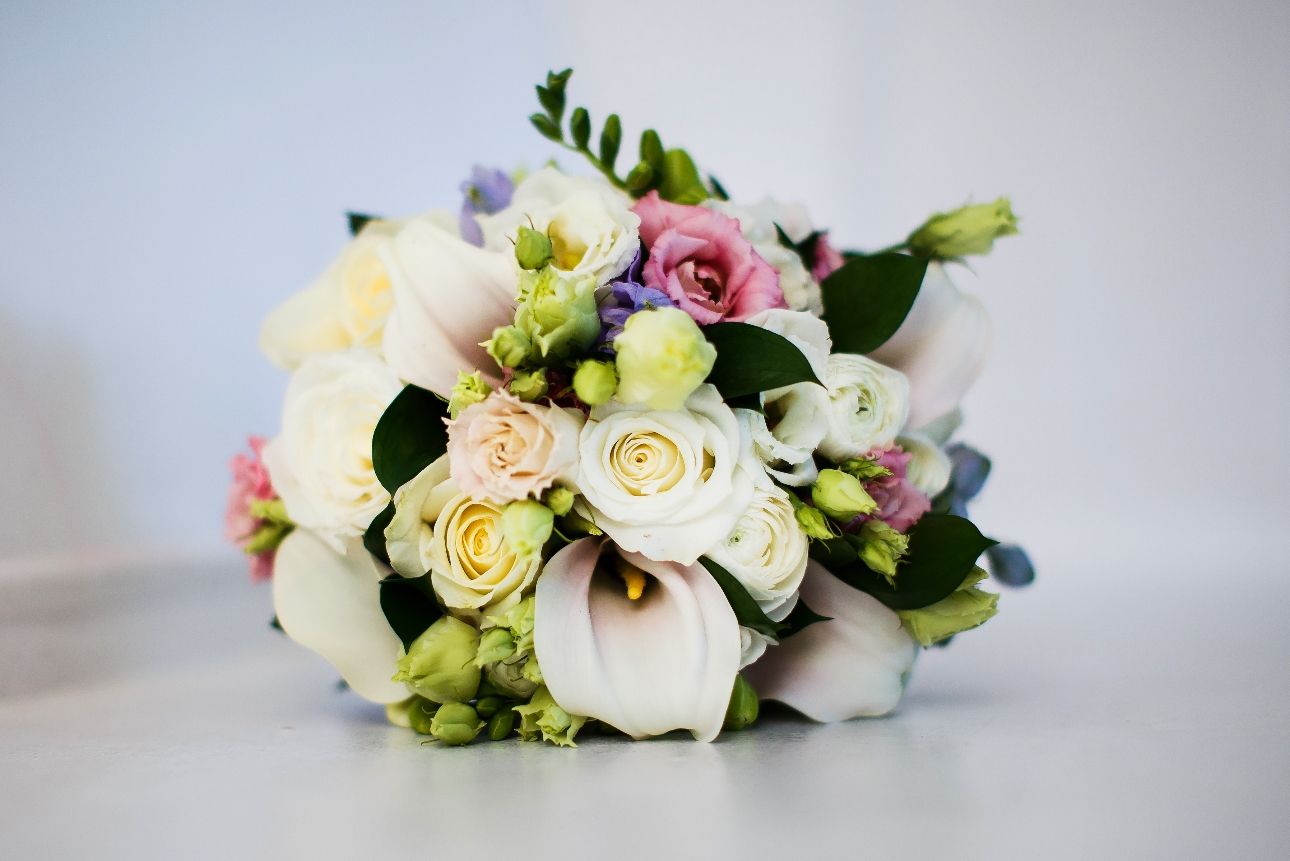 As wedding favours the couple sent guests a special photograph taken by their photographer as a keepsake. Plus, since loved ones would be visiting three venues throughout the day, they were also gifted hand gels and face masks to keep them safe, as well as love heart sweets for an added treat.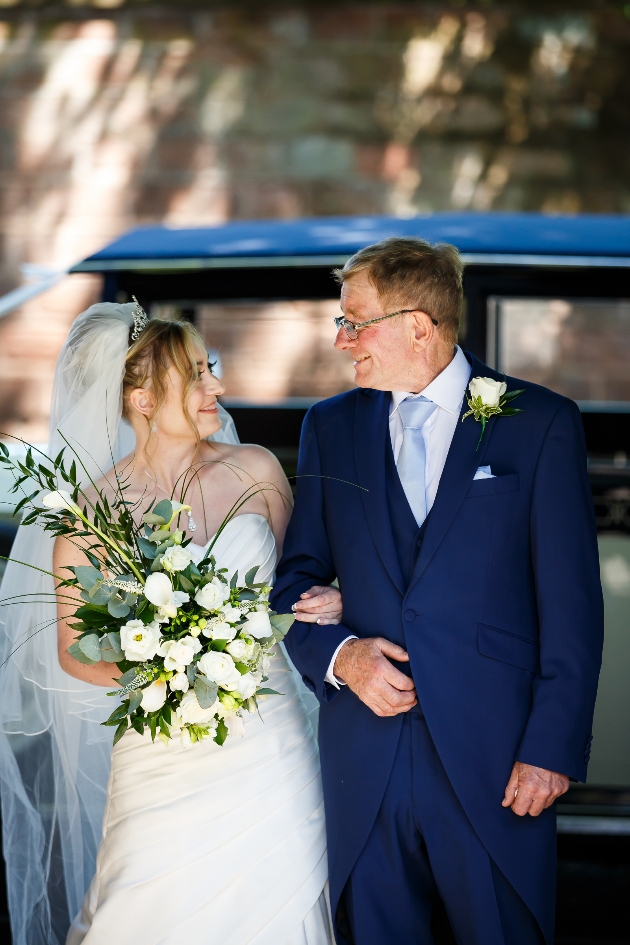 The table plan was housed in a small frame customised with silk ribbon to complement the day's cornflower blue colour palette. The centrepieces at Woolton Village Club were light-up clear orb balloons. "They were simple, elegant and looked beautiful," Kim remembers.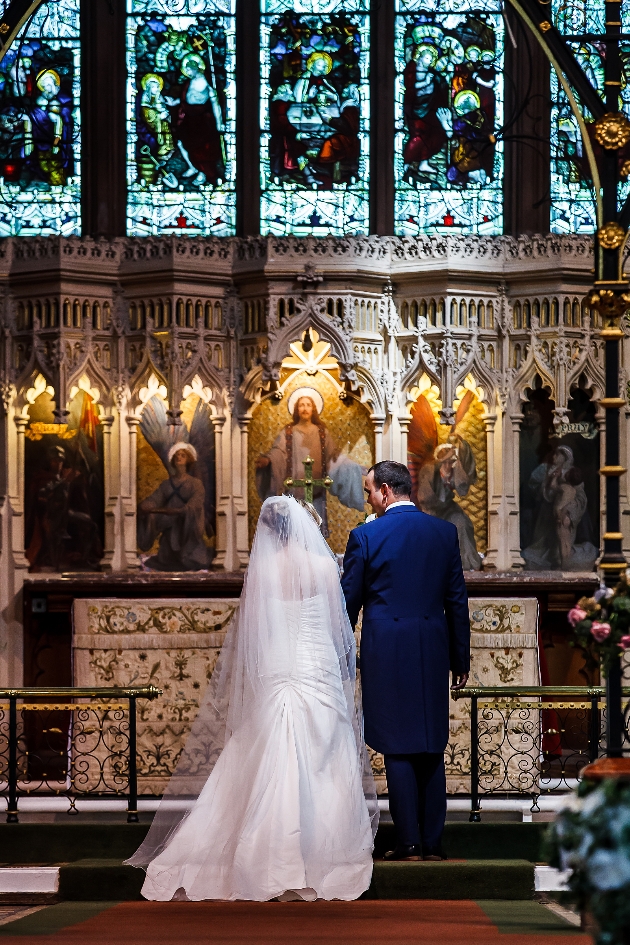 These were mixed in with customised Mr & Mrs balloons of a similar style with the strings made from silk flowers, which the couple were able to keep as a reminder of their big day. In addition the top table was dressed in a gorgeous array of flowers.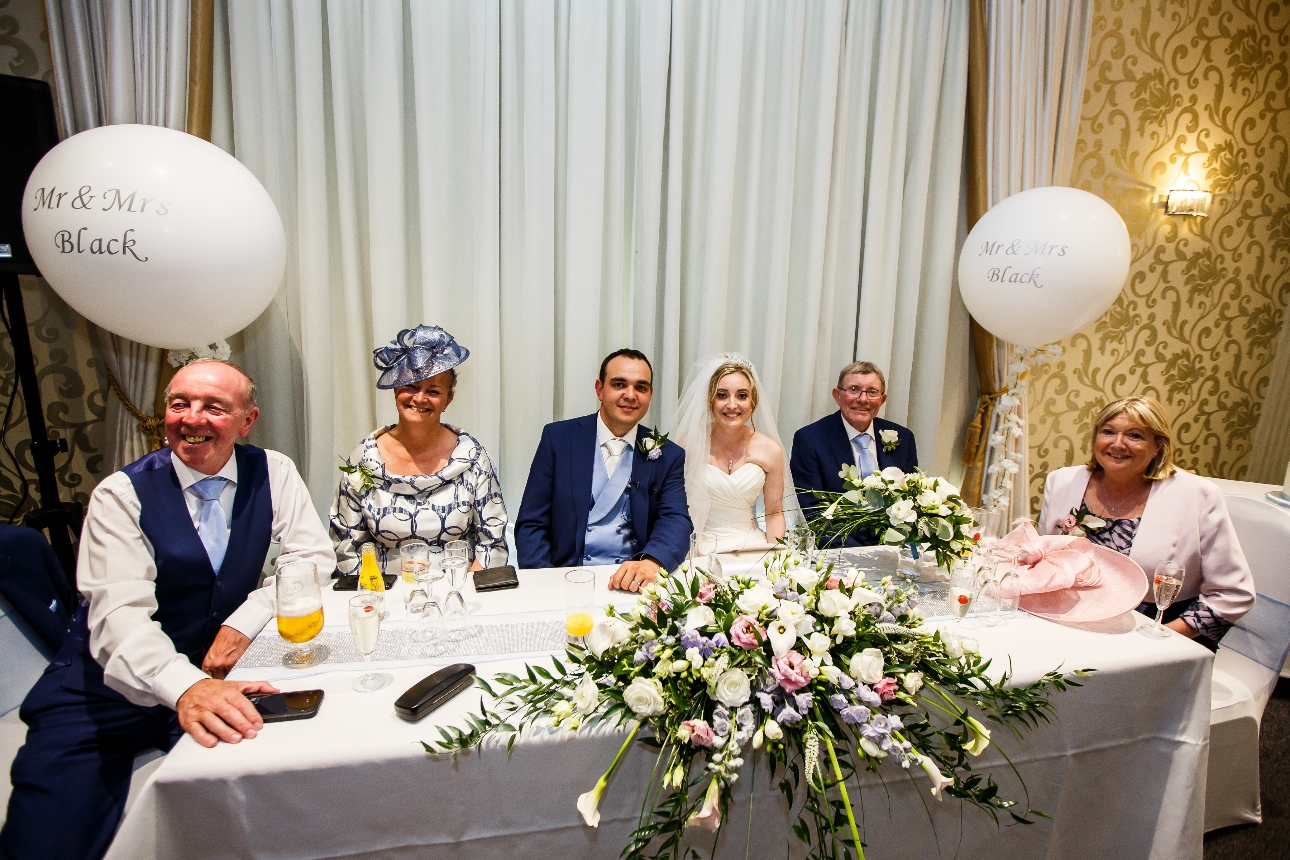 On the subject of beautiful blooms, Kim's bouquet was an ivory cascade of roses, while the bridesmaids' featured a pop of colour including the key cornflower blue. Kim explains, "Our flowers elegantly brought together the colours worn by everyone in the bridal party." She continues, "Hayley at Dutch Flower Shop was brilliant to work with and not only created beautiful florals in the form of buttonholes, bouquets and centrepieces, but also made lovely bouquets for the mothers-of-the-bride and -groom. She also gave us plenty of helpful tips such as providing vases for the posies and bouquet so they had somewhere to go when people were tired of holding them in the evening. Her service was flawless."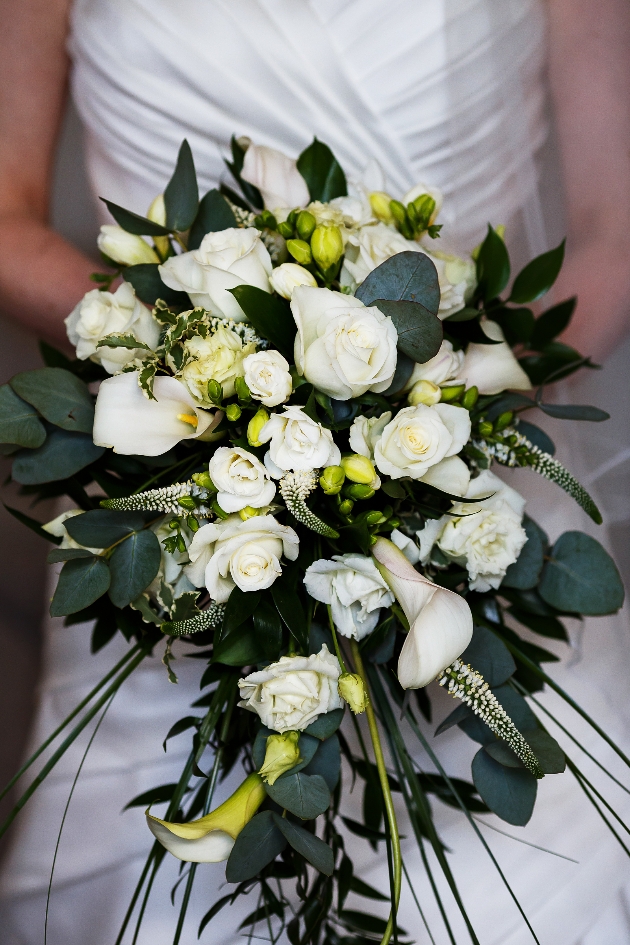 The big-day bake was carefully decorated in delicate edible lace and colours to coordinate with the bridal party's attire. It had three tiers each of a different flavour: vanilla, chocolate and lemon.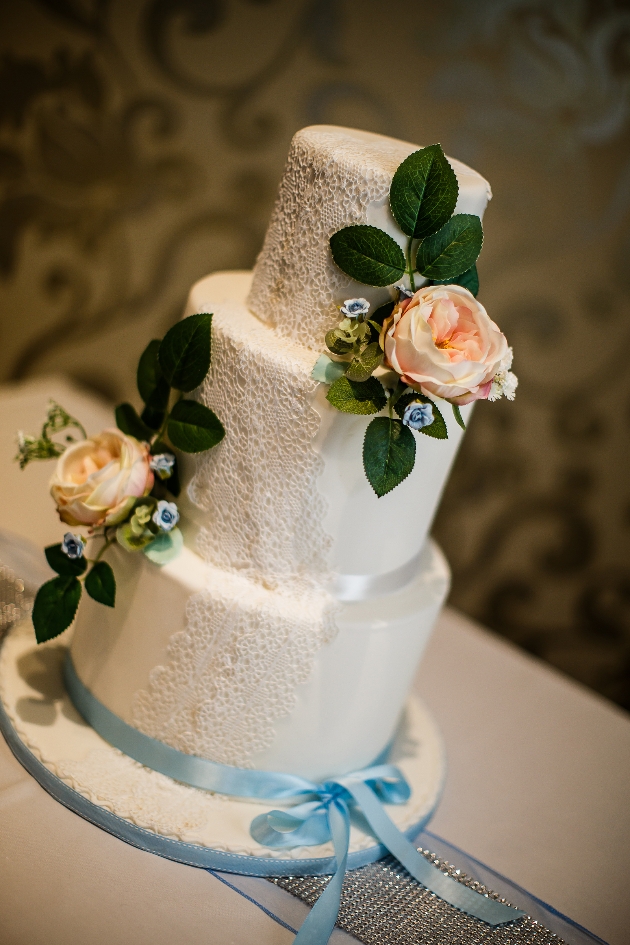 The sweet centrepiece on the day was actually a dummy cake as the real one had already been pre-portioned into personalised boxes. "Nicky from Nicky May Cakes is a creative genius. She's also a customer-focused, helpful and lovely person. Nothing was too much trouble," Kim remembers.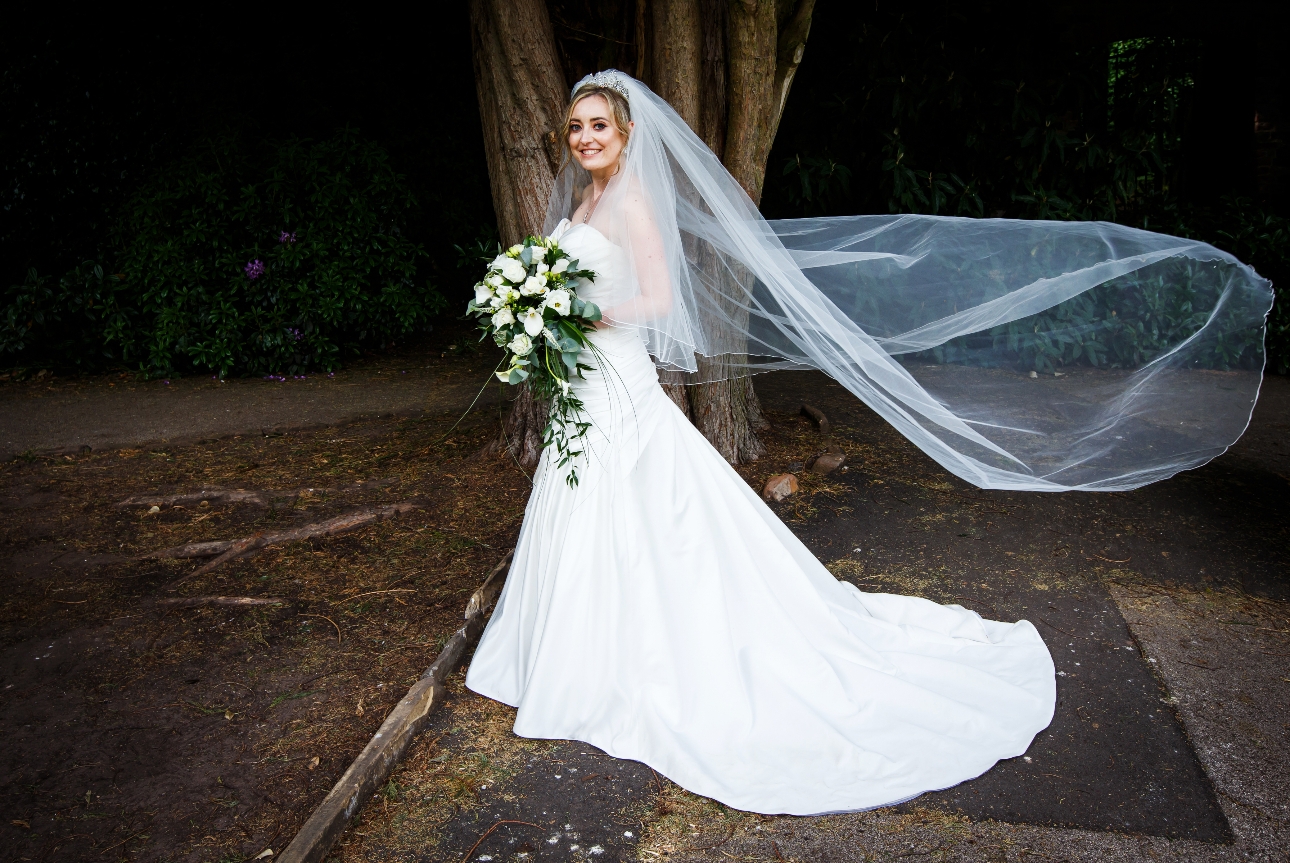 The bride wore Love by Amanda Wyatt, a classic matte satin, A-line gown with pleating and back detail. Kim fell in love with the sweetheart neckline and feminine silk ruched detail. "I tried on lots of different dresses in a variety of shapes and styles, but I just knew when I put this one on that it was the one I wanted to marry Ed in. I loved it and didn't want to take it off." she explains.
Kim accessorised with a Swarovski crystal-embellished veil, a necklace, drop earrings and a tiara set with Austrian crystals and Russian man-made diamonds.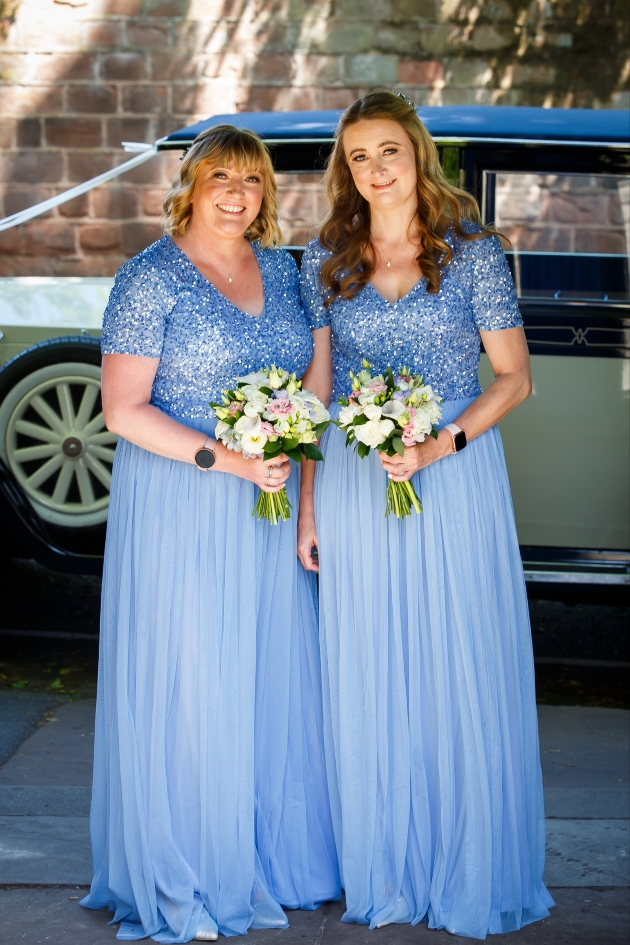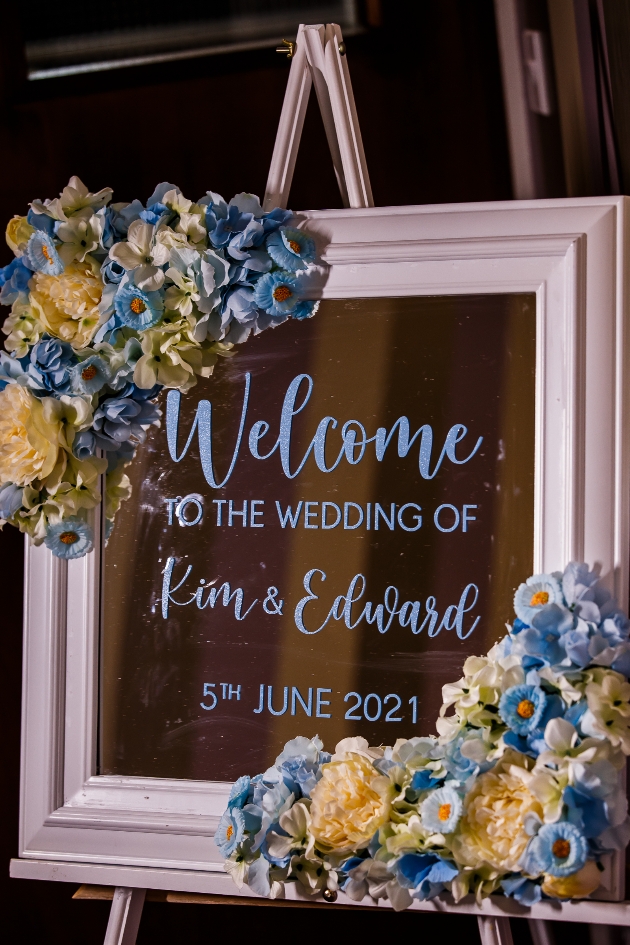 Dresses for the bridesmaids were a difficult choice as the ones Kim really wanted needed to be imported from Italy and with delays caused by Covid it was unlikely they'd arrive in time. Eventually though, she came across the gorgeous Angeleye Mira Embellished Maxi Dress online, which the bridal boutique's skilled seamstress altered for the ladies.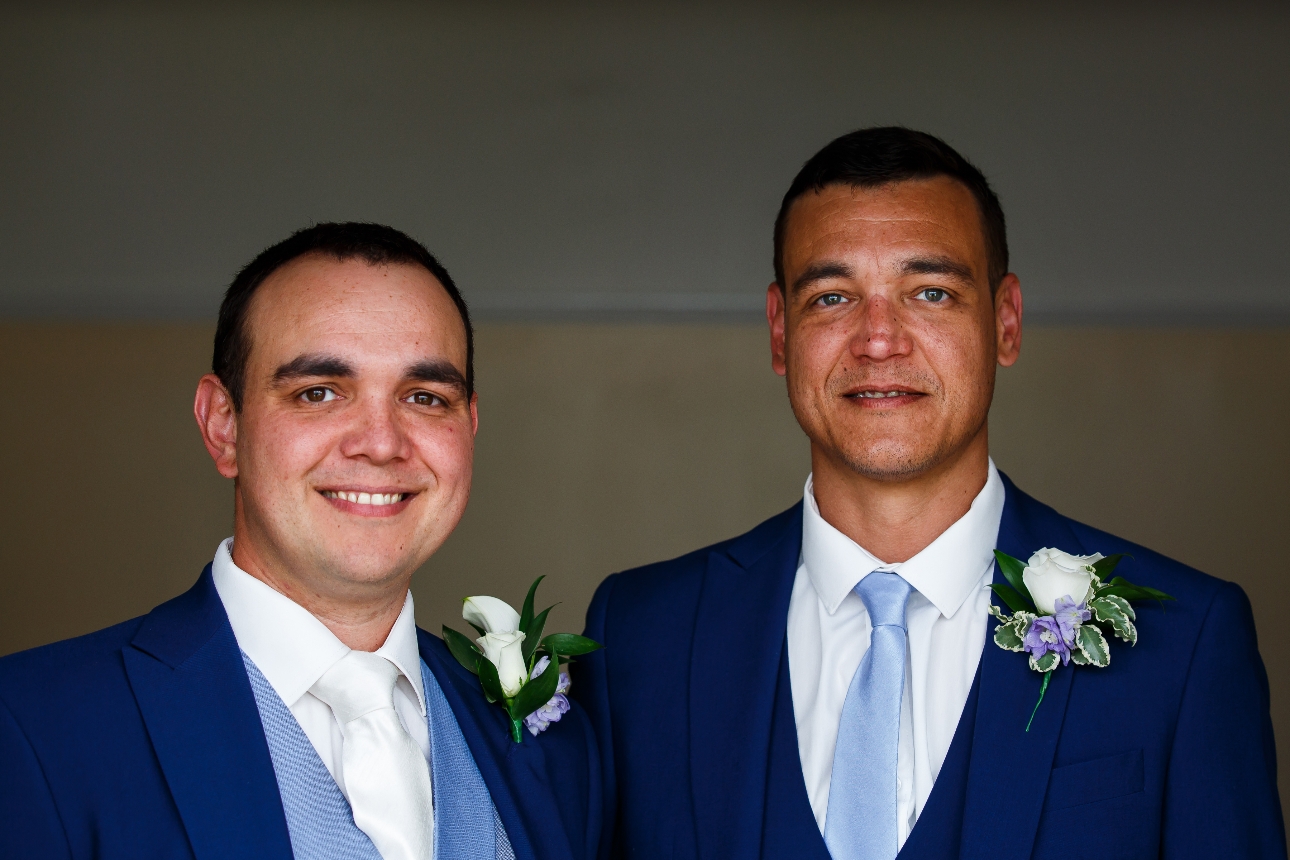 Kim was surprised when Edward walked into Groom and picked out Egan Tails by TORRE right away – "He's usually a casual dresser, but he was so decisive! The first suit he tried on was the one he chose," she says. It complemented the bridesmaids' dresses perfectly. The assistant then helped them pick out an ivory tie for the groom and blue ties for his groomsmen.
As Covid restrictions prevented guests from hitting the dancefloor, the pair opted for a musician instead of a DJ. "Chris Tavener was a true professional. He played the song for our first dance and had a great repertoire that worked perfectly with the different age ranges of our guests –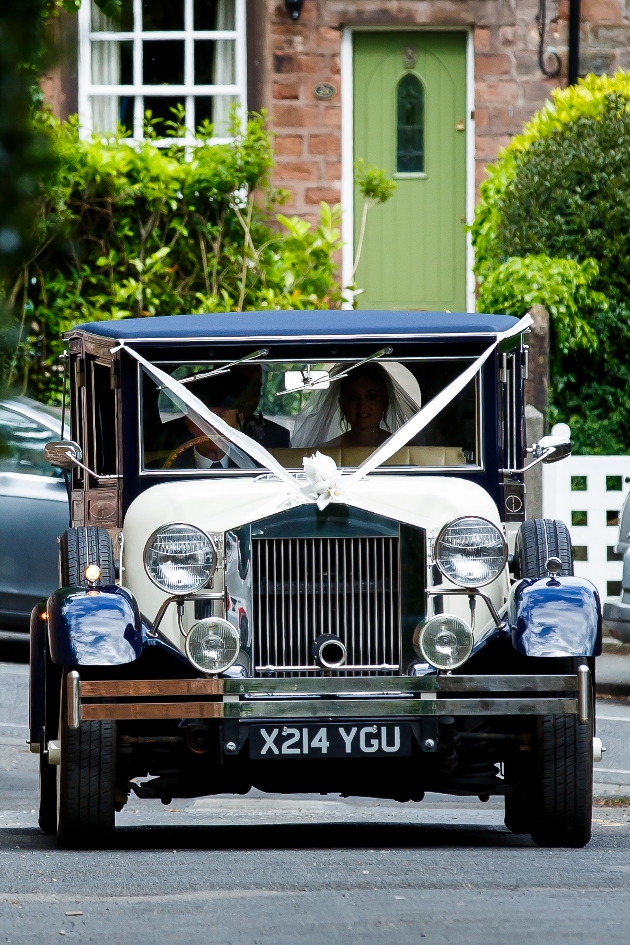 Everything from Bob Dylan and The Beatles to George Ezra. He was great at reading his audience and adapting his style to the atmosphere," Kim tells us. Chris' music flowed throughout the evening and he was even kind enough to stay later than planned.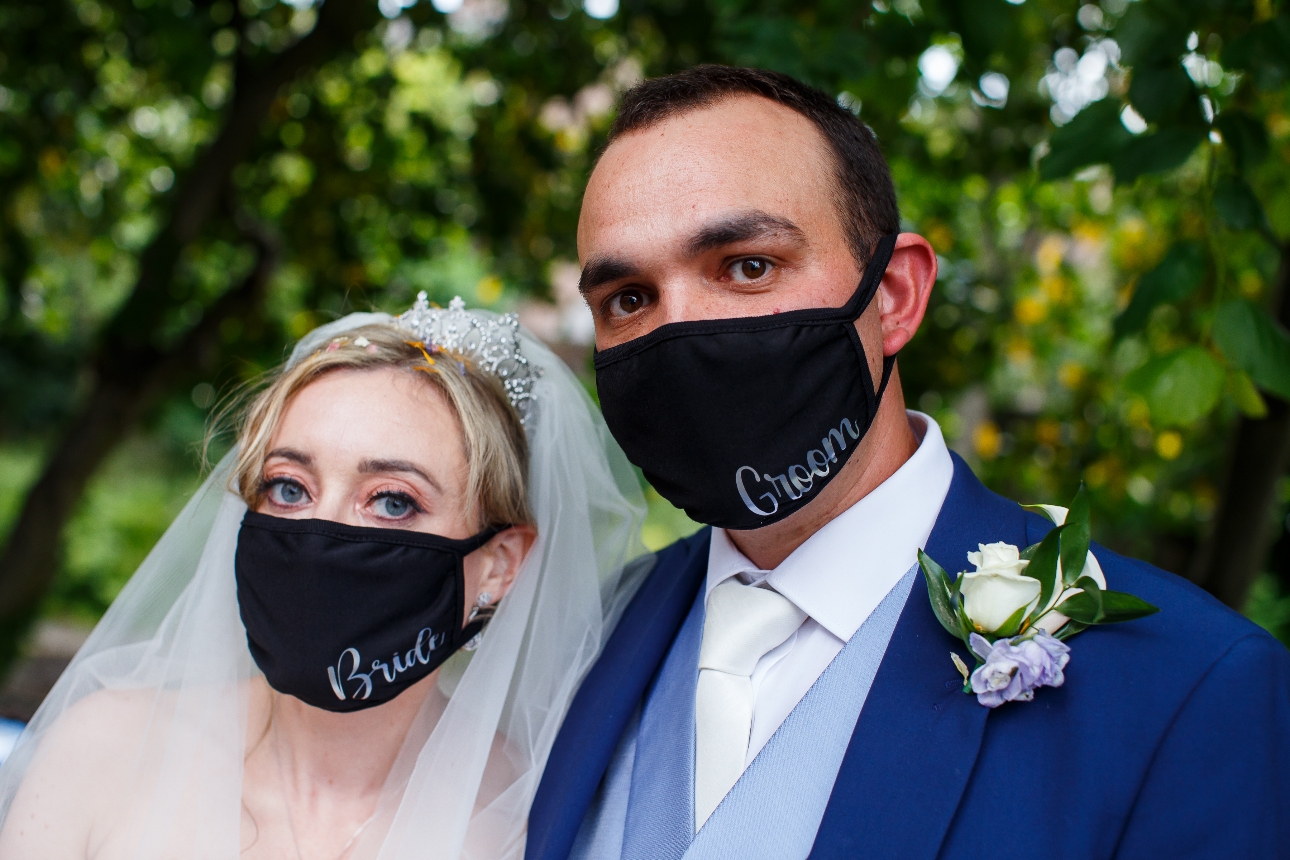 Kim recalls, "Because so much had gone into the organisation of the wedding I was calm and ready to enjoy the day. Everything was plain sailing.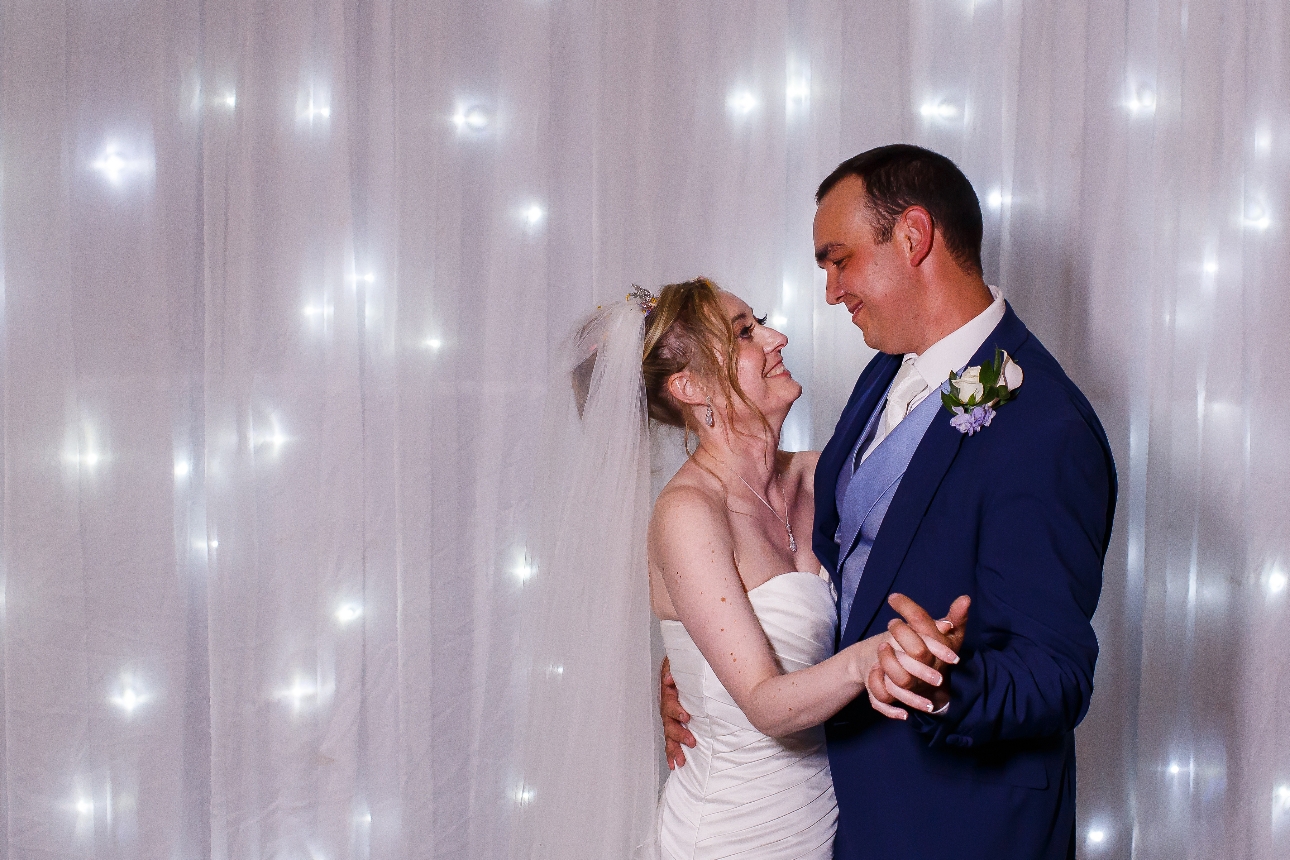 The newlyweds spent their wedding night at the luxury five-star Chester Grosvenor Hotel, where they were greeted with champagne on arrival. While dining in La Brasserie they met a couple due to celebrate their 80th birthdays next year and got chatting. They told Kim and Edward that the best piece of marital advice they could offer was to plan their lives together, because time passes so quickly. After parting ways the couple's new friends reappeared some time later with a wedding gift for them – a Simon Radley teddy bear, so that they'd always remember that night at the Chester Grosvenor. "This act of kindness was a lesson to appreciate each moment you have," Kim says.From here they travelled to River Nene Cottages in Peterborough, where they honeymooned for a fortnight. The weather was glorious so they spent plenty of time at the poolside and enjoyed picnics in the grounds as well as taking in champagne sunsets on the River itself.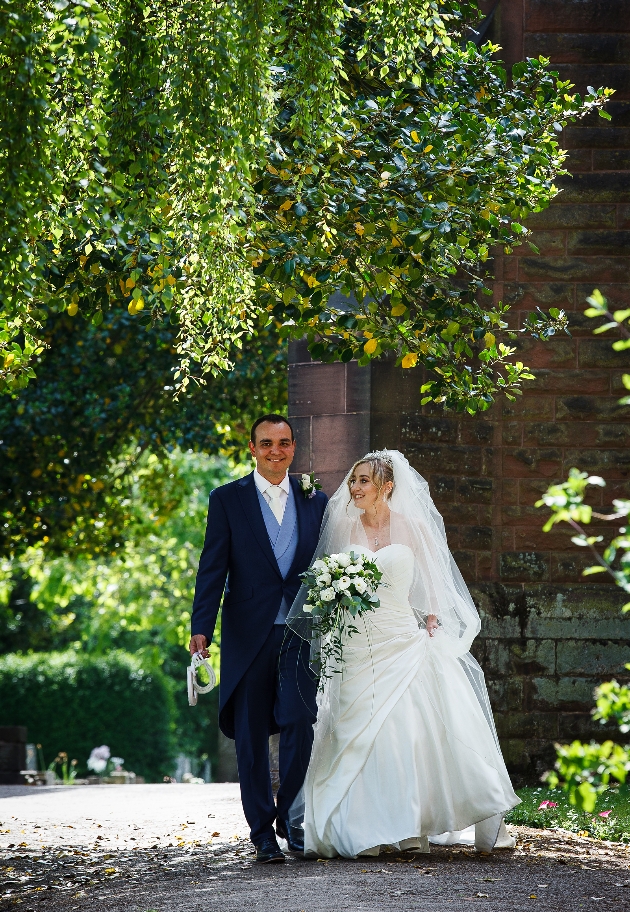 "Our photographers Kevin and Carole Brown were amazing – they had control of everything, wrapping photos up quickly, spotting great shot opportunities and being supportive. They'd chip in and help with anything. They built up a rapport with us so quickly that by the end of the first hour we were as comfortable with them as we were with our own family.
"Eva, our make-up artist was a real asset too. I honestly don't know how we'd have gotten through without her. She worked seamlessly with our photographers, ensuring we were ready on time for photo shoots and above all she was a tonic for any big-day nerves!" Edward says, "Signing the marriage document and hearing the beautiful music we'd chosen for this moment (the score from Ghost) was really moving. I'll never forget reading our vows and that feeling you have being pronounced man and wife."
Kim and Edward's contact book