Despite meeting at a festival in Wales aged just 16 and 17, Abbie and Greg didn't really start getting to know each other until Greg sent Abbie a Facebook message a few months later. After a few dates at the beach, the pair realised they wanted to be together. "Greg says he was first attracted to my smile, while I loved how he could make me laugh until my stomach hurt – in fact he still does every day," Abbie tells us.

In 2017, Greg surprised Abbie with a trip to Iceland for her 21st birthday, and while there they decided to take a Northern Lights tour in the hopes they'd be kind enough to show themselves. However, by the time it reached 1am and the Northern Lights still hadn't materialised, Abbie decided it was time to call it a night and try again another day. But, Greg suggested they take just one last picture. He set up the camera on a timer, and as the flash went off he got down on one knee and asked Abbie to marry him. "It was the best feeling in the world and The Northern Lights appeared five seconds later. I couldn't have asked for a better proposal," Abbie shares.
The couple had been struggling to find a venue they loved until they drove up to the beautiful Talhenbont Hall. Abbie explains, "The property has a really nice feel to it with original features and old furniture. The grounds too are beautiful with lawns surrounded by forest and a river running around the estate. It felt so intimate and personal, which ultimately is the reason we chose to book. It really was the full package!"

The wedding party had access to the venue's grounds over three days, which meant family and friends could stay on site the night before the wedding right the way through to the day after...

Read on as the bride tells us more about the big day, 15th November 2021...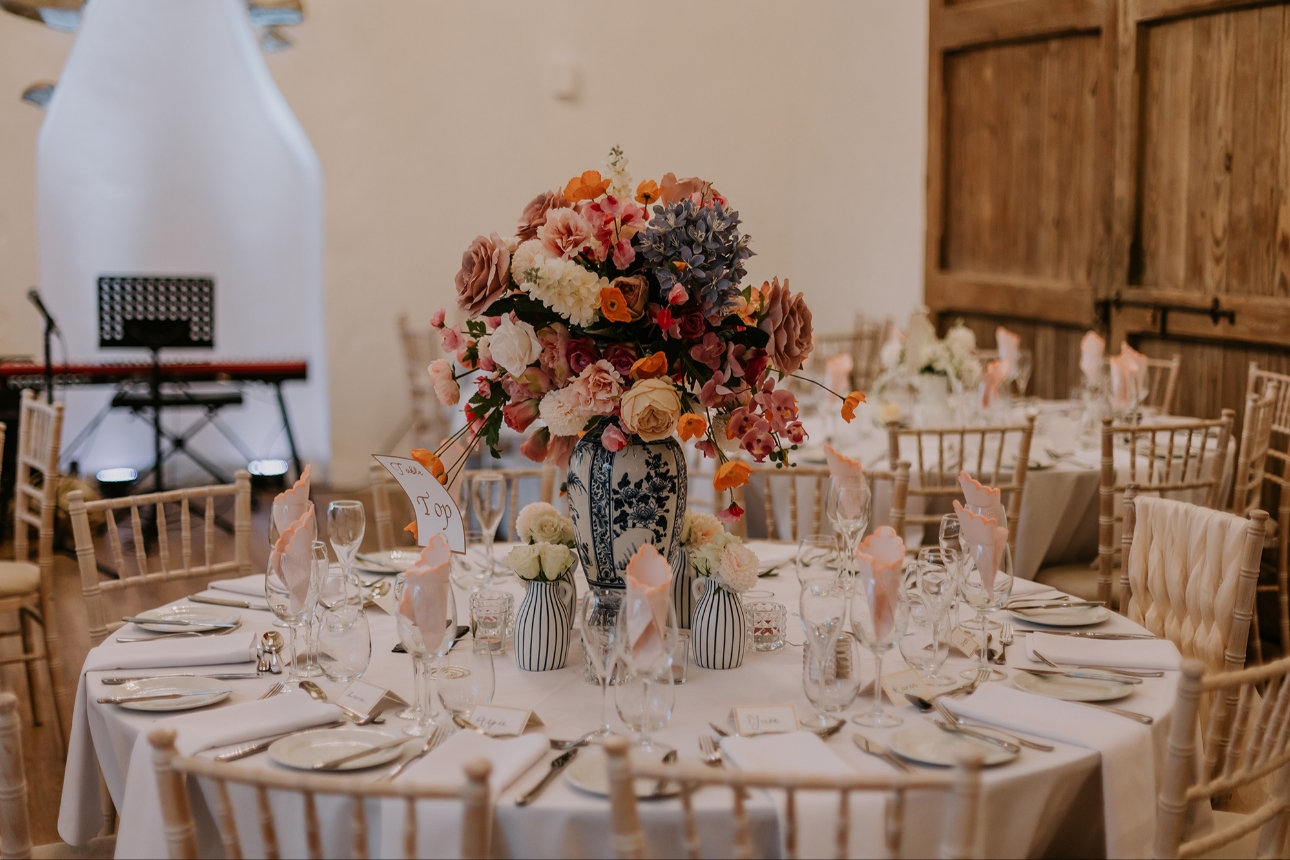 With an overarching white and dusky pink theme the centrepieces cleverly incorporated both in a different way. For the guest tables the pair embraced a minimalist approach with white blooms, while the top table, located at the centre of the room, was decorated with floral bursts of colour displayed in a blue and white Chinoiserie vase. The space was filled with tea lights, which created a cosy ambience, setting a romantic scene.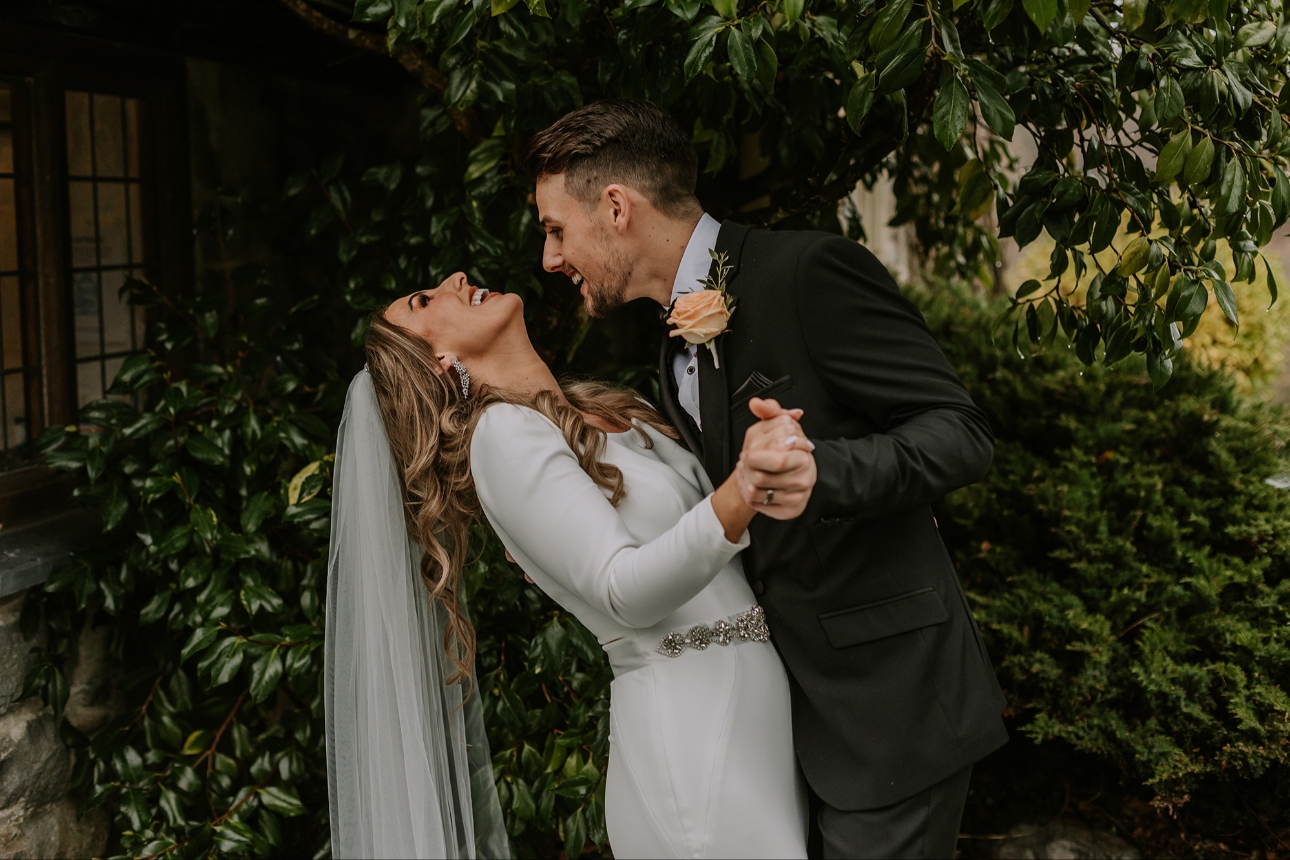 The couple made their table plan using their lounge mirror, which they decorated with peach flowers and a hand-drawn gold outline. The table numbers were chosen to complement the design of simple white and gold while the place names were calligraphed by a talented family member.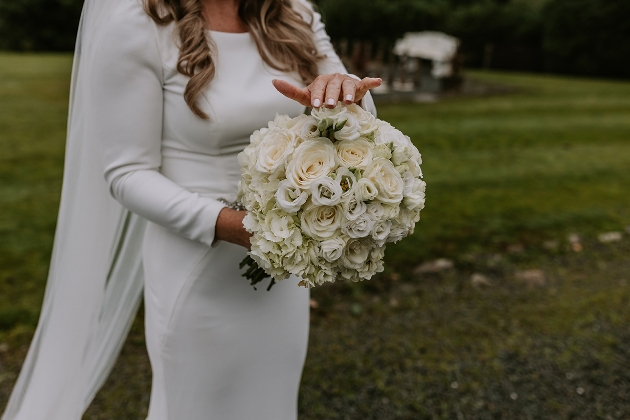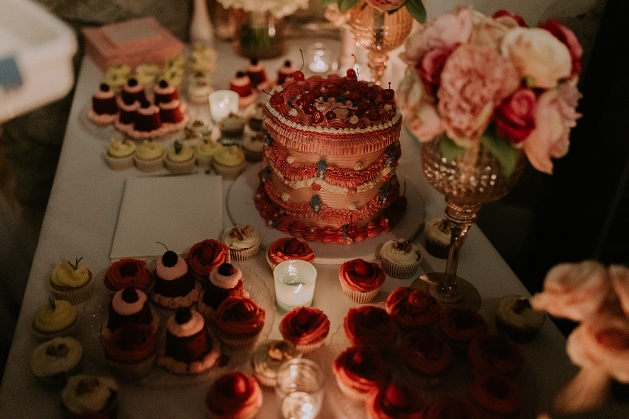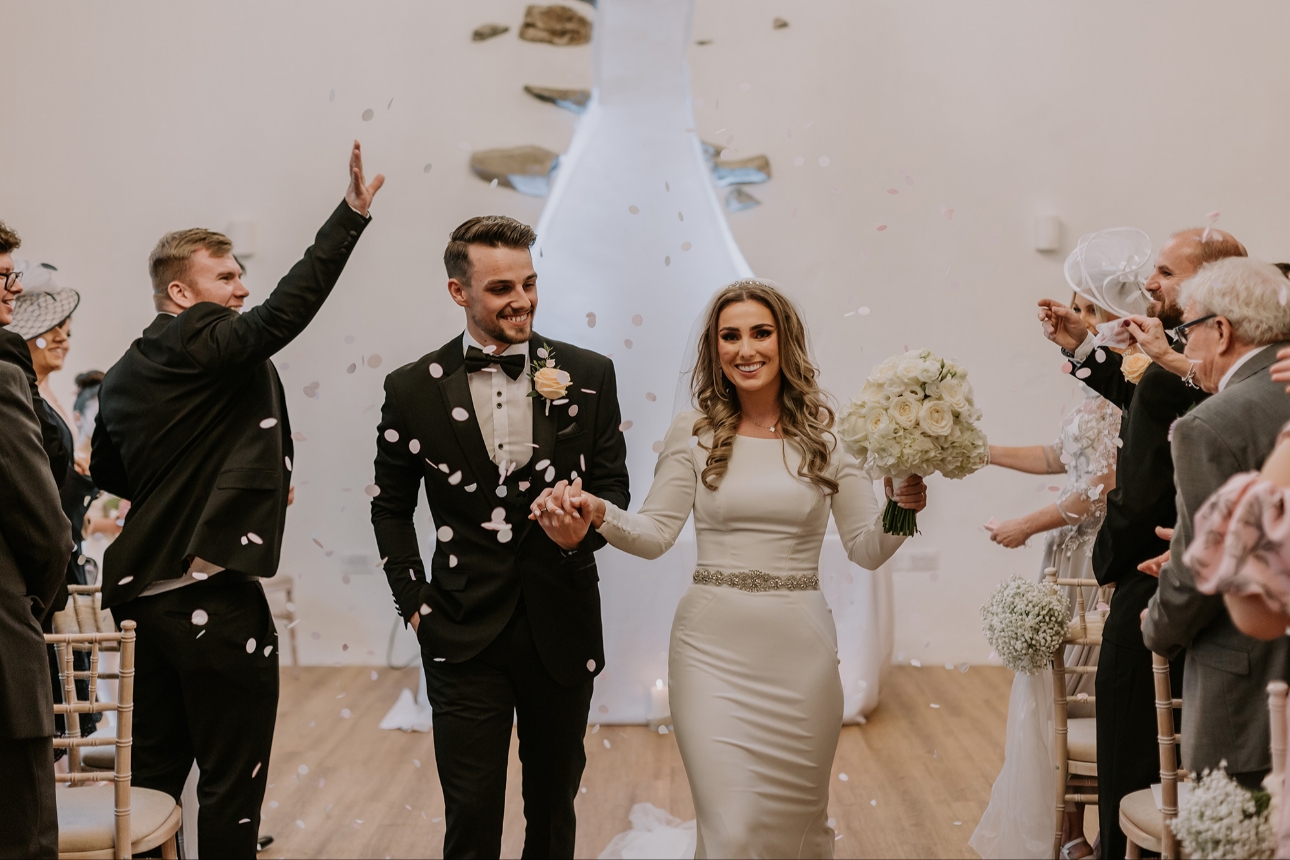 Caterers Cheeky Chilli served a selection of eight canapés, as well as a wedding breakfast of chicken, finishing with a trio of desserts. "They were absolutely amazing," Abbie says. Speaking of sweet treats the mouth-watering big-day bake was a sight to behold! The single-tier vanilla cake was elaborately piped with pink and light blue icing and topped with cherries. "Birch Bakery did a fantastic job," Abbie remembers.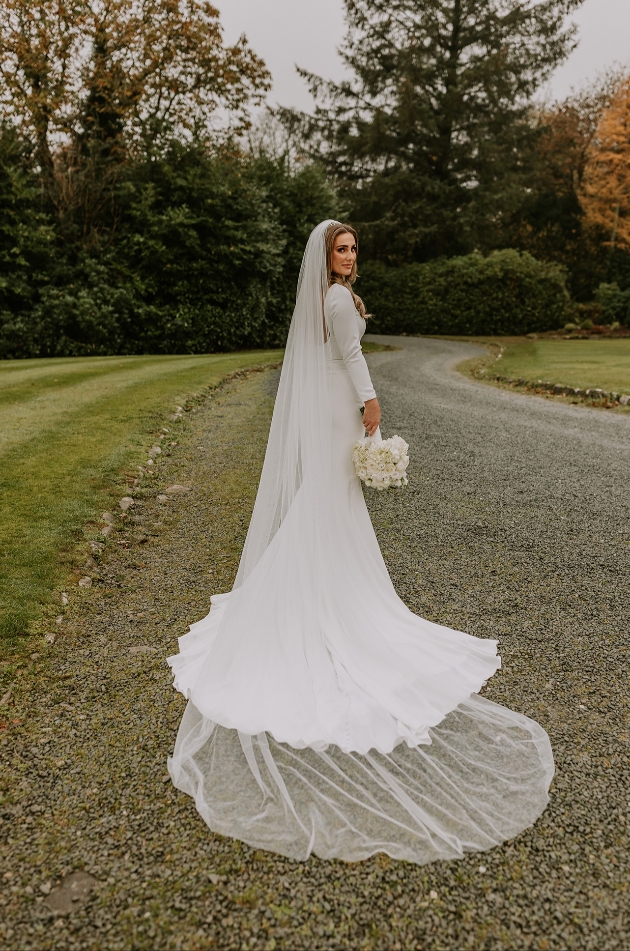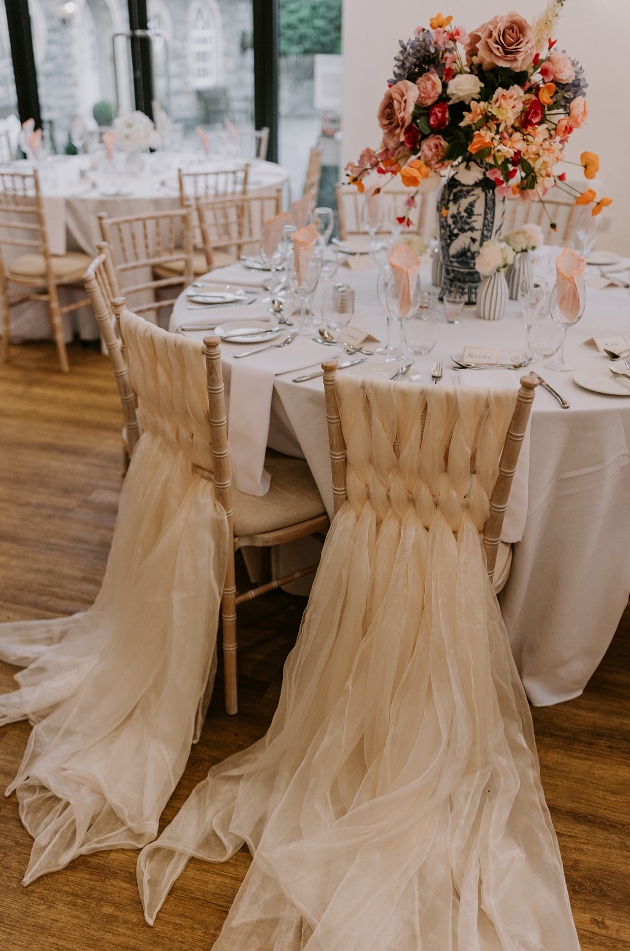 "I knew exactly what I wanted my dress to look like and found the one. It made me feel so elegant and beautiful and I've never seen anyone wear anything like it," the bride explains. A long-sleeve gown in bright ivory finished with buttons running it's full length, Abbie felt it didn't need more than a delicate crystal belt to add some sparkle and complement her earrings.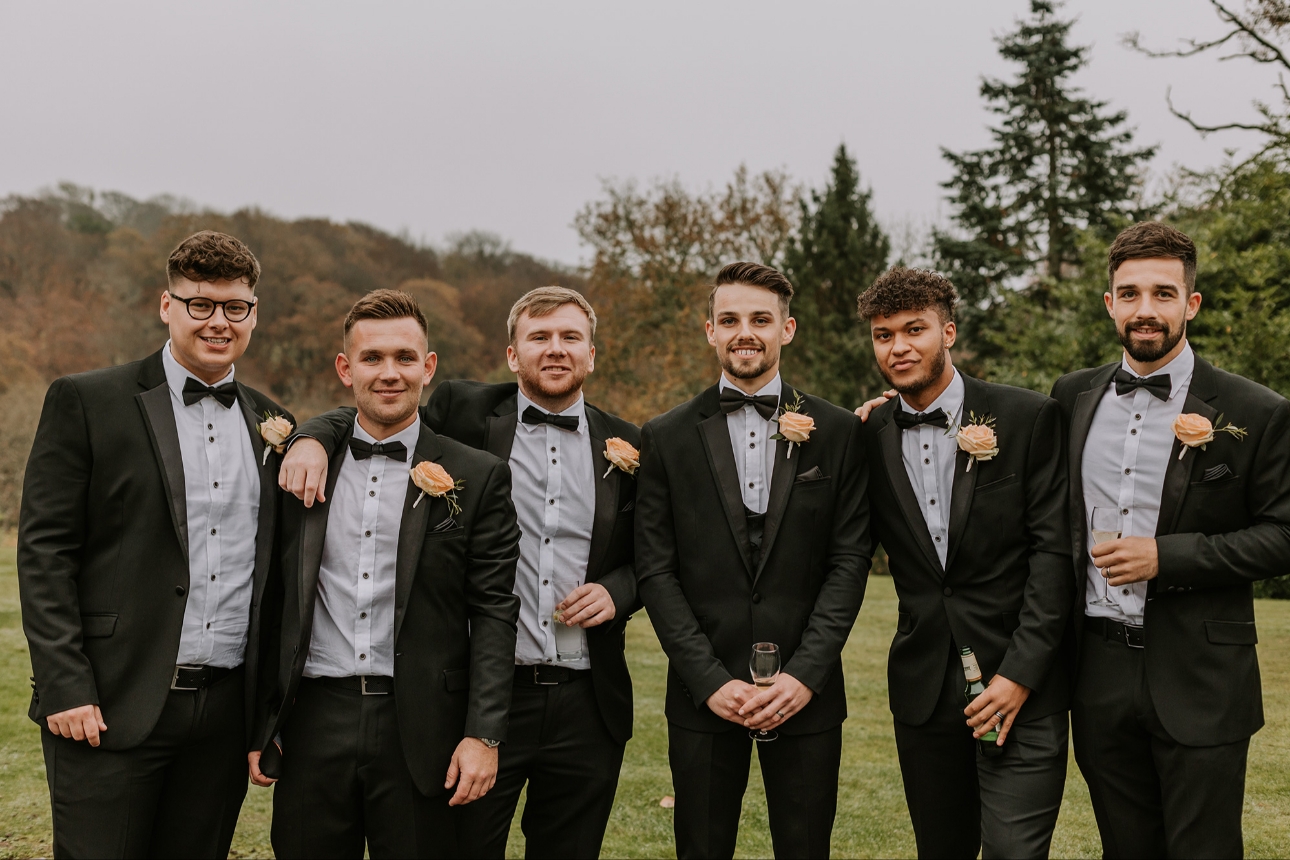 Greg and his groomsmen all wore black tuxedos. The groom added a black floral waistcoat to his outfit in order to stand out and the suits were all finished off with black bow ties and peach rose buttonholes.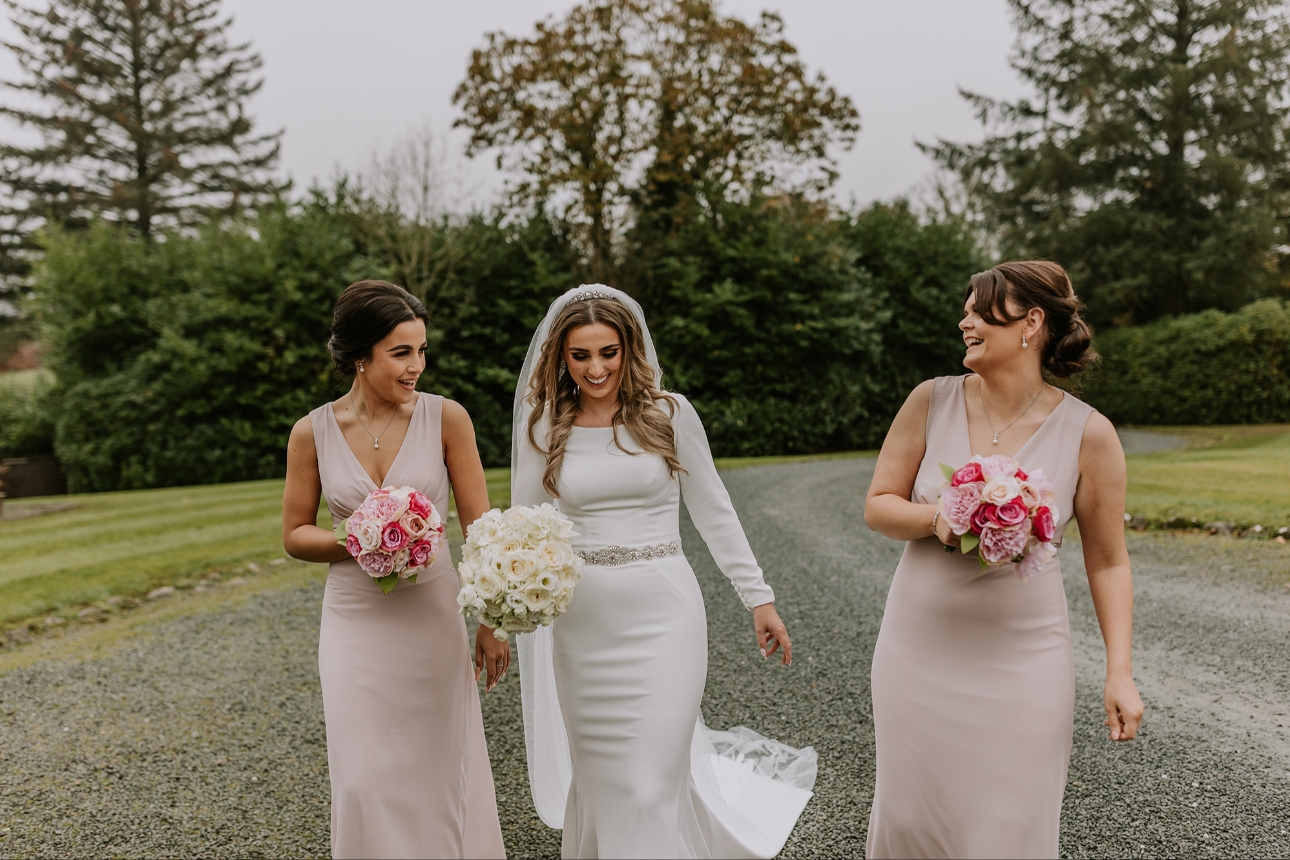 The bridesmaids were dressed in dusky pink chiffon maxi dresses with open backs and silk bows. "They were very pretty dresses and both girls looked amazing," Abbie remembers.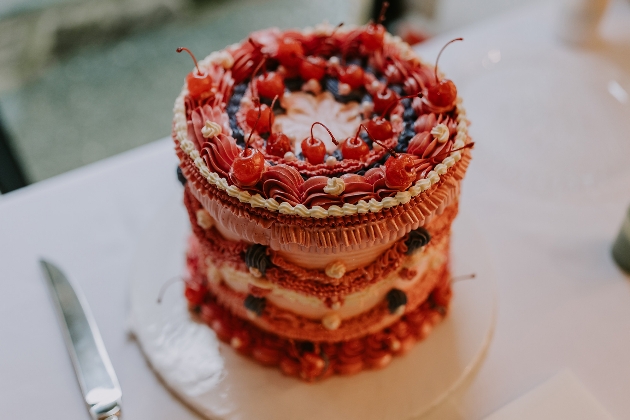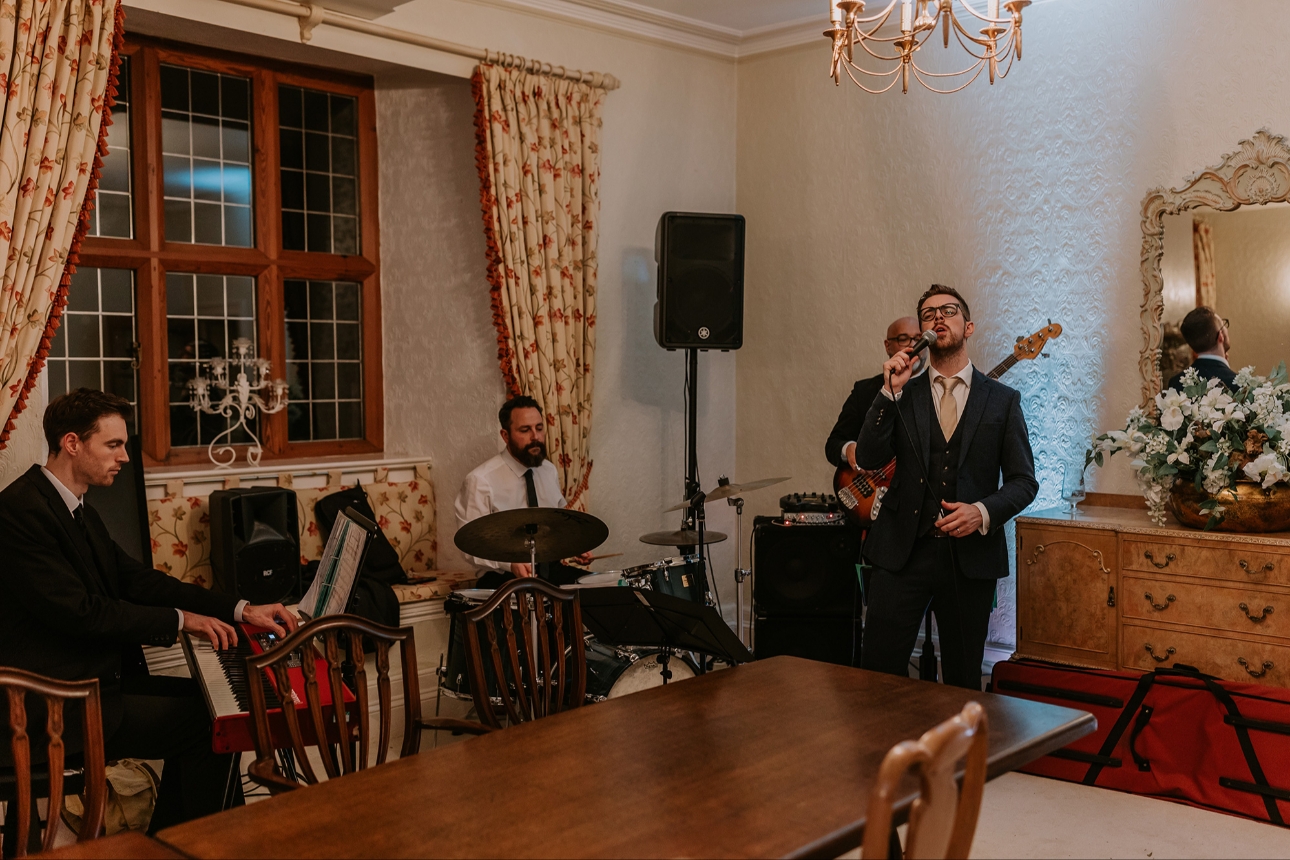 Live jazz and swing band The Chaser Quartet played during the ceremony, drinks reception and wedding breakfast. Abbie had kept this a secret from Greg as it was a surprise gift for him on the day.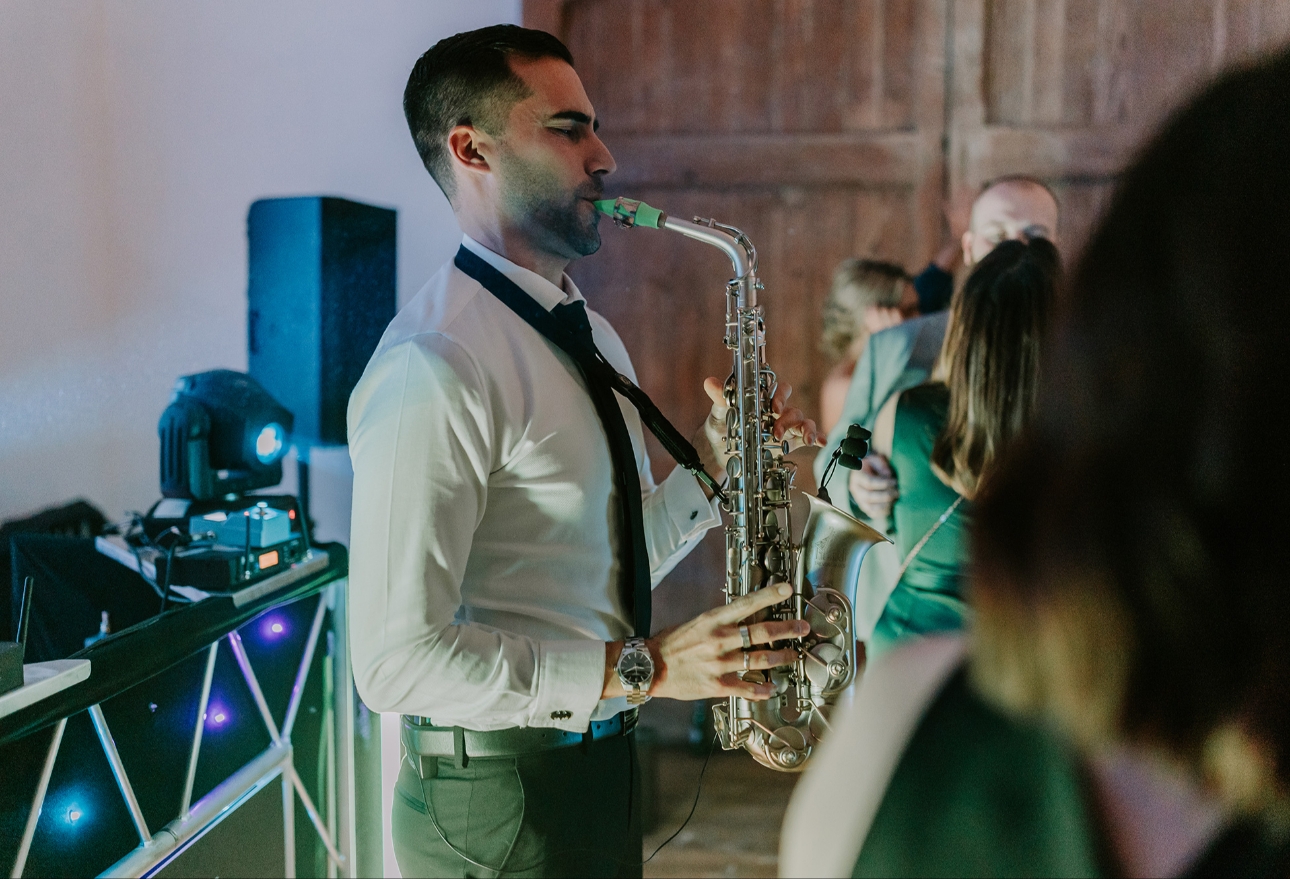 During the evening, DJ Lee Morrison from Liverpool was accompanied by Jesus Martin on the sax. "They were both incredible and made the night. Everyone loved the music and the dancefloor was full all night," Abbie remembers.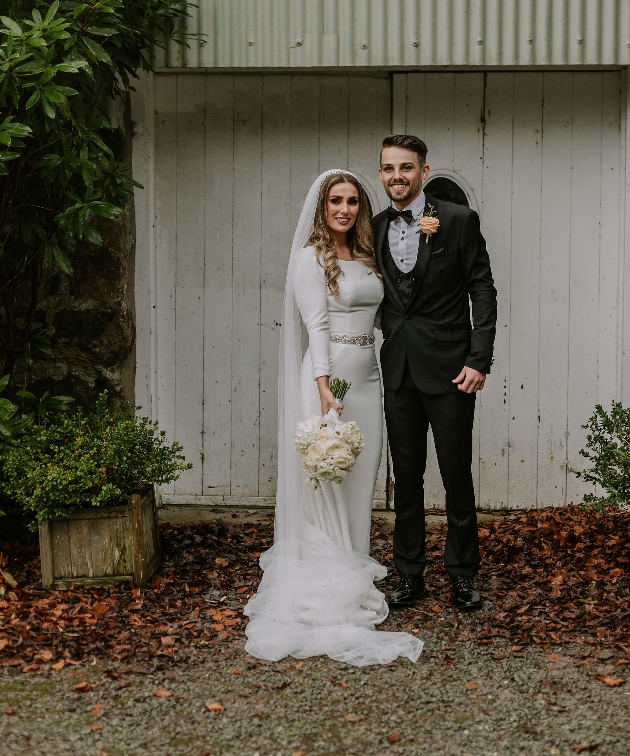 Abbie says, "Greg was fairly calm before the ceremony, but was extremely nervous about his speech. Once the music began and he stood at the end of the aisle waiting for me, he became overwhelmed with emotion and can't remember anything from that point on!"Greg says, "Abbie didn't manage to sleep much at all the night before, which only made the nerves worse in the morning. It was emotional for her getting ready with her bridesmaids and family, but as soon as she was with her dad, Cliff, she felt calm and ready to walk down the aisle."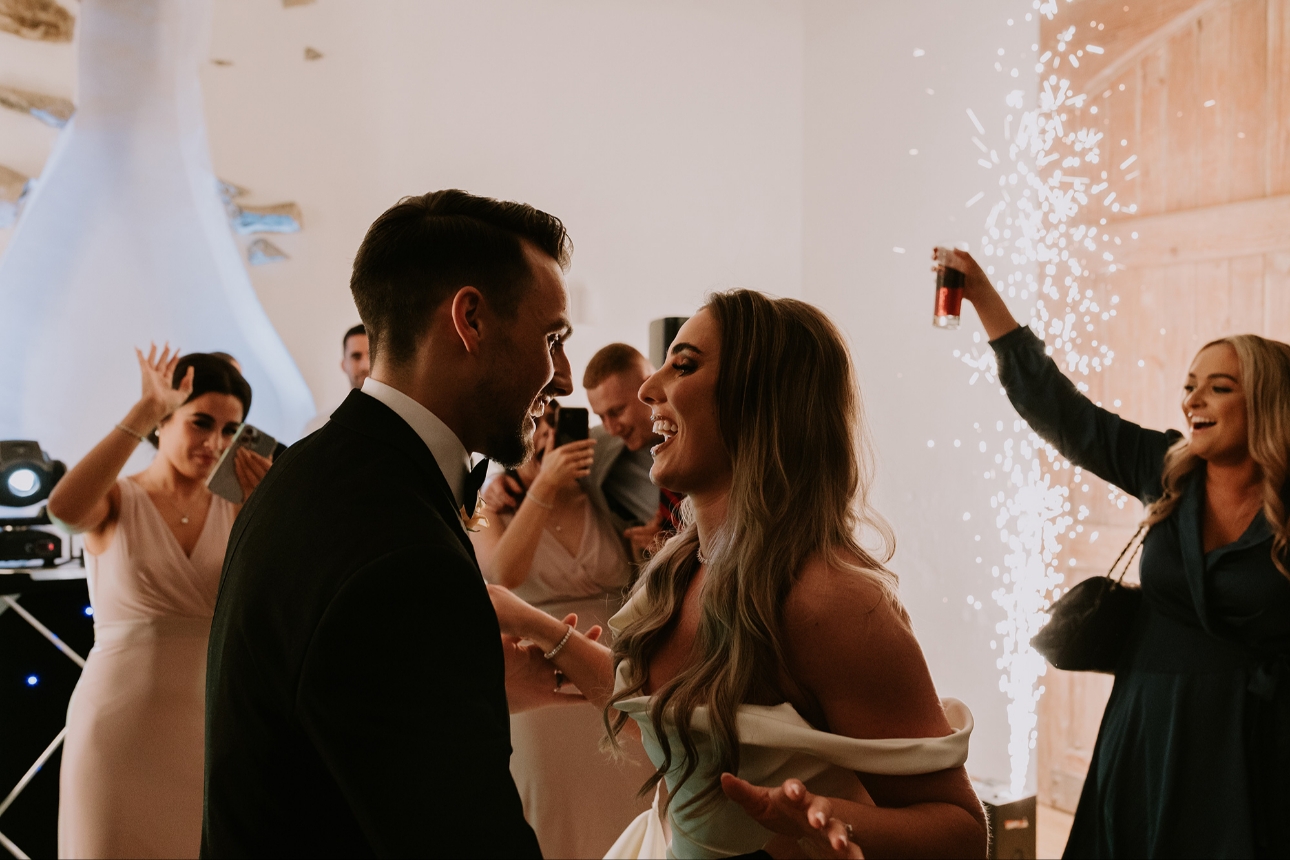 The speeches were the part of the day that stood out most for both bride and groom. They weren't originally going to have any as both groom and father-of-the-bride knew how nervous they would be, but in the end their humour and genuine emotion shone through and they felt pleased with how everything went. "We've never seen so many men cry in one room," Abbie laughs.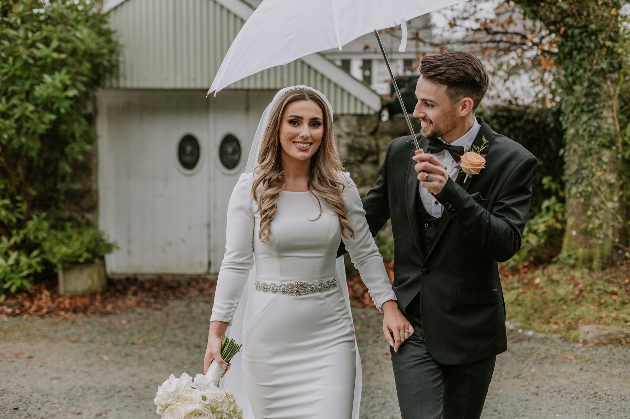 The duo are incredibly grateful to all of their suppliers who were unbelievably helpful and made the day so special. Thanks go out to Alicia and Paul from Talhenbont Hall. Abbie says, "Even though we had to change the date due to Covid all suppliers were happy to make things as easy as possible for us and saved us so much stress. We can't thank them all enough."

Before parting ways, the bride shares her top tip, "It's easier said than done, but don't let the stress and nerves build up before the big day, because once it arrives it'll be the quickest day of your life and you'll realise there was literally nothing to worry about. Everyone just wants the best for you, no matter what happens."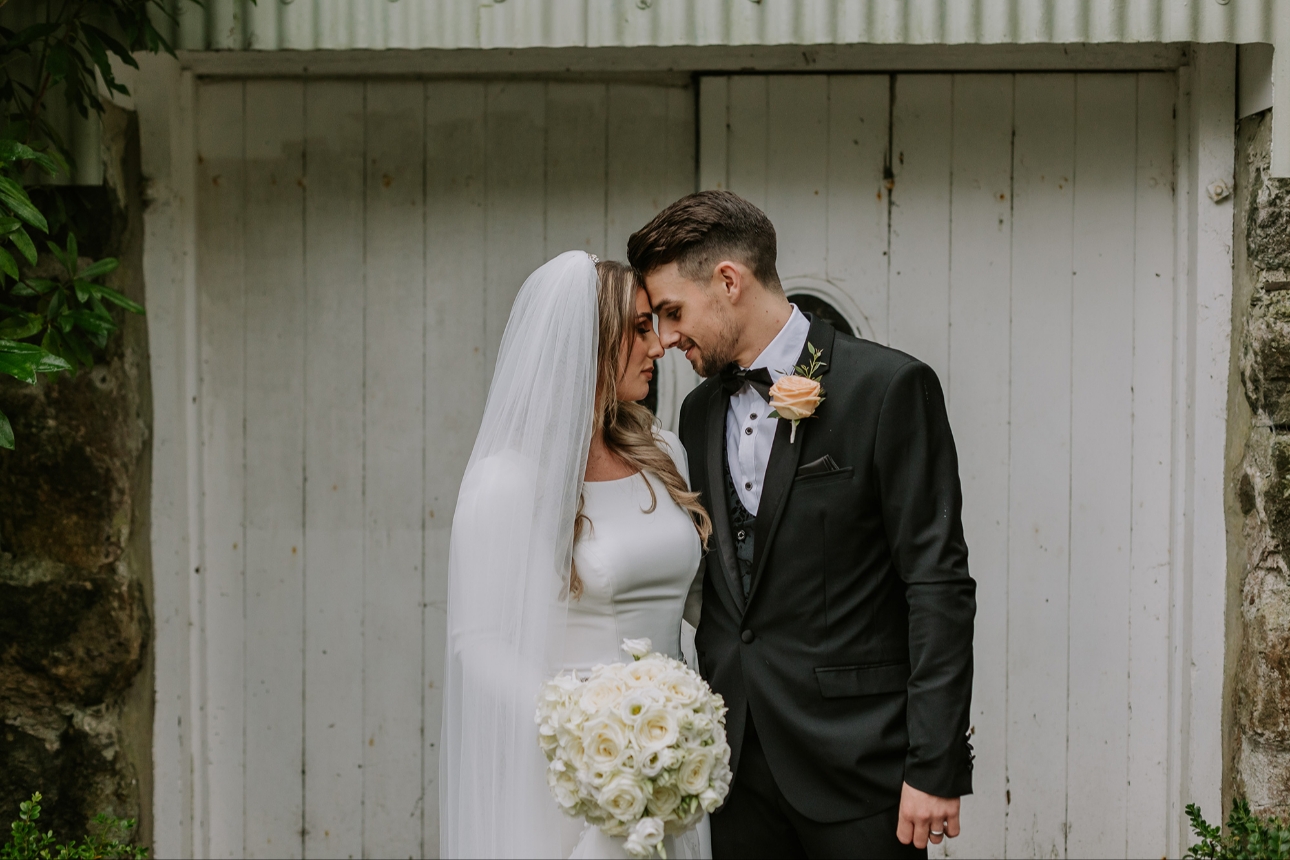 "We feel blessed to have been able to have the wedding of our dreams, with no restrictions, as this hasn't been the case for everyone." – Abbie
Greg and Abbie's contact book