Sarah and Mike's eyes met across a crowded room at a friend's party during their first year of sixth form college.
Indeed, it was his eyes that Sarah was attracted to: "They're a lovely shade of blue," she says. The pair hit it off right away, immediately feeling at ease in each other's company, even though it took Mike another month to convince Sarah to go on a date with him. But needless to say, they're both so glad he did.

When the couple had been dating for a year or two, Mike took Sarah to a romantic spot in their home county of Lincolnshire to watch the sun set. But, when he suggested an impromptu visit back to the same place one Friday evening, she had no idea what he had planned. After setting up the camera to film the sun going down, he got down on one knee and asked Sarah to marry him. "I burst into tears, I never thought I'd react that way," Sarah remembers. Mike had bought the ring months beforehand and had been planning this proposal for some time, despite spending the wedding day of a friend, just days before, deflecting questions about whether they might be next!

Mike was keen to say "I do" in a church, and Sarah was happy to go along with his wishes. "We have quite a few around us, but St Helen's Northwich is definitely the biggest and prettiest in the area. Also, the vicar was lovely and we had a great rapport with him, so felt that was the one quite quickly," Sarah explains. When it came to the reception venue, the couple fell in love with the family feel of Abbeywood, as well as it's rustic yet elegant vibe. "We both love walking and being in the countryside, so its beautiful gardens and glass house made it feel just right for us," Sarah tells us.

Join us now as the bride shares more memories of their beautiful wedding day, which took place on 6th November, 2021...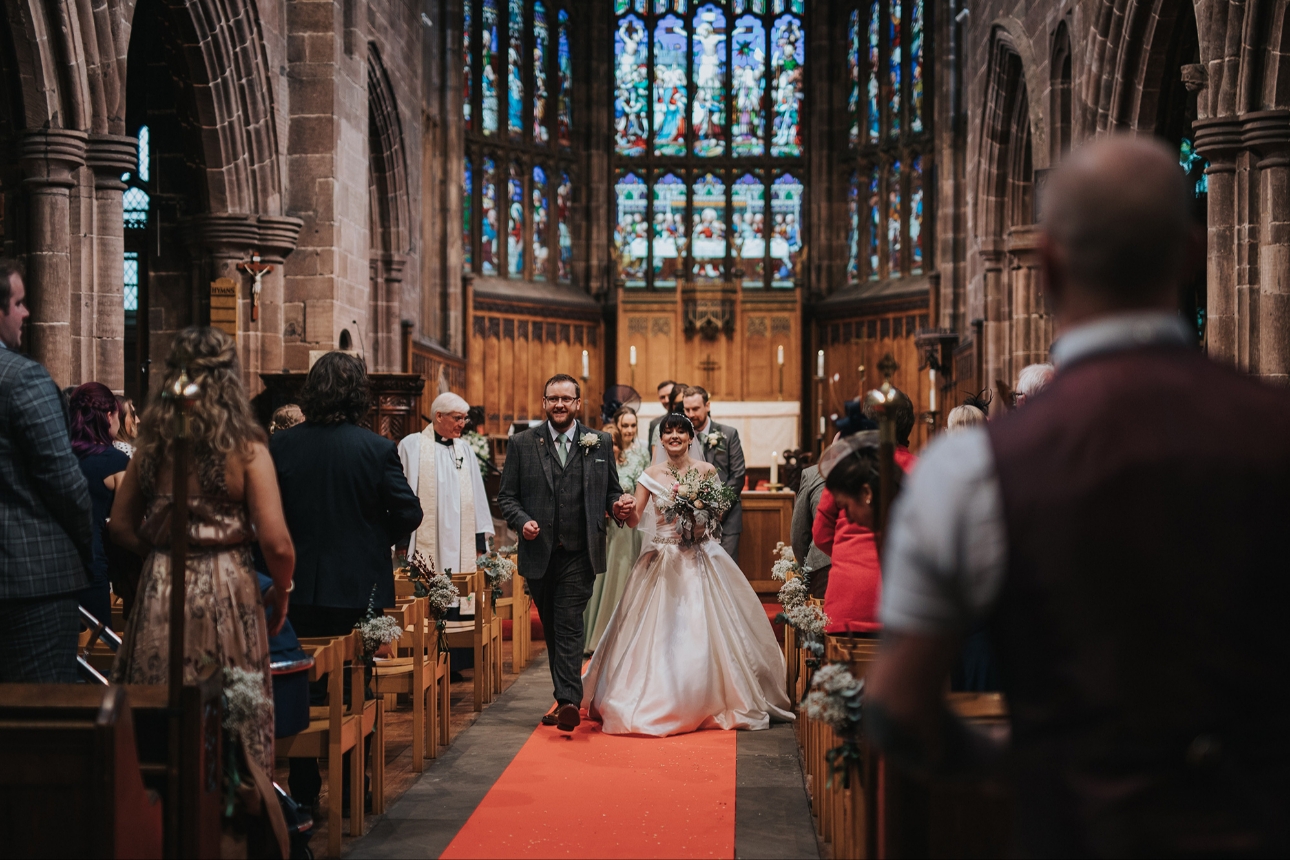 As a huge book lover, Sarah knew she wanted to include her main hobby in the theme of the wedding day. "I love the classics such as Pride and Prejudice, and Jane Eyre," she tells us. So, they chose five of Sarah's favourite books and five of Mike's and named the tables after them. They also selected quotes about love or marriage from each and incorporated them into the table-number design. The table plan itself was also literary themed with each table being depicted as an open book complete with the number on one side and guests names on the other.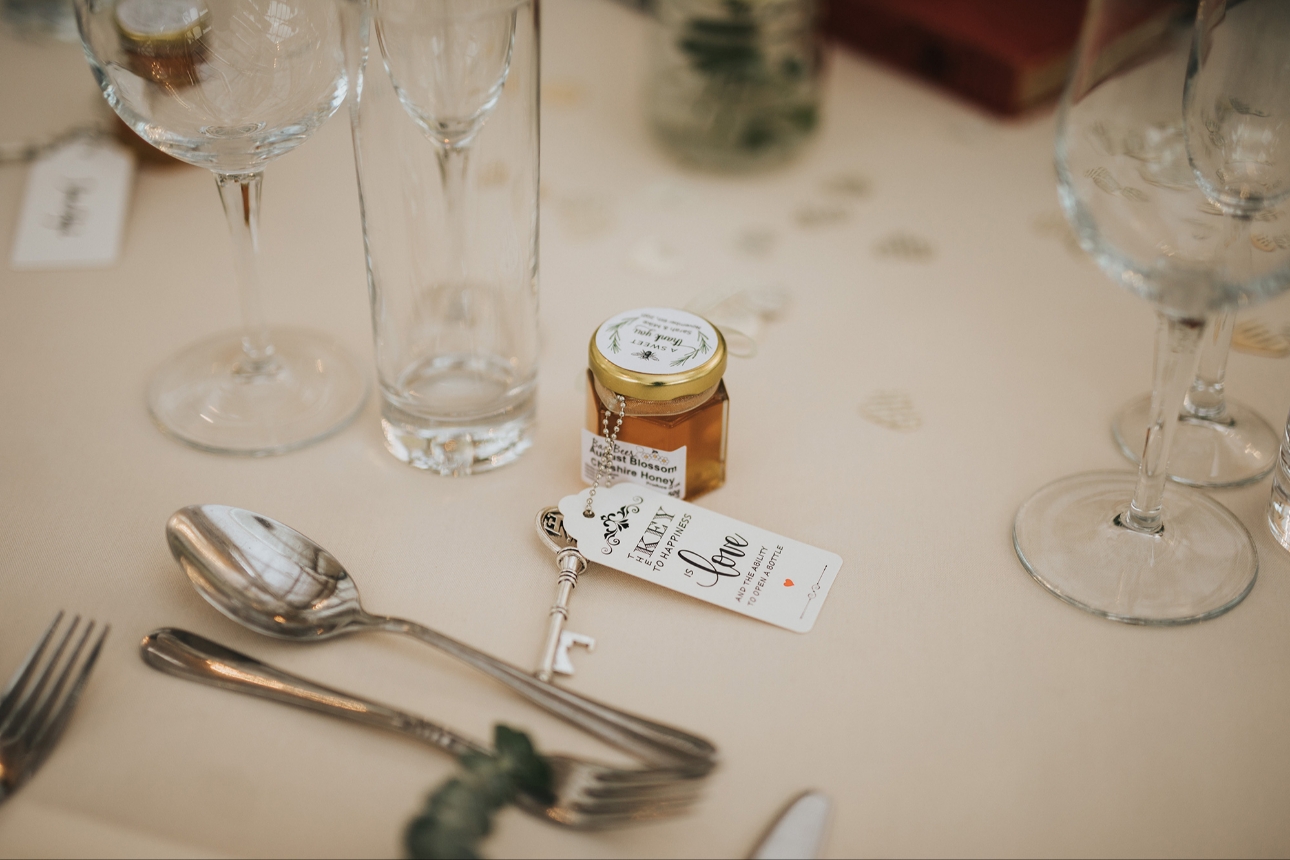 The place names and favours were combined in the shape of mini honey pots from a local producer. "We wanted to include a nature theme and felt honey would be great," Sarah explains. Each pot had a ribbon tied around it with a key and name tag attached. The key was a bottle opener and the tag read: "The key to happiness is love and the ability to open a bottle." Guests names were written on the other side.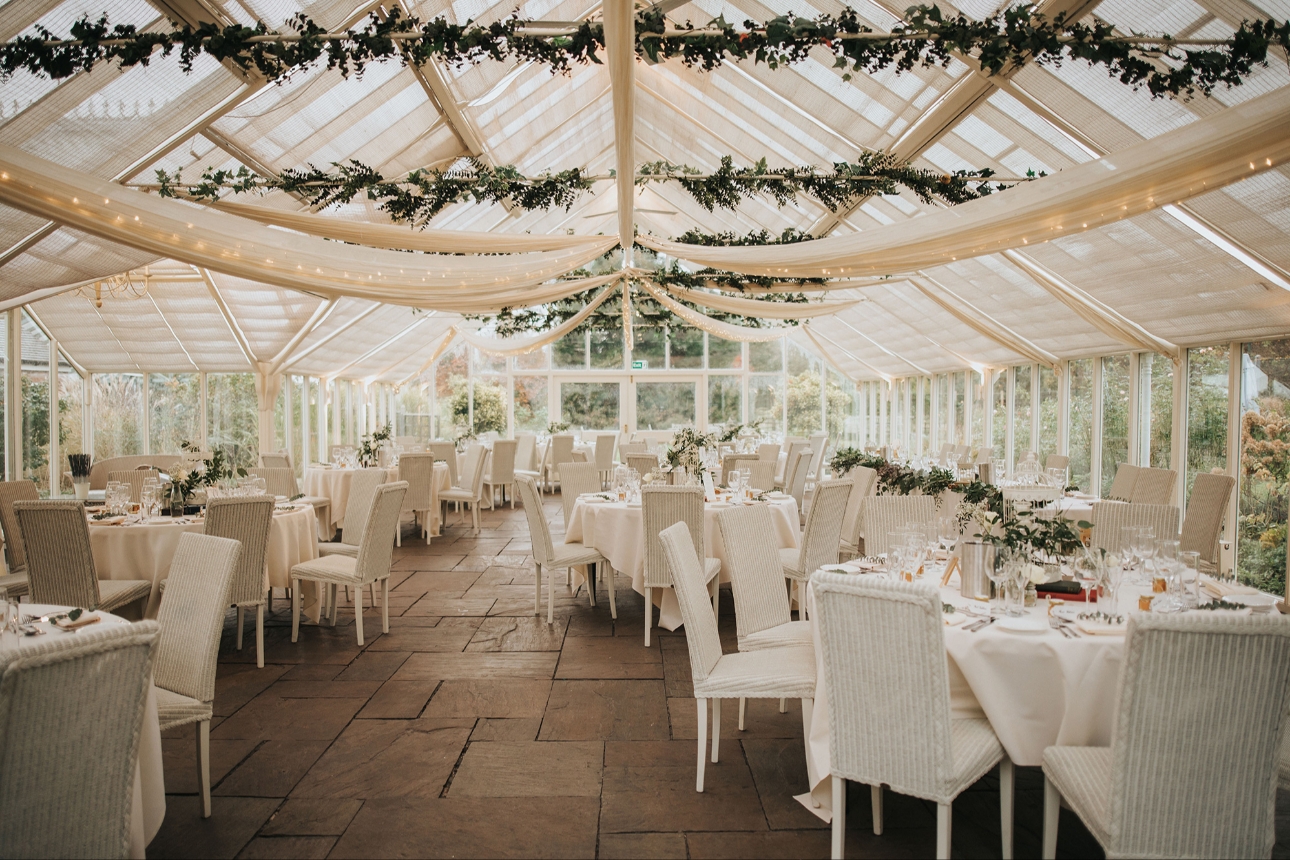 The centrepieces, created by Victoria from Dressed to Impress, were birdcages wrapped in eucalyptus with candles inside. Each stood on a stack of three antiqued books, surrounded by vases containing ivory roses and gypsophila. "Victoria amazed me by bringing our vision to life. The room looked incredible. It was better than I imagined and she went above and beyond to make sure it was perfect," Sarah remembers. Abbeywood has an on-site florist who created the wedding party bouquets and buttonholes as well as an arrangement for the cake.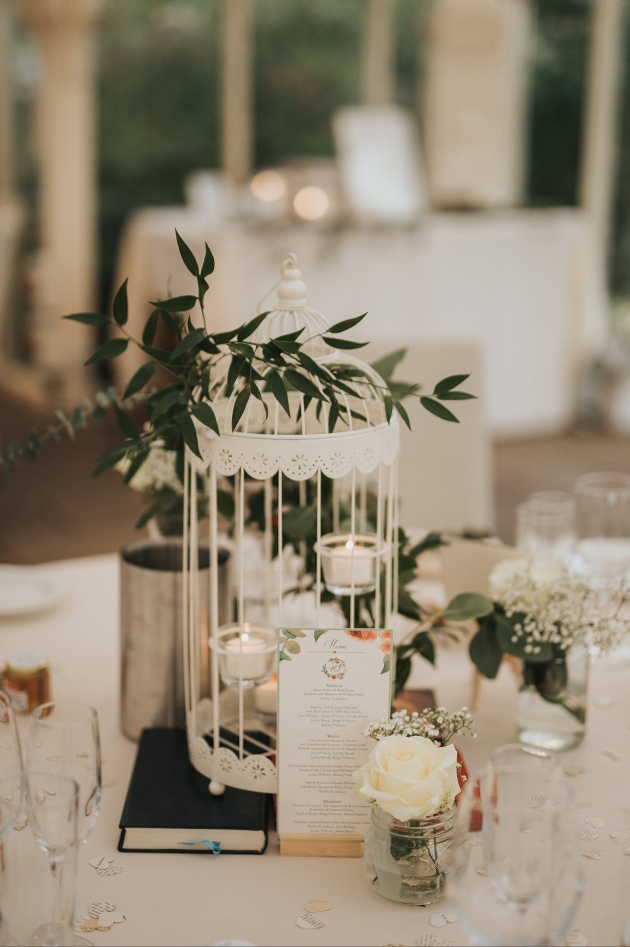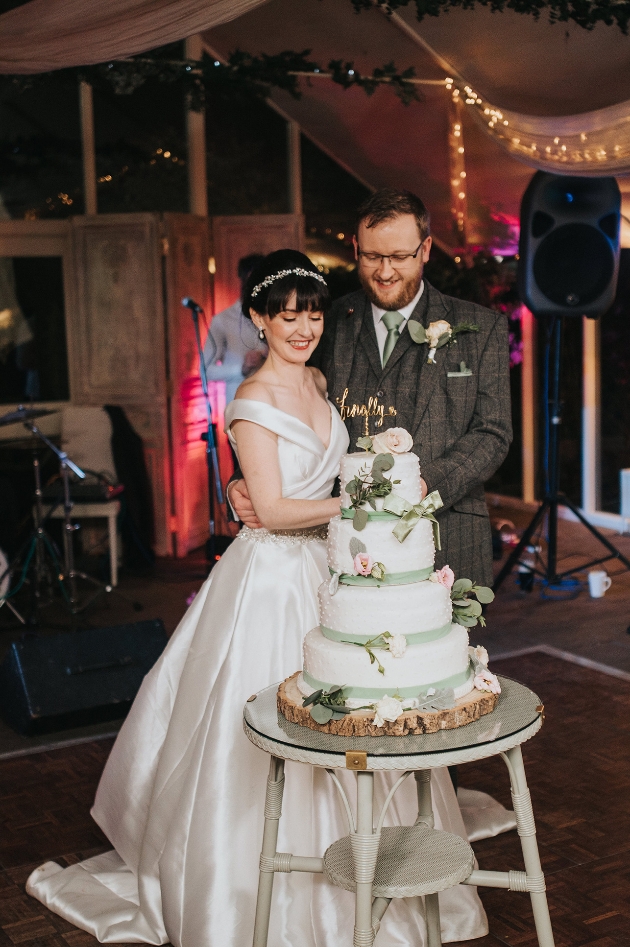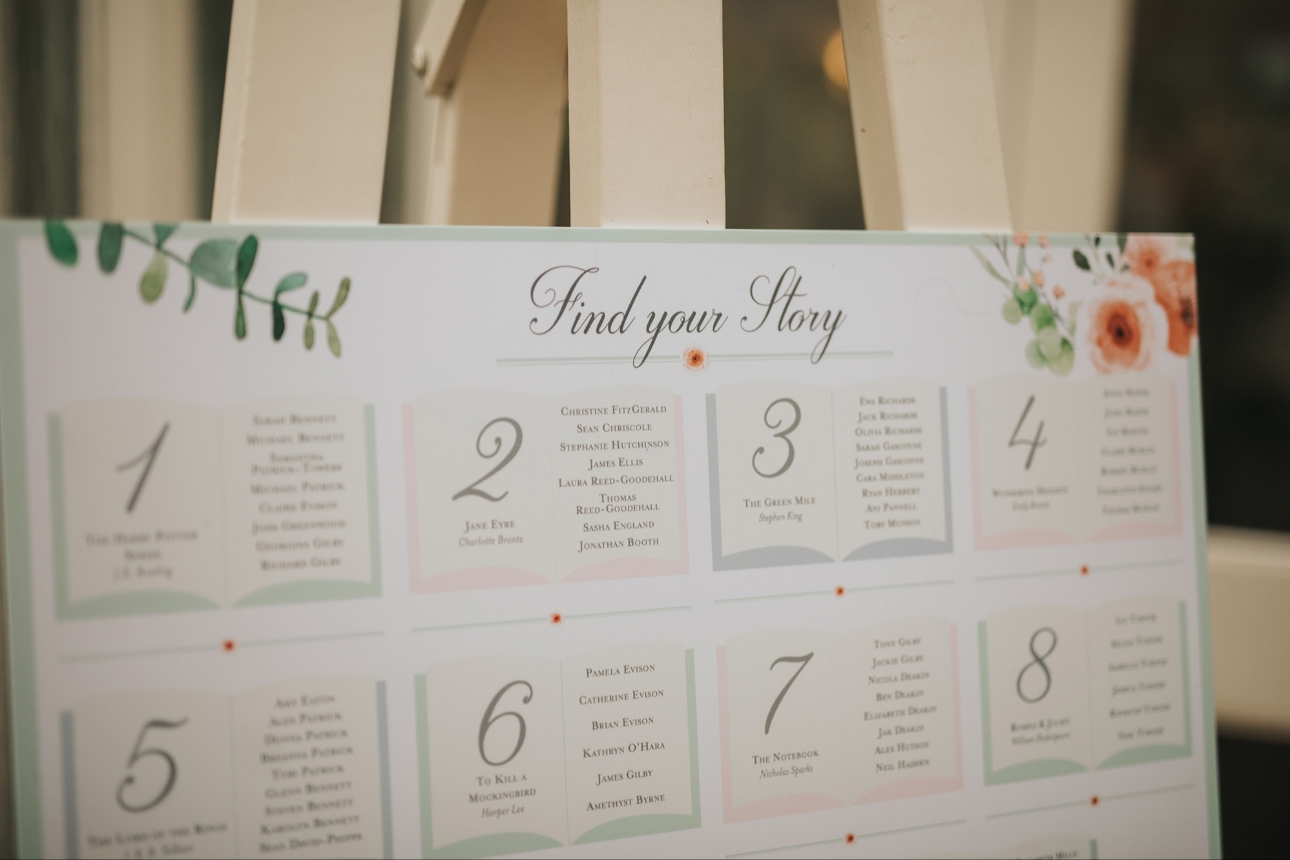 The venue's in-house team took care of the day's catering needs. Sarah says, "The food was outstanding, our guests were raving about it all day. We gave them the option of three starters, three mains and two desserts and all of them were amazing." The bride dined on fishcakes to start, sea bass for main and lemon tart to finish. Mike meanwhile, enjoyed sweet potato soup, followed by chicken and a delicious-sounding Baileys chocolate trifle for dessert.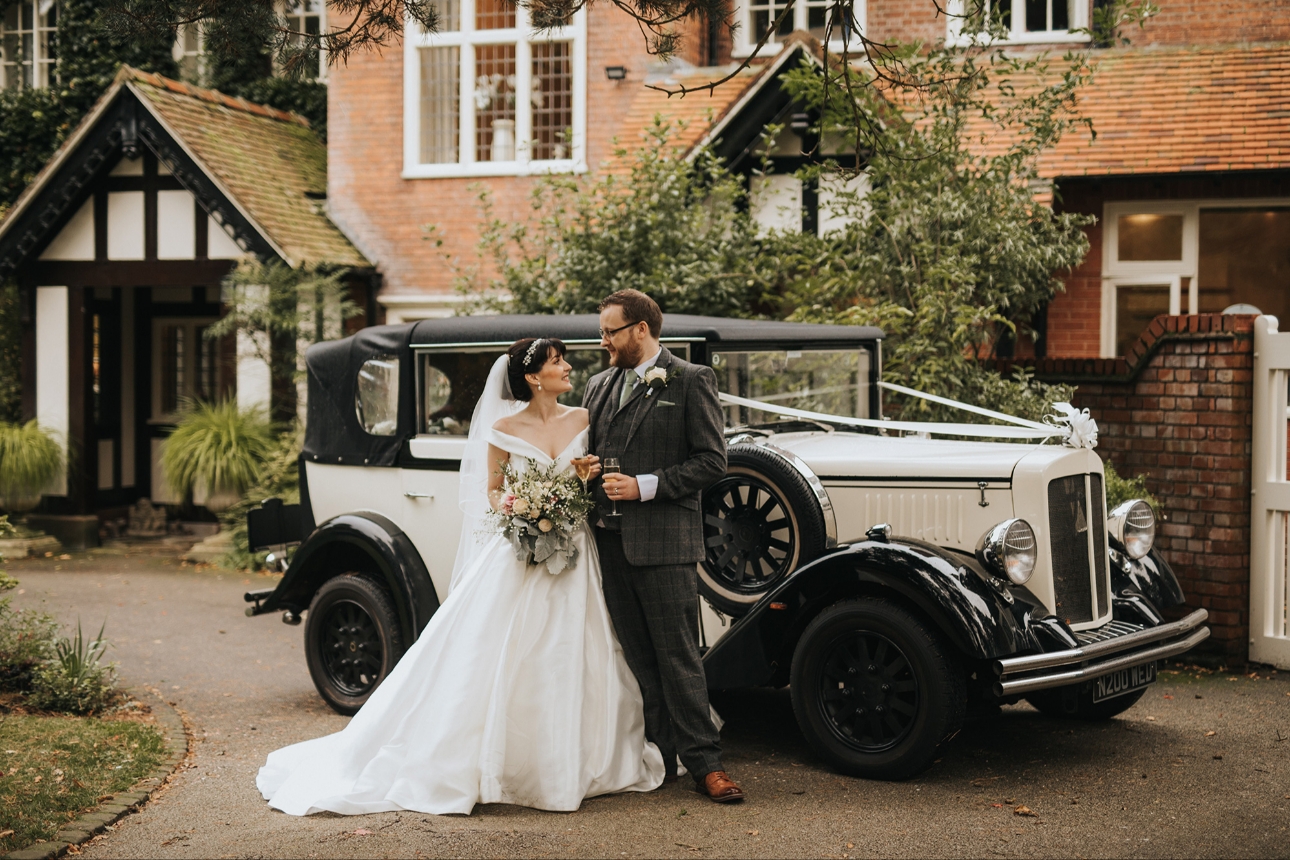 Bespoked Wedding Cars provided transport from the church to Abbeywood in the shape of two cars: one for the bride and father-of-the-bride, which later would carry the newlyweds, and one for the bridesmaids and mother-of-the-bride. "They were gorgeous and really spacious, which helped me with my dress as it was so big I needed lots of room! The drivers were lovely too," Sarah recalls.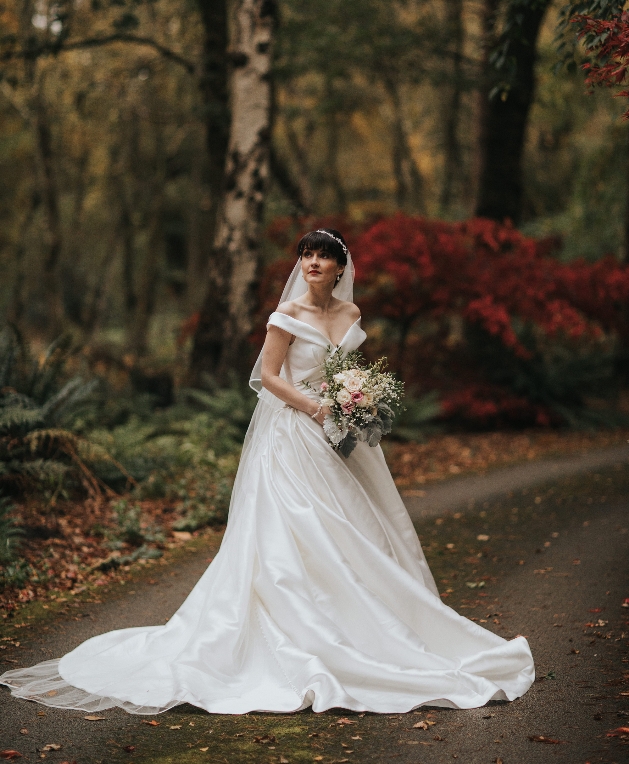 The beautiful bride chose a Ronald Joyce gown, "I absolutely adored it. I felt like a princess in it and didn't want to take it off," she says.

It was a simple Mikado silk, off-the-shoulder silhouette, with a jewelled belt around the waist.

"I chose this style as I don't like anything too fussy and it's such a classic style, it will definitely stand the test of time," Sarah explains.

She accessorised with pearl drop earrings and a pearl and diamanté bracelet from Lace and Favour, plus a Thomas Sabo pearl bracelet, which Mike had given her as a wedding gift.

She opted against wearing a necklace for fear it might overshadow the dress' gorgeous neckline.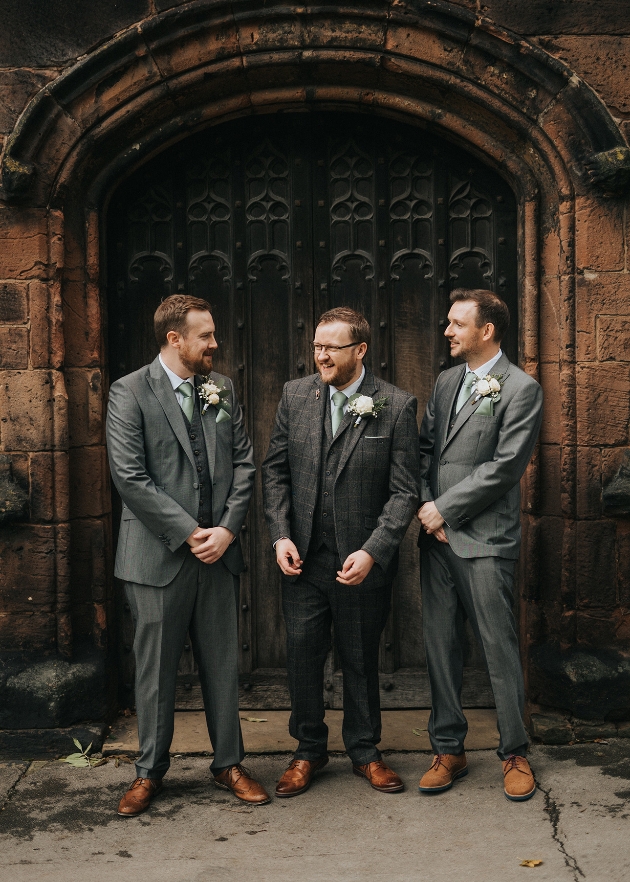 Mike wore dark grey suit style Darcy (love what they did there), which had an on-trend checked pattern. His groomsmen were dressed in plain grey suits, with checked waistcoats and sage green ties to match the groom.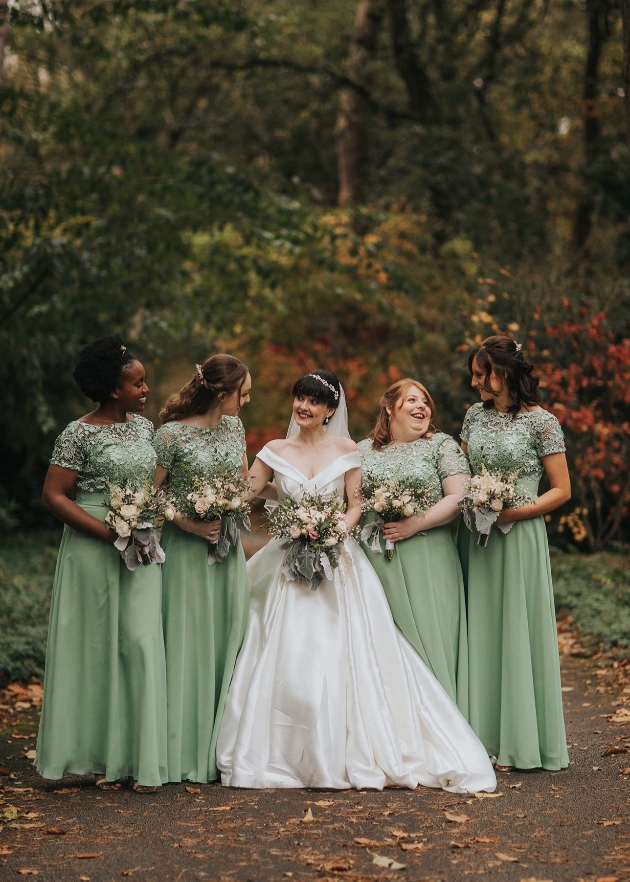 The bridesmaids' dresses were sage green, with lace corset bodices. They were embellished with tiny sequins, which sparkled as they caught the light. "I needed to find a style to suit all of them, which I managed in the end, but it took a while," Sarah confides. The flowergirl wore a silk dress in the same material as the bride's along with a super-cute flower crown.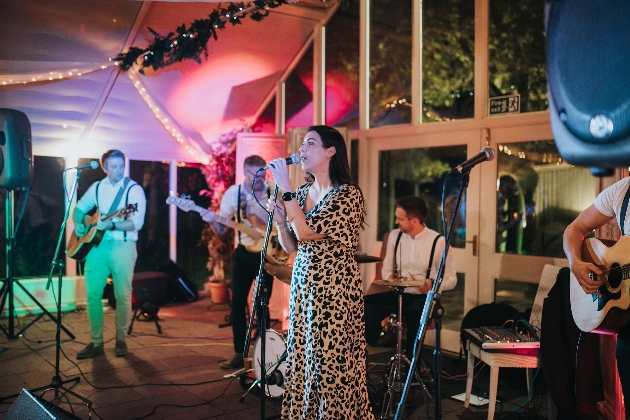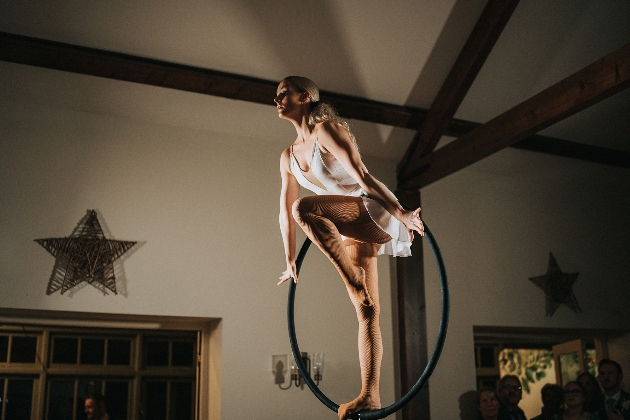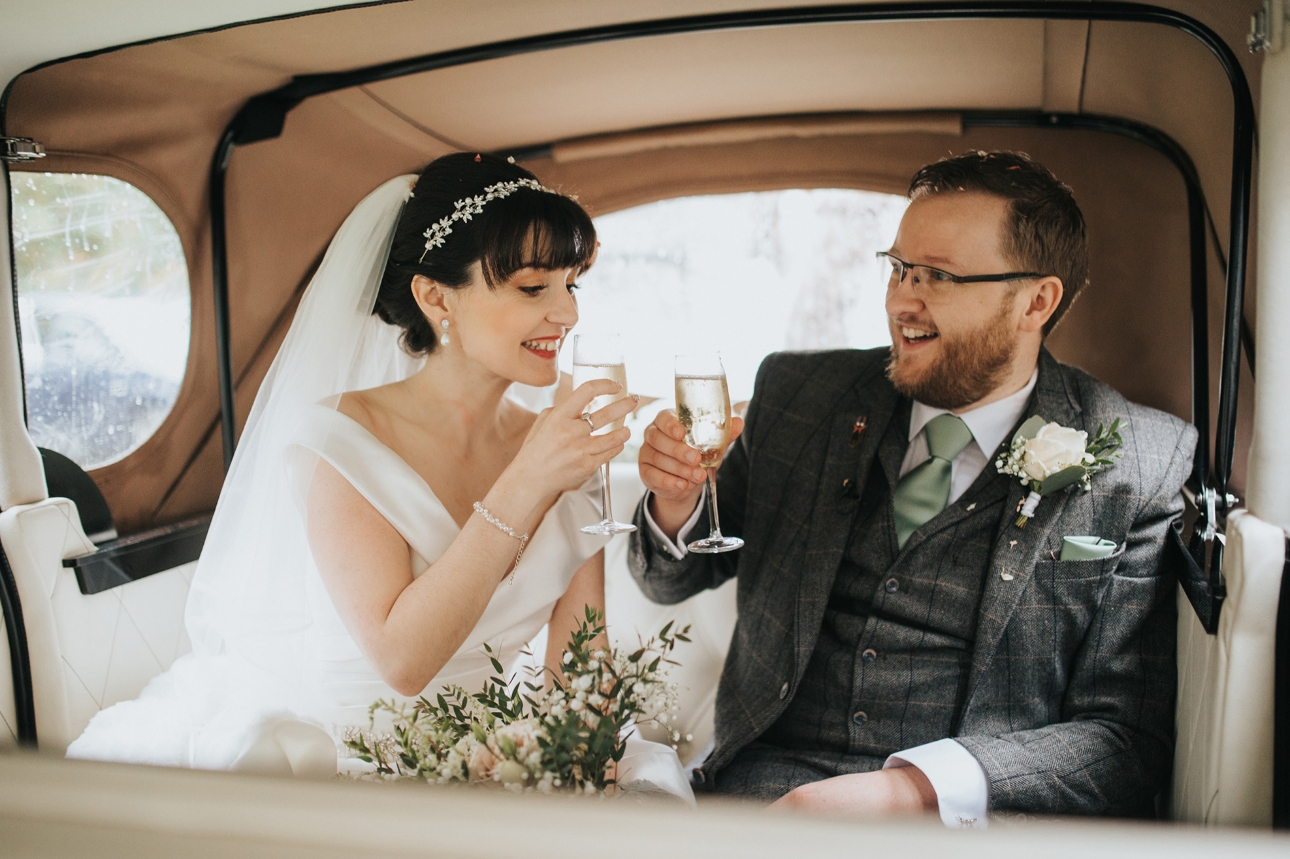 A harpist played during the ceremony and drinks reception, proving popular with guests and newlyweds alike. During the evening the couple's friend Sarah performed her aerial act, which was a big hit and a memorable moment. Later on, a live band filled the dancefloor and the evening was finished with sparklers, which only seemed right the day after Bonfire Night!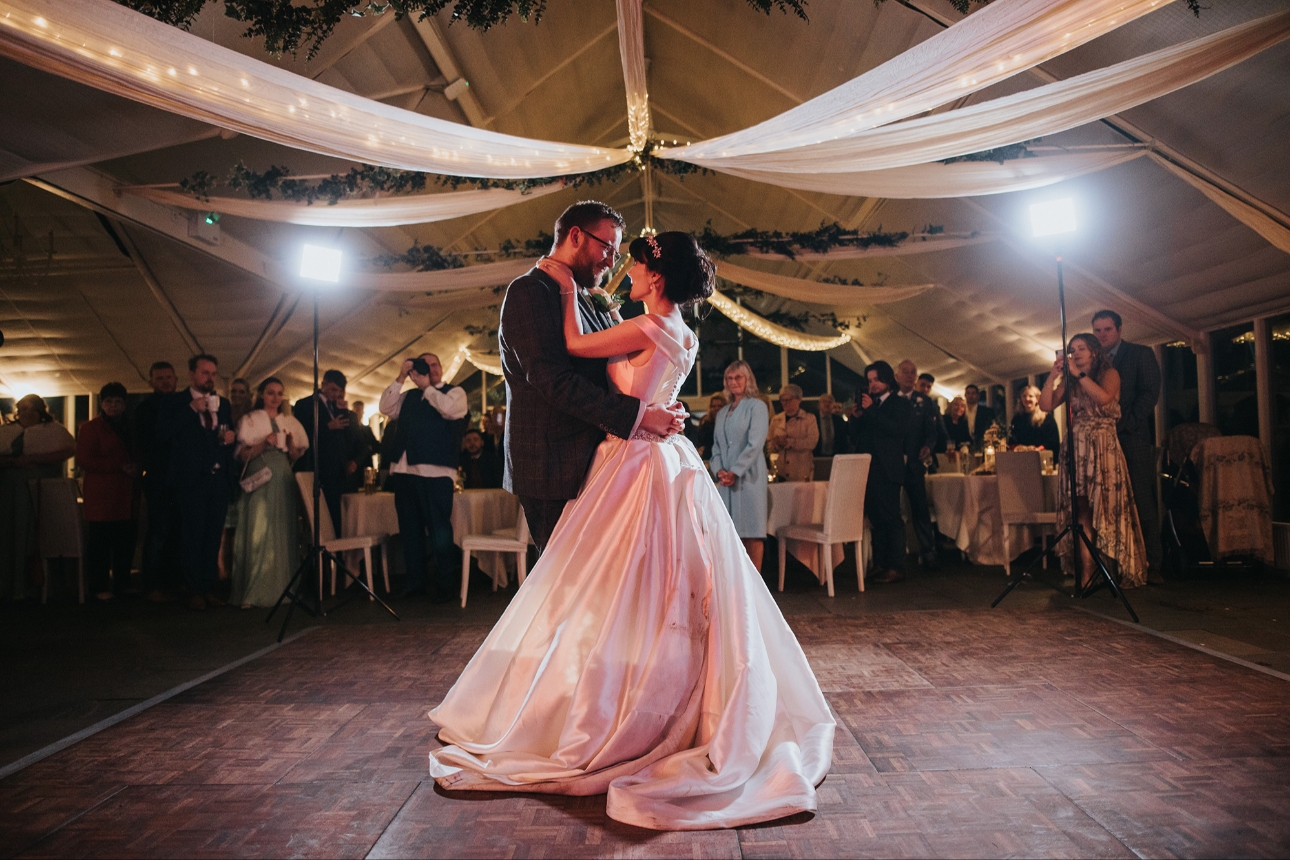 Sarah remembers, "I've Had The Time Of My Life played at the end of the night and one of my bridesmaids asked if I wanted to be lifted, so I agreed. At the same point in the song where Johnny lifts Baby, the girls all picked me up. Mike stood in the middle and boosted me even higher, so my head was touching the drapes!"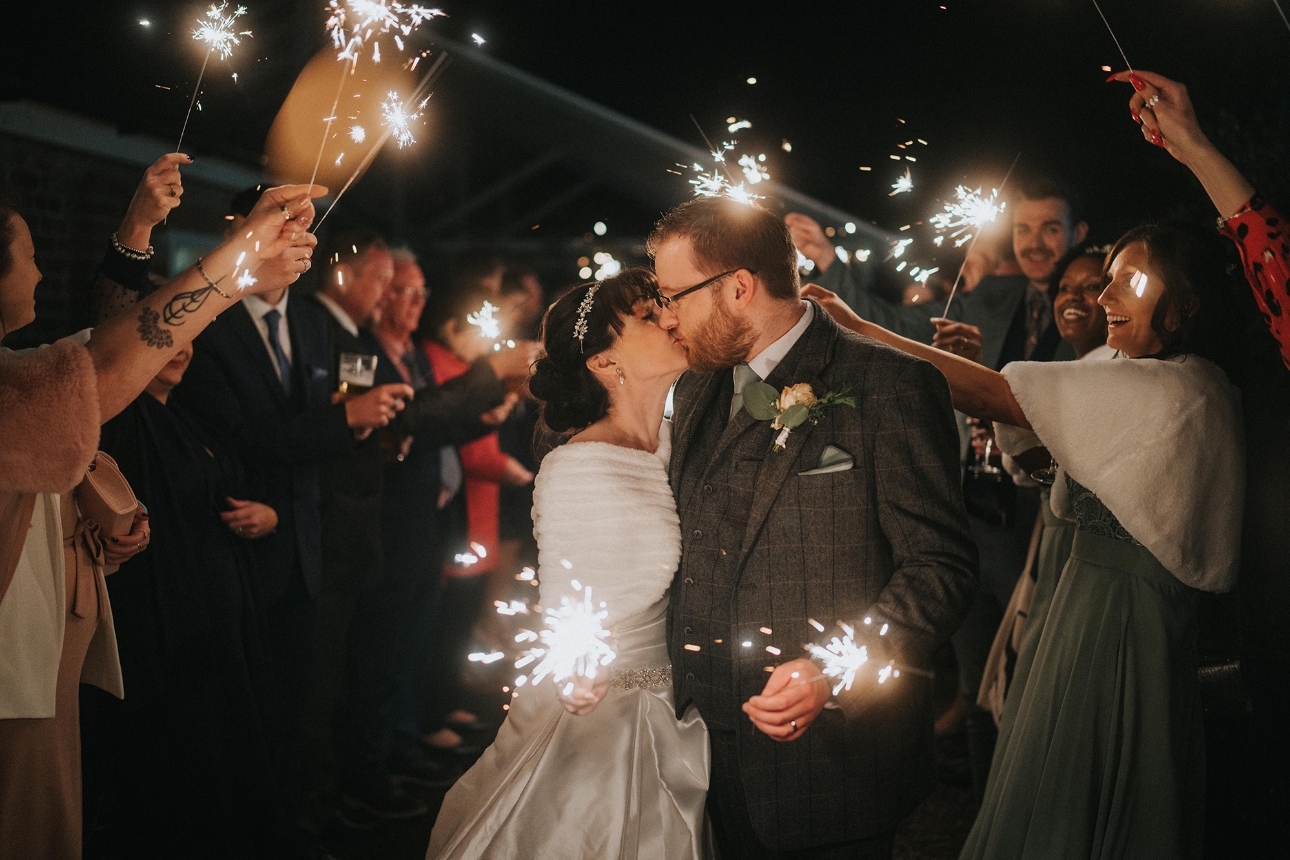 "Always shop around and get quotes from different suppliers. It can work massively in your favour."
Sarah and Mike's contact book