Jo and John met while working at the same Liverpool law firm. At the time John was going through a difficult time due to the sad passing of his father and Jo, who was unaware of his struggles, asked him on a date – not once, but twice!
Understandably he wasn't looking for love, his focus being purely on trying to overcome his grief, but Jo's persistence helped him through that in a way, and the couple have never looked back. John proposed in New York on a helicopter ride over the Hudson River seven years later, which was a complete surprise to Jo.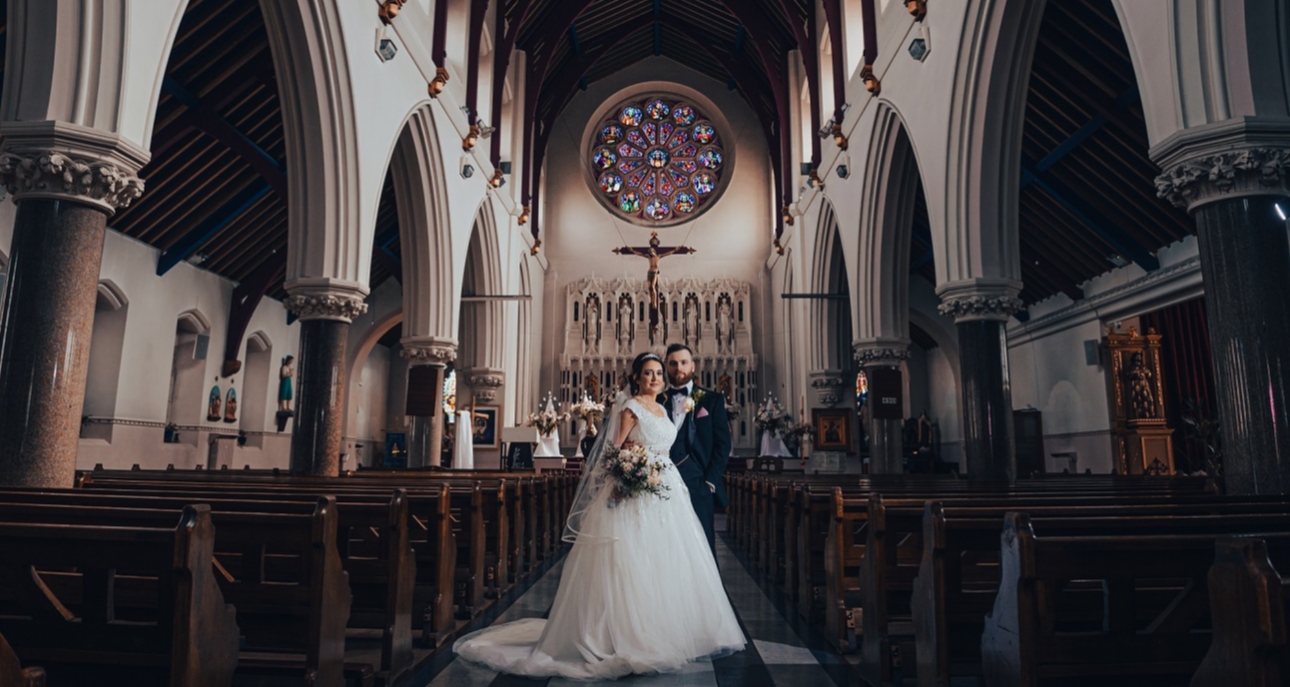 The pair chose Blessed Sacrament RC Church in Walton Vale, Liverpool for their ceremony. Jo had attended the church with her nan and grandad as a child and it was always her dream to get married there since it holds such special memories for her. The Titanic Hotel would host their celebrations – "Its rustic vibe was perfect for us," Jo explains.

Here, the newlyweds give us the lowdown on W-day, 22nd April, 2022...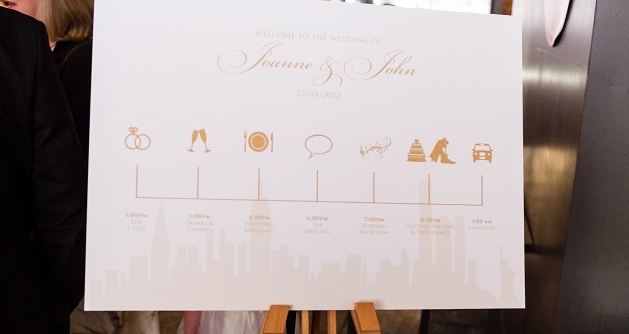 In homage to the city of their engagement, Jo and John opted to style their day with a New York theme complemented with an oh-so romantic ivory, blush and gold palette. The table plan featured the New York skyline in gold and the place names were designed to match. The tables were all named after iconic Big Apple landmarks. Wedding favours were M&Ms as a further nod to the city, which is home to the brand's huge store in Times Square.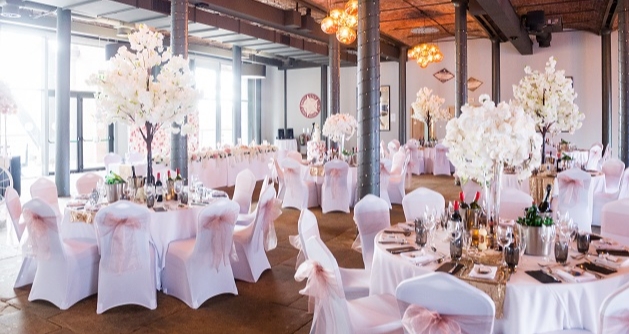 The beautiful centrepieces included tall ivory blossom trees along with glass cylinders and floating candles; while the floral arrangements all featured blush and ivory roses and peonies, with plenty of gorgeous greenery. The venue was decked in more blooms in the shape of a pretty flower wall, floral cake stand and arch leading from the bar to the main room.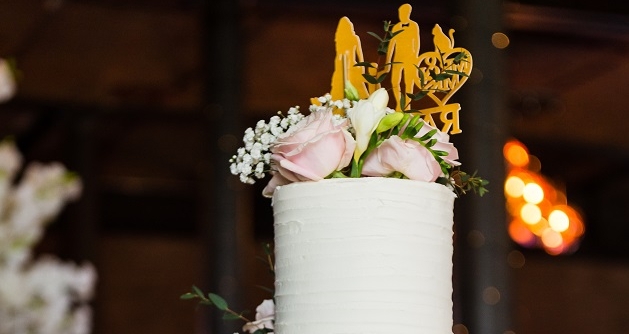 The cake was comprised of three delicious tiers flavoured with chocolate orange, Victoria sponge and lemon drizzle all iced in buttercream. It was adorned with fresh flowers and topped with a gold Mr & Mrs Radcliffe and two cat silhouettes, plus a toddler, to represent their family.
The bride and groom travelled in style in a Royal Imperial and Daimler limousine. "Travelling from the church to the wedding reception was the first time we were alone as a married couple and it felt nice to have a moment to take it all in," John remembers. The guests meanwhile were transported from church to hotel in a vintage London Routemaster double decker bus.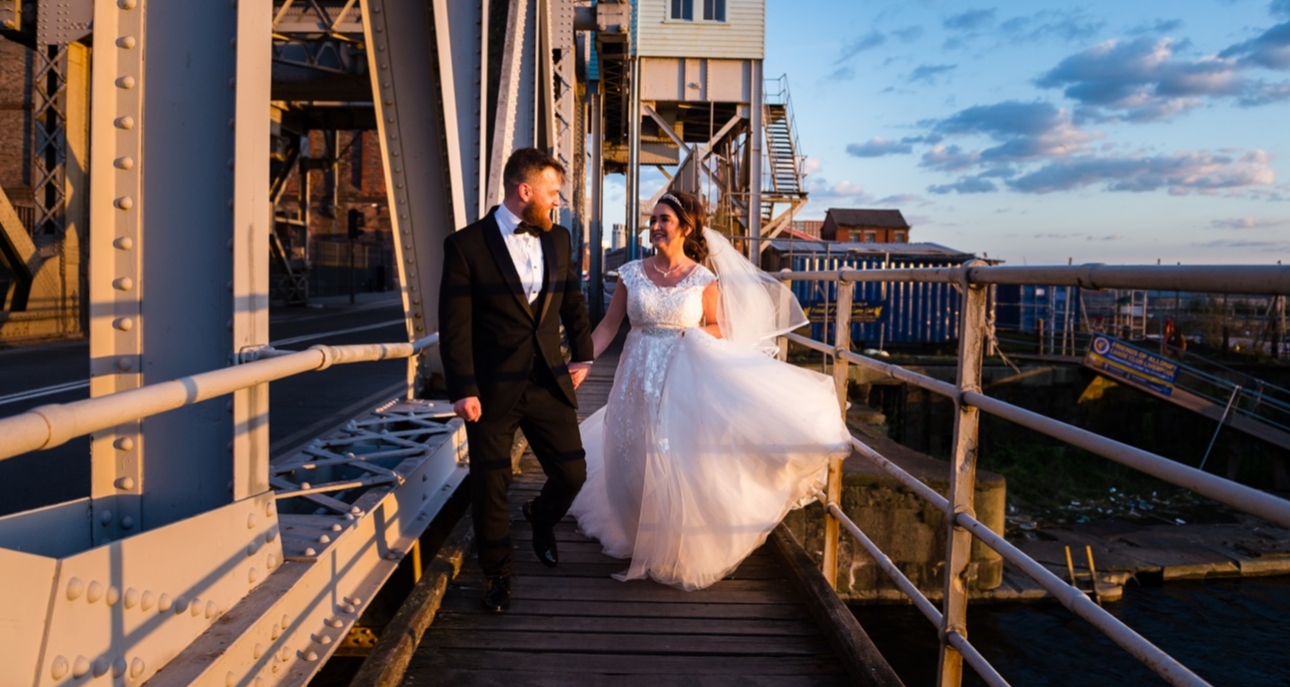 Jo wore a tulle A-line dress by Millie May Bridal with bespoke alterations. Crystals were added to the tulle to mirror her veil and lace added to the neckline to create a round neck rather than a V.

The shoulders were also customised with the addition of a cap sleeve. "I bought an ivory diamante belt and asked my seamstress to sew this on to the waist. I found this made it even more flattering.

I always wanted a princess-style gown as I'm not really one for wearing tight-fitting clothes. It was perfect for me and no one else will ever have the same one thanks to the 43 REAL WEDDINGS bespoke design," Jo explains. She accessorised with a simple pearl and crystal necklace with matching bracelet by Jon Richard. She also wore a complementing tiara.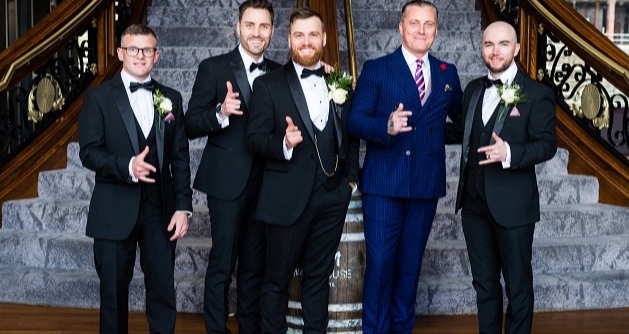 John looked dapper in a black tuxedo with satin shawl lapel, black bow tie, double breasted waistcoat and gold pocket watch. It was the lapel that set him apart from his groomsmen, as although they were dressed to match their lapels were peaked.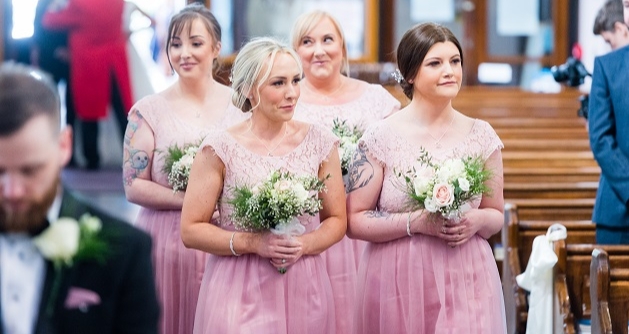 The bridesmaids were dressed in dusky pink, full-length chiffon dresses with lace top and capped sleeves. They paired the gowns with pink diamante heels, diamante bracelets and heart necklaces.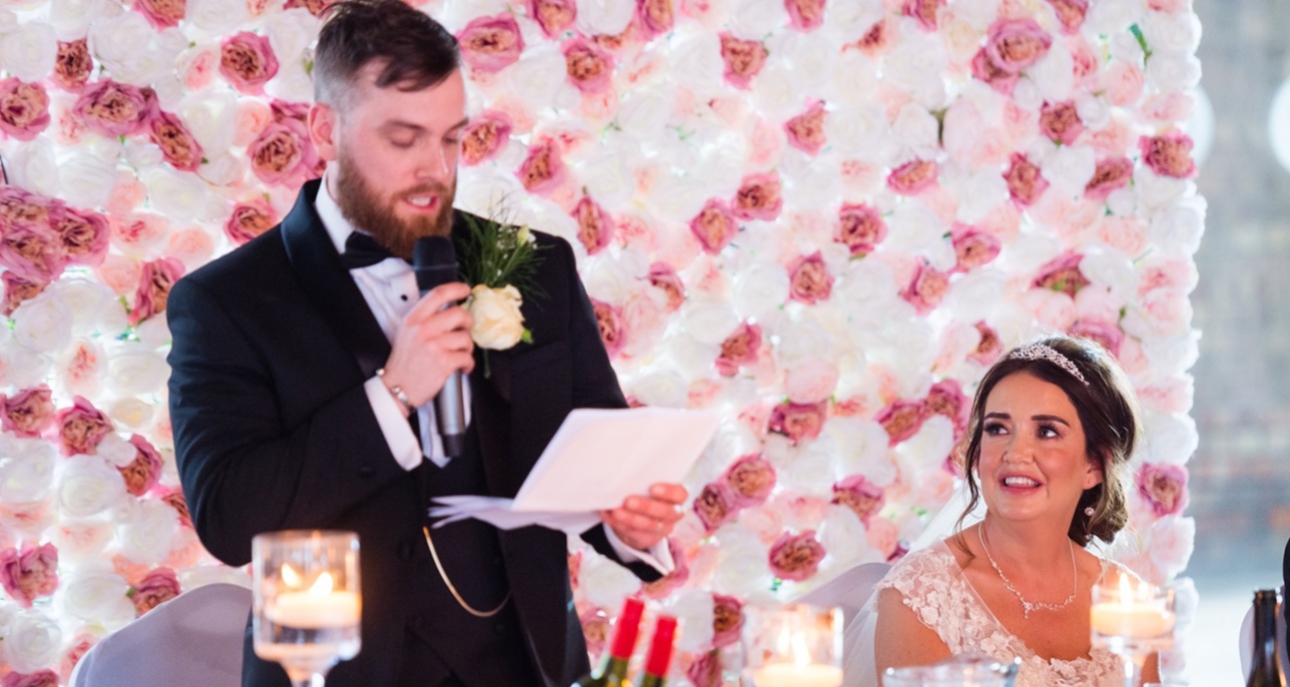 The littlest guests were kept entertained throughout the day by a kids' corner including soft play, mini ride on bikes, small slide, three tipis, colouring books, and personalised treat boxes. As you can imagine, this was a huge hit and kept them well and truly occupied while the adults enjoyed the speeches and their wine.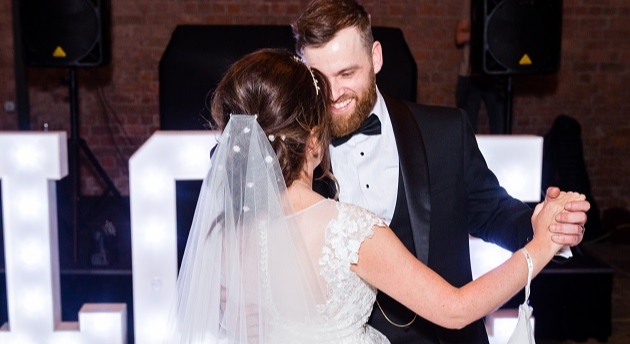 A DJ entertained guests in the evening.

"We chose Conversations In The Dark by John Legend for the first dance.

I knew it was our song from the moment I first heard it. It was wonderful to share the experience with our son, Theo," Jo remembers.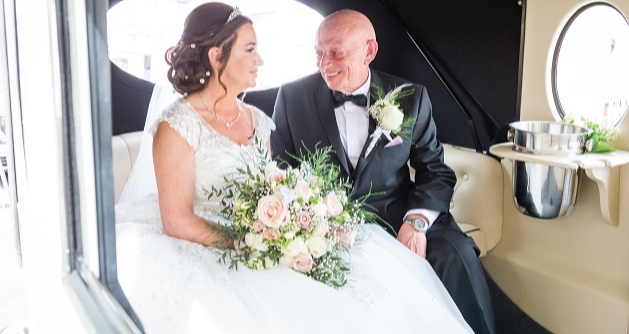 Jo says, "I felt a mix of every emotion, but most of all excitement that the day was finally here after waiting so long."

John agrees, he tells us, "I was nervous but excited. The day was a long time coming and it felt surreal that it had finally arrived. For both of us, it was the best day of our lives."

Jo continues, "Driving to the church with my dad was one of the highlights for me. It's a road I drive down every single day, but this time felt different, like nothing else mattered. I'll cherish that moment forever.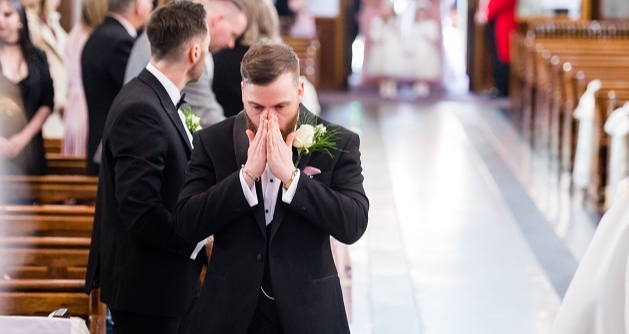 "I'll never forget the sight of John standing at the altar. He looked like someone out of a James Bond film – so handsome. As soon as I saw him, I immediately felt at ease."

John too shares one of his highlights: "The moment we were announced into the room as husband and wife, and seeing our friends and family clapping and cheering will definitely stay with me, as will the speeches. I was so nervous, but as soon as I started talking, I relaxed and surprisingly enjoyed it."

This success was partly thanks to toastmaster, Mike Culleton, who read the groom's speech 10 minutes before he gave it and suggested changing the final toast, which worked beautifully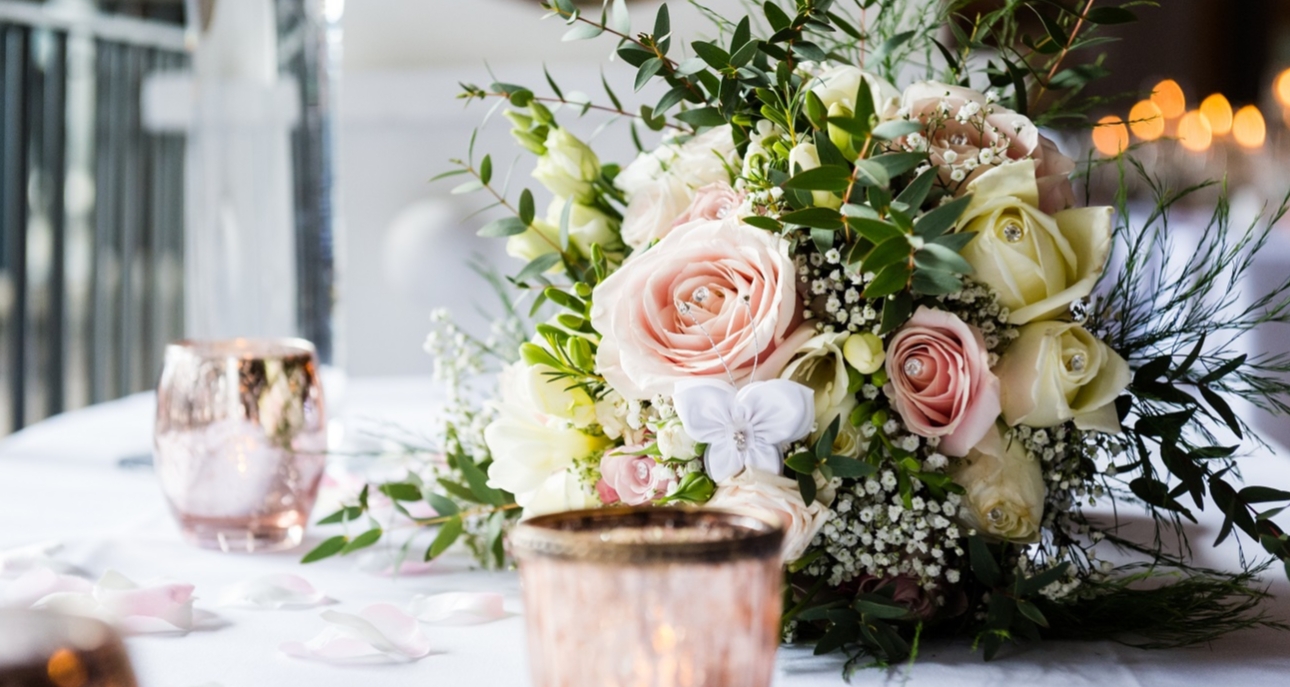 In fact, the couple have a great deal they wish to thank Mike for. Jo shares, "The thought and planning he put into making our day run as smoothly as possible was second to none. From the first meeting we had with him, we knew we were in safe hands. He made us feel like we could just relax and didn't have to worry about a thing. Every detail was taken care of, even down to him handing me a glass of water at the entrance to the church."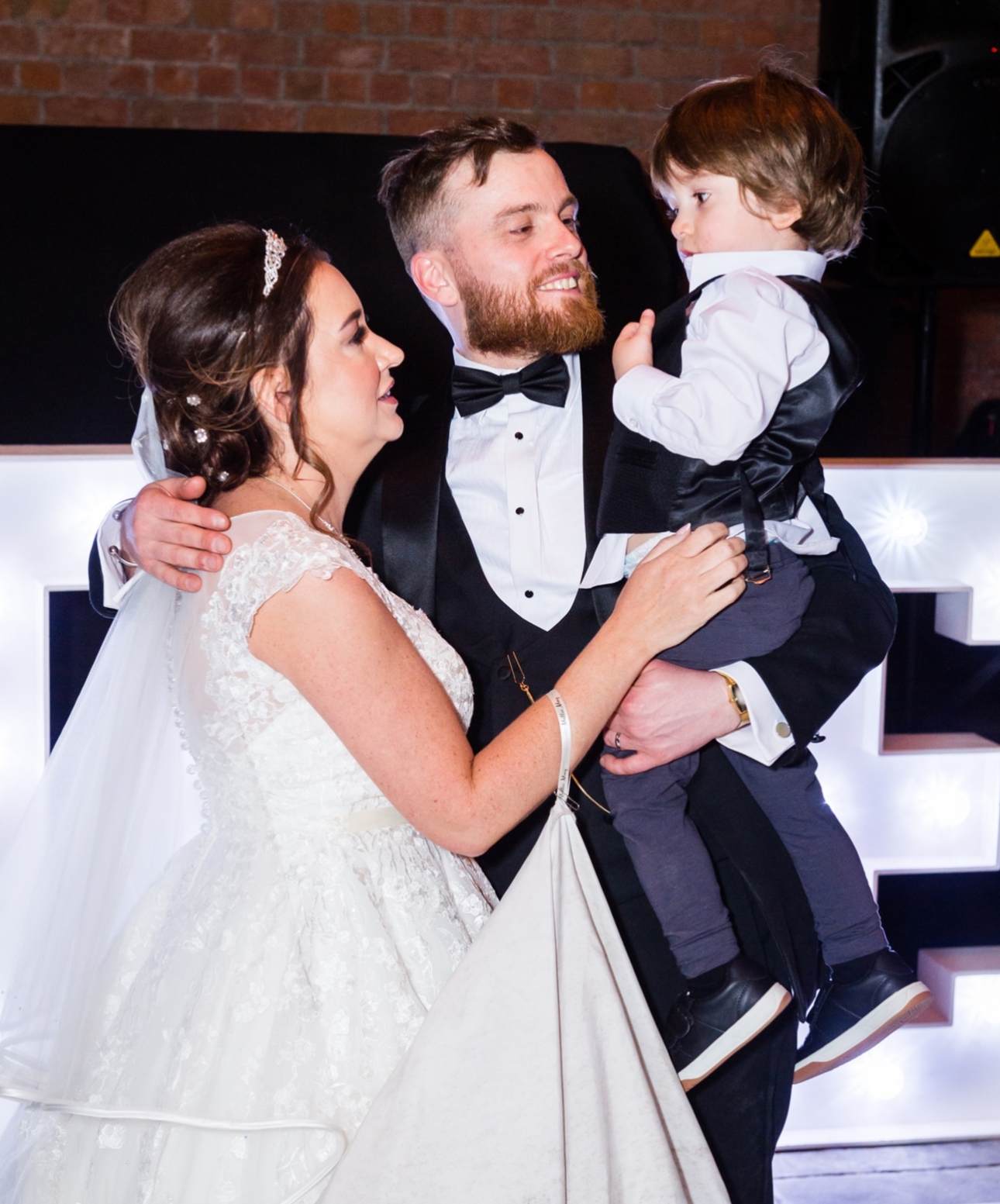 Jo shares some words of wisdom:

"If you're staying at a hotel on the night of your wedding, try to book an extra night if possible. We did and it was the best decision ever!

We were able to spend the next day in the hotel, child free, and treated ourselves to a spa and room service."

"Also, don't hesitate to change into flat shoes for the evening. I wore gold Converse pumps and it was so good to be able to dance in comfort!"
Joanne and John's contact book