How to dress for your big day whatever your beautiful shape
Knowing your body shape is a great place to start when thinking about your wedding dress. Your everyday wardrobe might already be screaming clues at you as it'll be full of styles and shapes that you naturally gravitate towards. Have a look at other dresses you've worn to formal occasions or even to the office and see if they follow a general shape. If they do, this is a great guide to what silhouette of wedding dress to try on first. But the golden rules really are to keep an open mind and trust your bridal consultant. Emma Kendrick, manager of Maria Modes (www.mariamodes.com) in Macclesfield says, "If they pull a dress that's a bit of a wild card don't be alarmed! We're trained to know what suits you best and if you don't give it a go, you'll never know."

Your Cheshire & Merseyside Wedding editor Kelly Andrews caught up with Emma for a chat about dressing according to body type and together they've gathered their top tips, just for you!
You're likely to be boasting a pear or triangle body shape if you'd consider your hips and bottom to be wider than your shoulders and bust.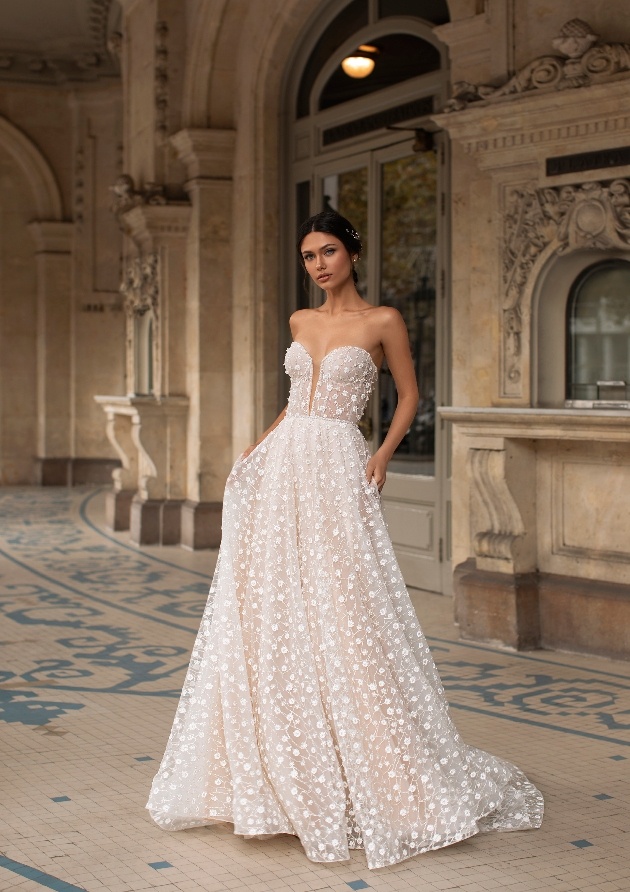 Emma says, "Choose a dress that subtly draws attention away from your waist and hips and flatters your figure, such as an A-line. Gowns with detailing and embellishment on the bodice work well as it draws the eye to your chest and waist."

Emma suggests: Hopkins by Pronovias Privee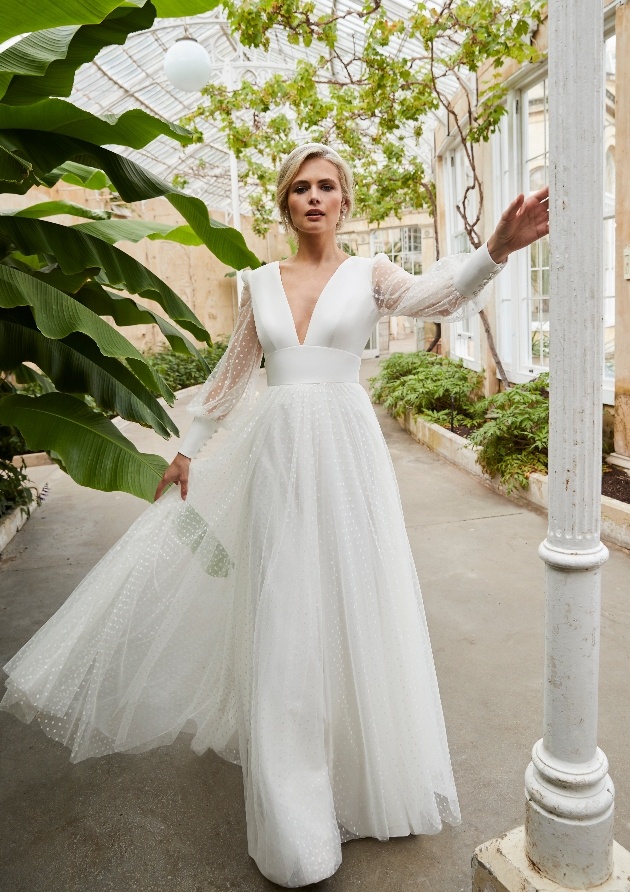 Kelly says, "V and U-shaped necklines are great for the pear-shaped bride as they bring the angles away from the hips. Styles with sleeves also work wonders to broaden the shoulders and bring balance."

Kelly suggests: Sara by Sassi Holford
If you'd describe your body as "curvy" and your bust and hip measurements are roughly equal, you most likely have an hourglass figure.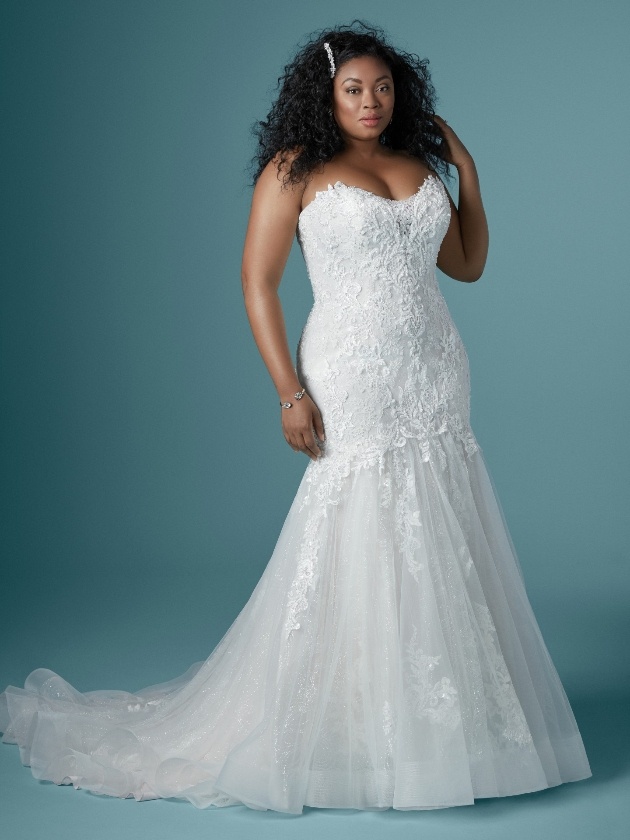 Emma says, "Choose a dress to accentuate and highlight those curves – don't try to hide them! Corset, mermaid and fit and flare silhouettes are all perfect choices. If you have your heart set on a ballgown, don't panic, just make sure the bodice is structured enough to still highlight your feminine shape."

Emma suggests: Lonnie by Maggie Sottero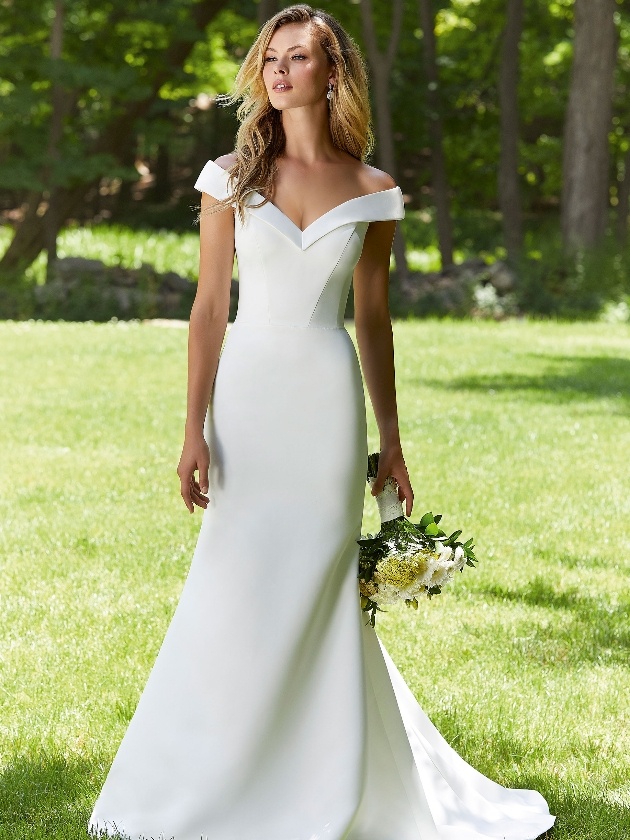 Kelly says, "Look for a corset back to really show off those curves, along with a beautiful sweetheart neckline to enhance the balance between bust and hips. If you're not sure about a bold mermaid silhouette, a trumpet gown is a more subtle version and will look incredible on you!"

Kelly suggests: Berkeley by Morilee, The Other White Dress collection
Your body shape is likely to be described as "apple" if your shoulders, bust, waist and hips are fairly similar in measurement, with slightly narrower shoulders and hips.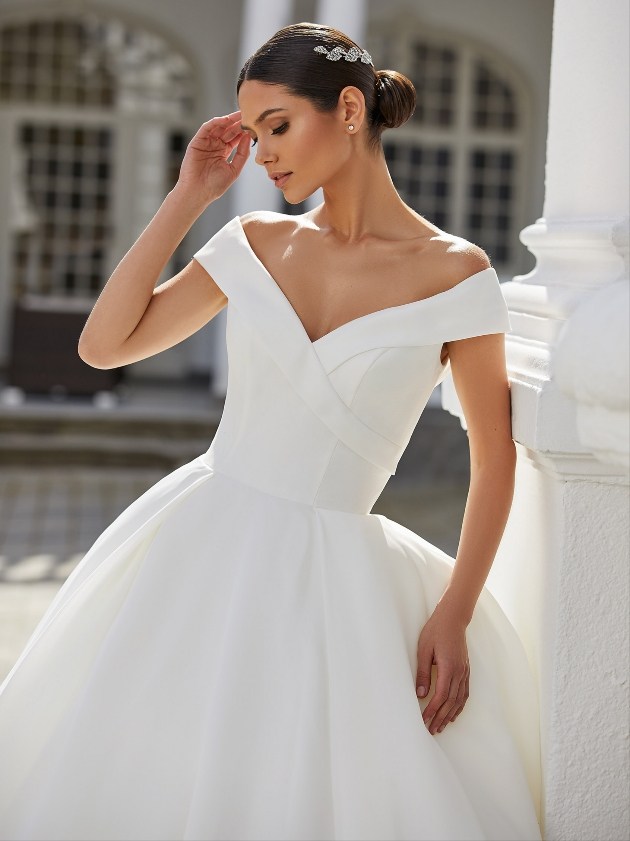 Emma says "Choose a gown with structure to pull you in at the waist and one with a full skirt to balance out your top half. Soft A-line dresses or ballgowns are great options. Avoid anything with a lot of detail on the neckline as this can make you look too busty."

Emma suggests: Farrah by Pronovias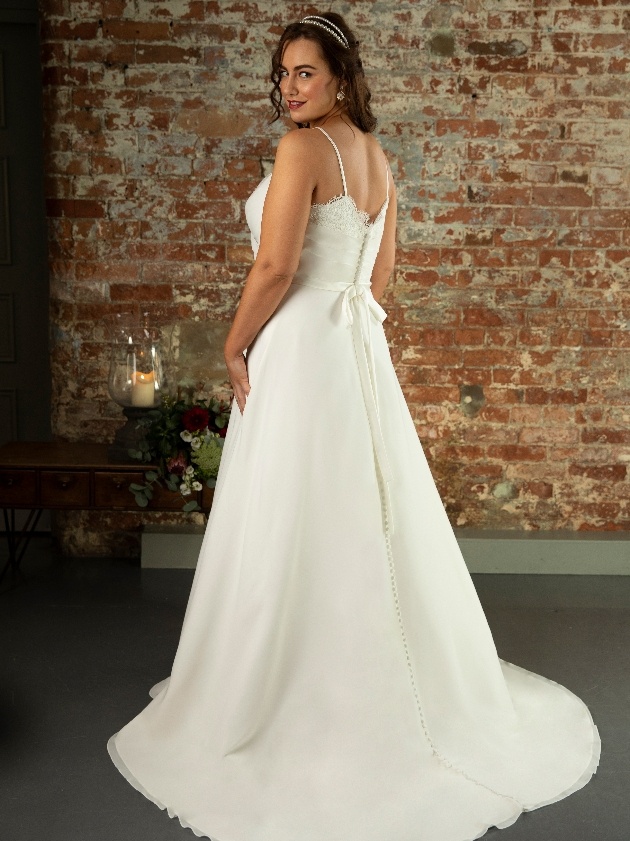 Kelly says, "Avoid strapless gowns. Instead look out for modern styles with wider straps, which flatter the shoulders and offer plenty of support. Choose a neckline that will show off your bustline and draw attention upward."

Kelly suggests: Izzy byTrue Bride, TrueCurves collection
You're most likely sporting a rectangle figure if you have straight hips and a straight body line. Don't be deceived, you can still have a rectangle shape whether you're size 8 or size 28.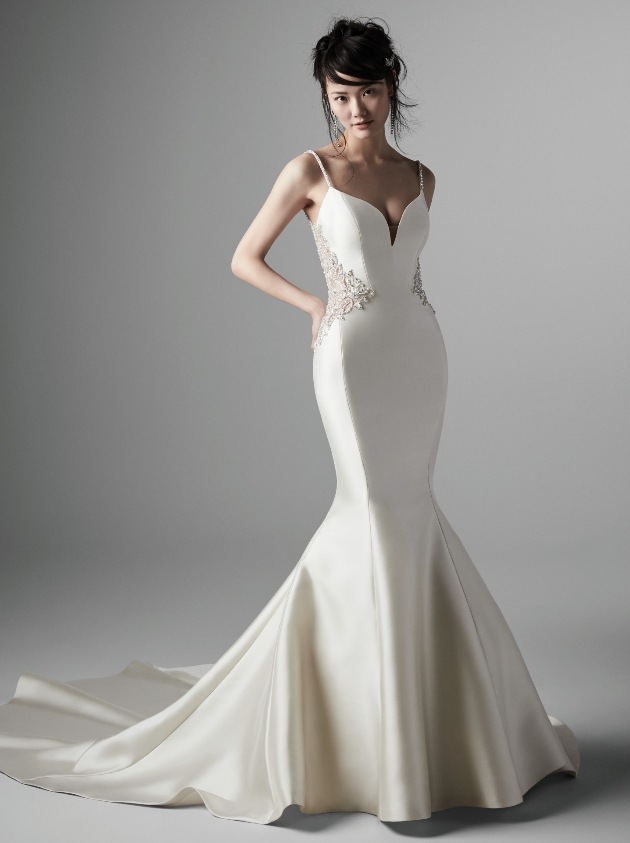 Emma says, "Opt for a dress with an eye-catching pattern, a feature such as ruffles or an unusual neckline to draw the eye. Fit and flare or a soft A-line silhouette will work beautifully to give you a fabulous shape."

Emma suggests: Marquette by Sottero & Midgely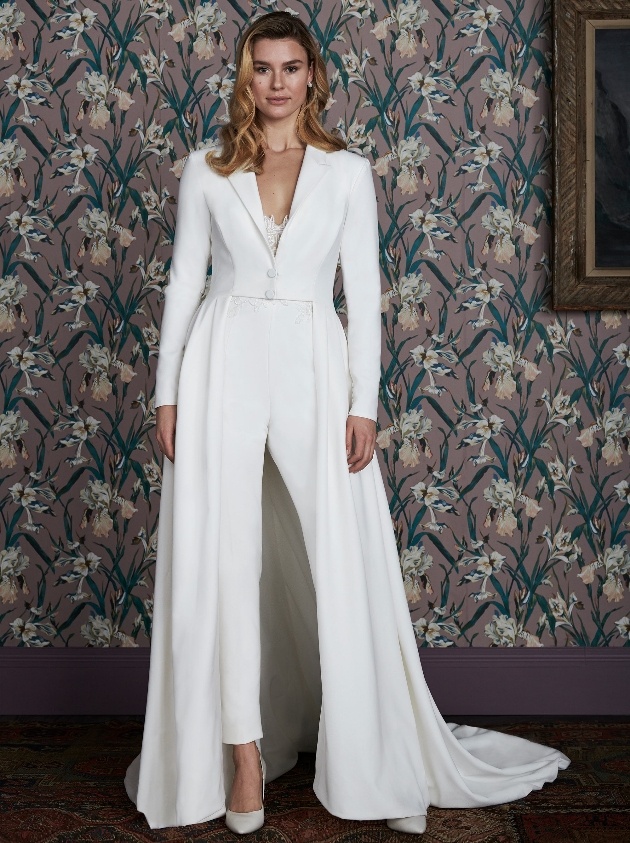 Kelly says, "Think about adding some angles with a pretty belt or sash, a V-neck, or a bolero. Alternatively, if you're looking for something completely different why not try a bridal two piece or suit, great for an ultra-stylish city wedding."

Kelly suggests: Tatum by Justin Alexander
If you deem your shoulders to be the widest part of your body and you find your measurements narrow as you move down to your hips and waist, you can call your body shape an inverted triangle.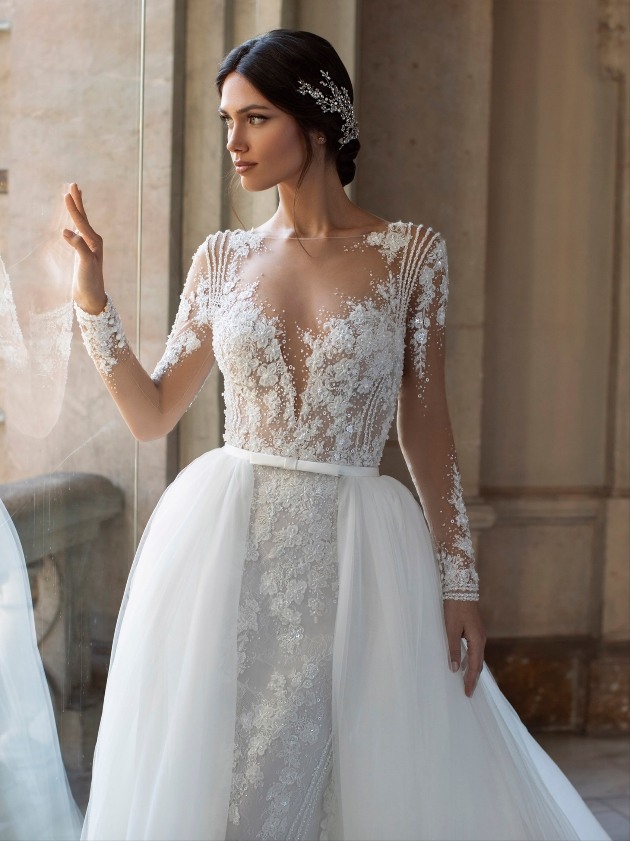 Emma says, "Find a dress with plenty of shoulder detailing, or if this isn't your style, go for a large ballgown to bring balance to your bottom half."

Emma suggests: Pickford by Pronovias, with detachable skirt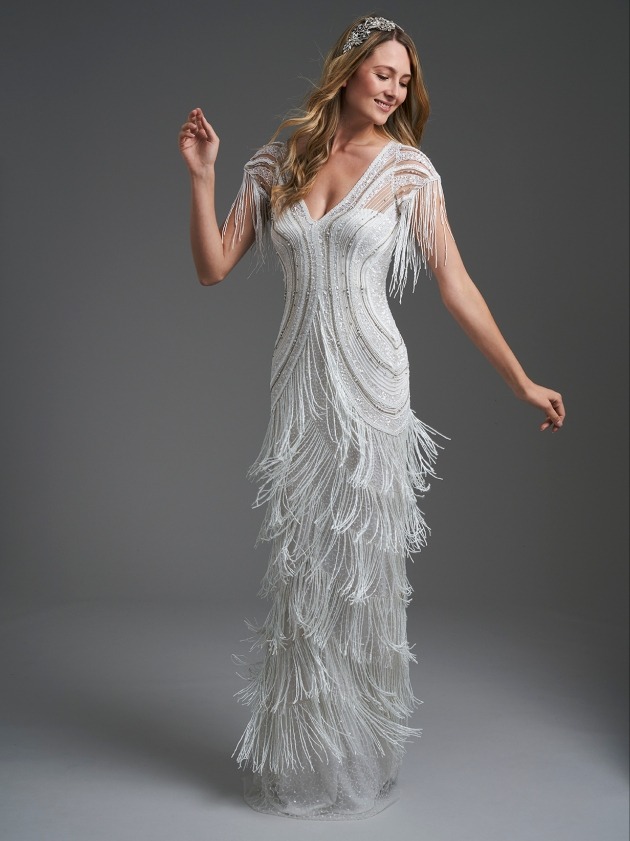 Kelly says, "A stunning dress with plenty of lace or detail will draw the eye away from any one area in particular. Opt for sleeves or wide straps to play down the shoulder area or give a daring sheath a try for a super-sleek look"

Kelly suggests: Metropolis by Eliza Jane Howell