We talk big-day bakes with Chester-based Boutique Bakery
We caught up with Nicola Thomas of Chester-based Boutique Bakery for our annual wedding cakes feature, which appears in the Mar/Apr 21 issue of Your Cheshire & Merseyside. Nicola has lots of useful tips that didn't make the mag, so here she is to tell you more.
"I'm Nicola and I live in Chester, with my husband (Mr BB), two cats and loony labrador, Brodie, all of whom make regular starring appearances on my Instagram page. With a background in the art and design worlds, I started Boutique Bakery in 2018 to provide eye catching cakes in a range of truly delicious flavours that people really enjoyed eating and would be a talking point of a couple's wedding day. I'd been to too many weddings where I'd spent hours drooling over the most beautiful cake, only to be sorely disappointed when it was served and I got a mouthful of tasteless dry crumbs. I offer a wide range of different flavours, from the traditional, such as lemon drizzle and double chocolate, to the slightly more adventurous, such as brown butter biscoff and pink grapefruit and cardamom. I carefully think through every element of my flavours to ensure they are truly great tasting, such as my award winning raspberry bakewell, which includes layers of almond flavoured cake, amaretto infused raspberry conserve, creamy vanilla buttercream and crunchy almond brittle. Design-wise, while my cakes are always designed bespoke to each couple's wedding plans, they can always be recognised as a Boutique Bakery cake, with a simple elegance and a striking quality, which is often achieved through my specialty handmade sugar flowers."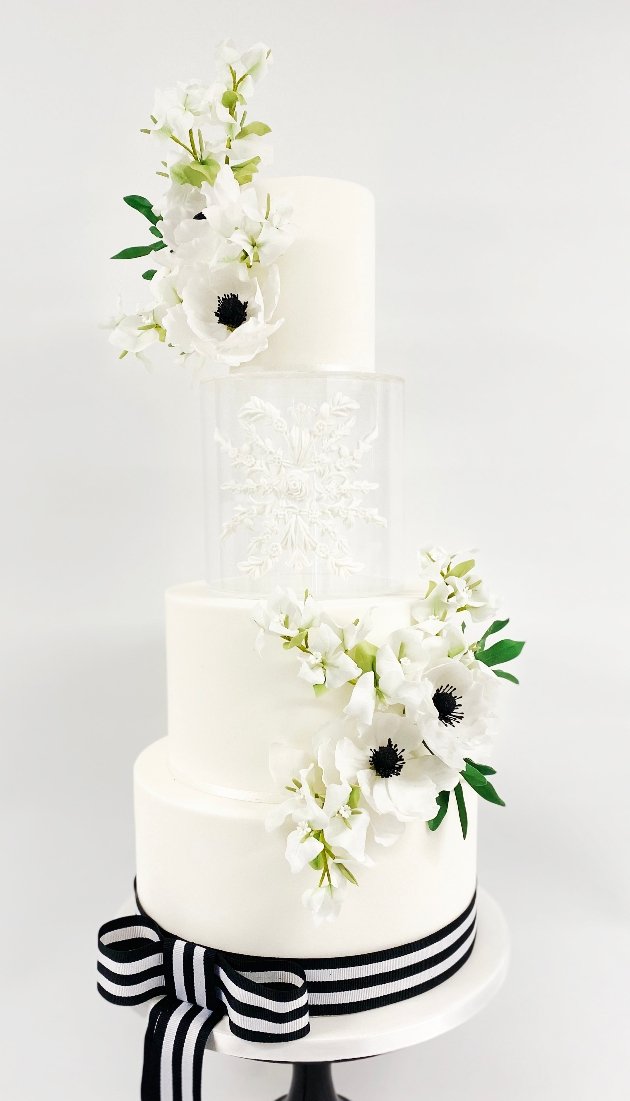 Nicola, what are your top trend tips for 2021?

"Texture is going to continue to be popular in designs. This could be in the form of aged or distressed cake coverings, such as the look of antique plaster or concrete, or in the use of bas-relief, which is particularly striking when used in a single colour design scheme, such as white on white.

"Dried flowers and foliage continue to be popular in styling and have made their way onto cakes, where they mix equally well with sugar or fresh flowers, often adding some architectural interest to designs.

"A lot of my couples are also looking forward to 2021 weddings where a bold coloured cake will be making a real statement to their wedding guests. Dark blues, greens and even black aren't always people's first choice but can form a fantastic and dramatic backdrop for a glorious arrangement of sugar blooms.

"Another theme that I'm seeing in a lot of cakes is floating or invisible tiers, which can elevate your design to the breathtaking, especially when combined with other elements, such as cascading flowers, or bas relief."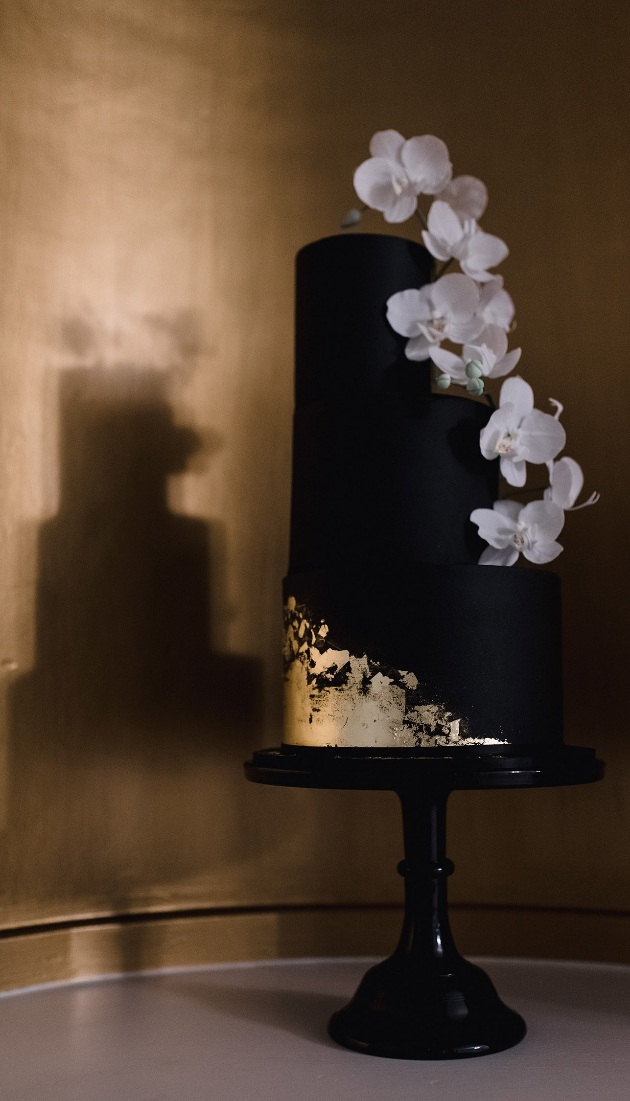 If you could give couples just one piece of essential advice when thinking about their cake what would it be?

"Consider your cake within the wider plans for your day. There are so many influences from your day that can be brought into the design of your cake, from the colours you're using, to your flowers, to details on the clothes you're wearing, such as the lace on a dress. If you bring all these with you when you come to see me for a design and tasting consultation, they can be the most fabulous inspiration and we can work with them to ensure your cake fits perfectly with the rest of your designs and provides a real show stopping centrepiece for your wedding day."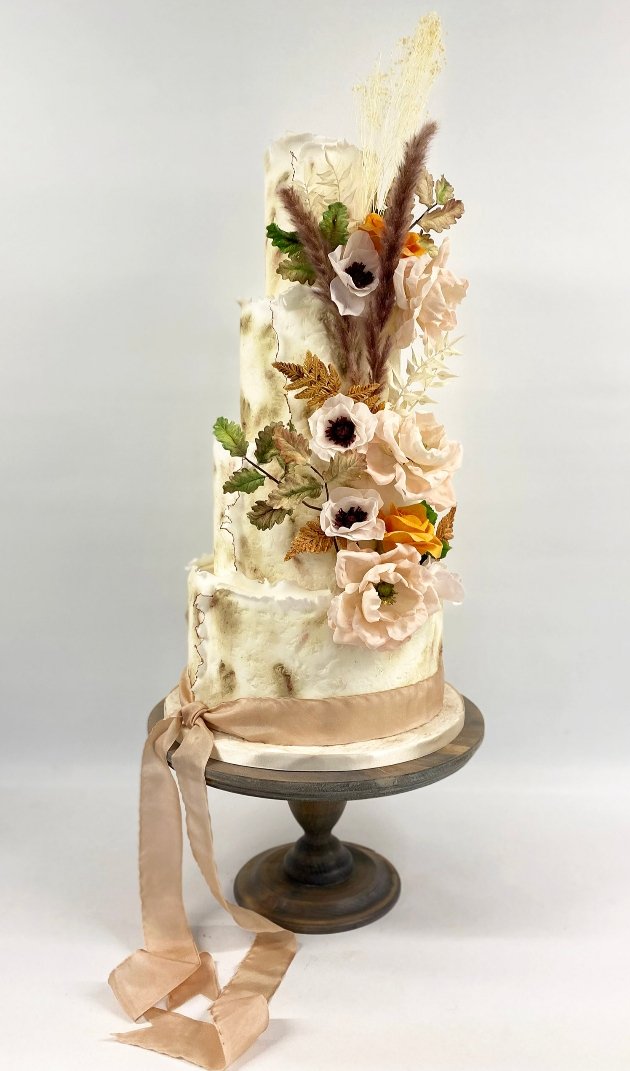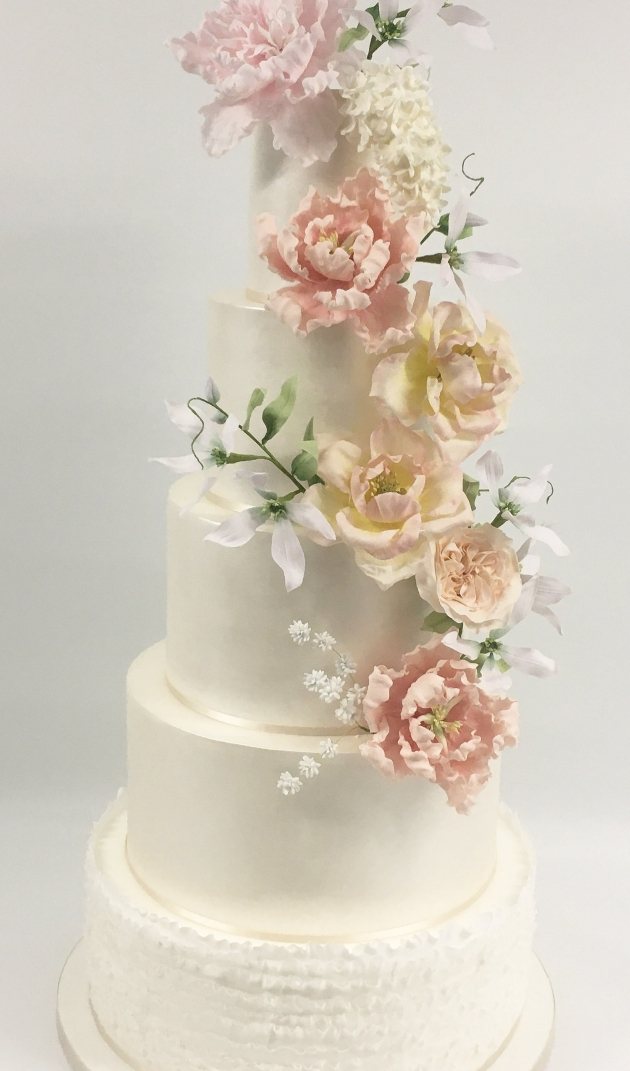 If you had free reign to design the cake of your dreams, what would it look like?

"It would probably combine a lot of the elements described above! There would definitely be a LOT of sugar flowers - tumbling cascades of peonies, anemones, clematis and hydrangea would all have to be in there, with lots of varied foliage, including olive leaves to remind us happy days spent in warmer climes! I'd leave the tiers mainly plainly covered but there would be a mix of different heights to add some interest, plus a few areas of bas-relief, just to add some texture. And for extra wow, the top tier would be on a floating stand - wound around with yet more flowers."