We asked Ling Warlow of Dragonfly Couture Stationery (www.paperbydragonfly.com) for her suggestions on tailoring a wedding stationery suite to suit a barn venue and a rustic wedding theme. Read on to discover what she had to say...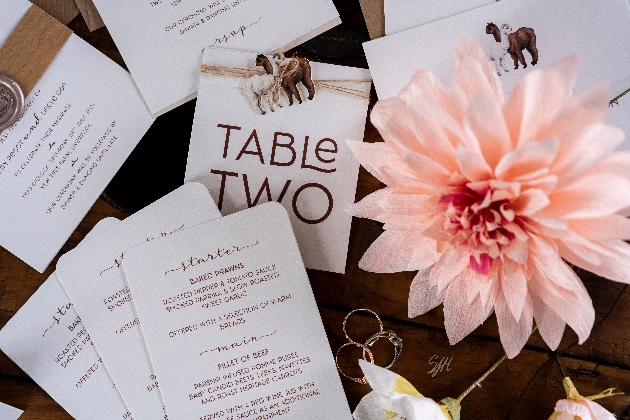 Credit: www.sjm-photo.comI love to take inspiration from the venue, it's always a great way of tying everything together. While it's lovely to have a colour to bind your theme, I love it when the stationery is used to bring an extra element into the decor on the day, and I often do this using illustration. I also love to use materials which reflect the venue, and the rustic barn styling is perfect for this.

For example, the venue's alpacas were the inspiration for the stationery pictured and I emphasised the rustic theme using natural twine, hessian wraps, wood-grain papers and kraft envelopes. All items were printed on a nice quality 100 per cent recycled board and the autumnal colours referenced the time of year. Like the contrast between the wedding decor and a barn venue's walls, I like the unusual twist of adding crystals to kraft board. It's reminiscent of fairylights twinkling against a rough wall.

My overall advice though would be to keep it simple and keep it green.