Innovative new way for sharing big-day memories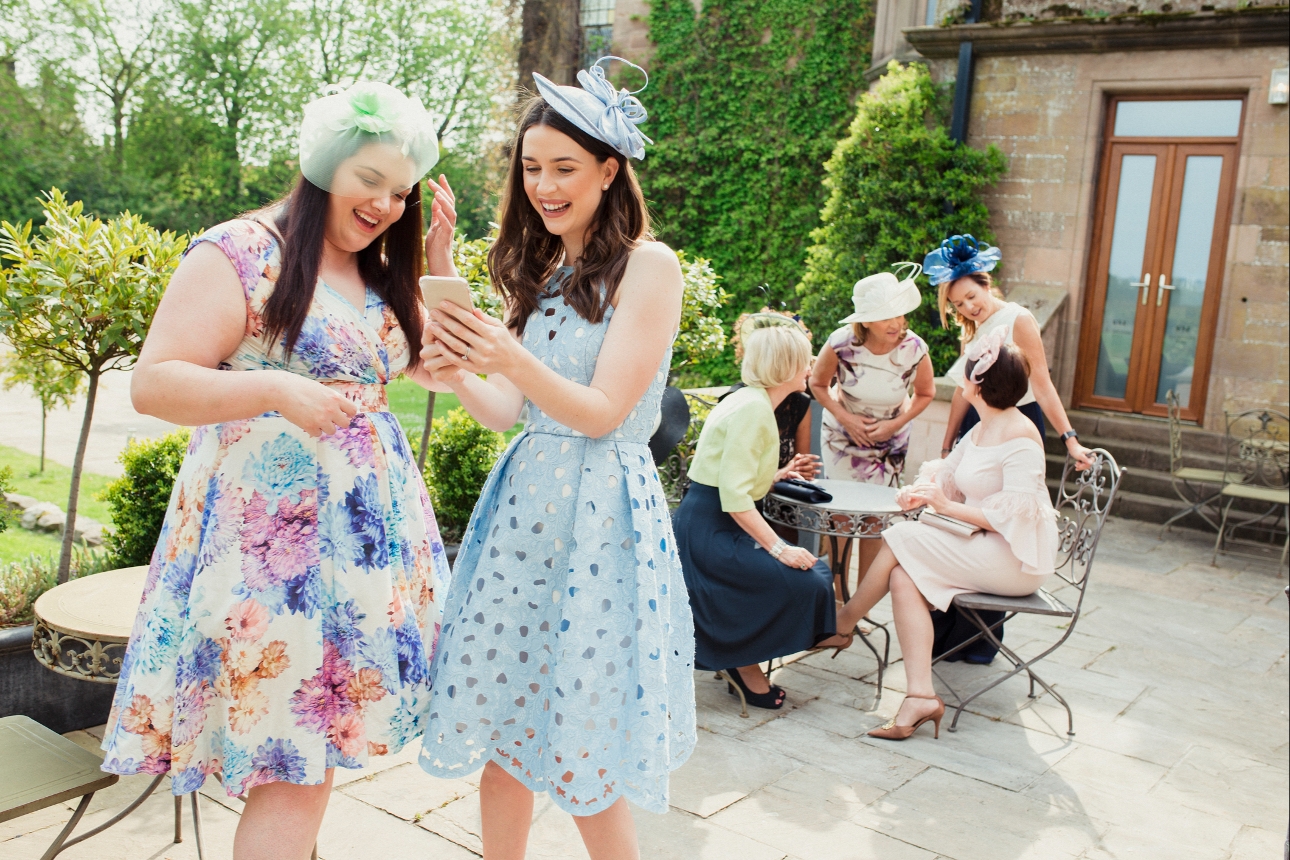 WeSnapThat is a free event photo sharing app, which is private and secure and means you won't miss out on all of the pictures friends and family are taking on your wedding day.

After attending several weddings, the founder of We SnapThat noticed that guests were taking loads of photos and videos and wondered if all those beautiful moments that were captured would ever be seen by the bride and groom or other guests? Hence WeSnapThat was created, to help remove the hassle of chasing and missing out of photos and videos, plus the app get attendees to be more engaged with your event and make it more joyful as they feel part of your special day.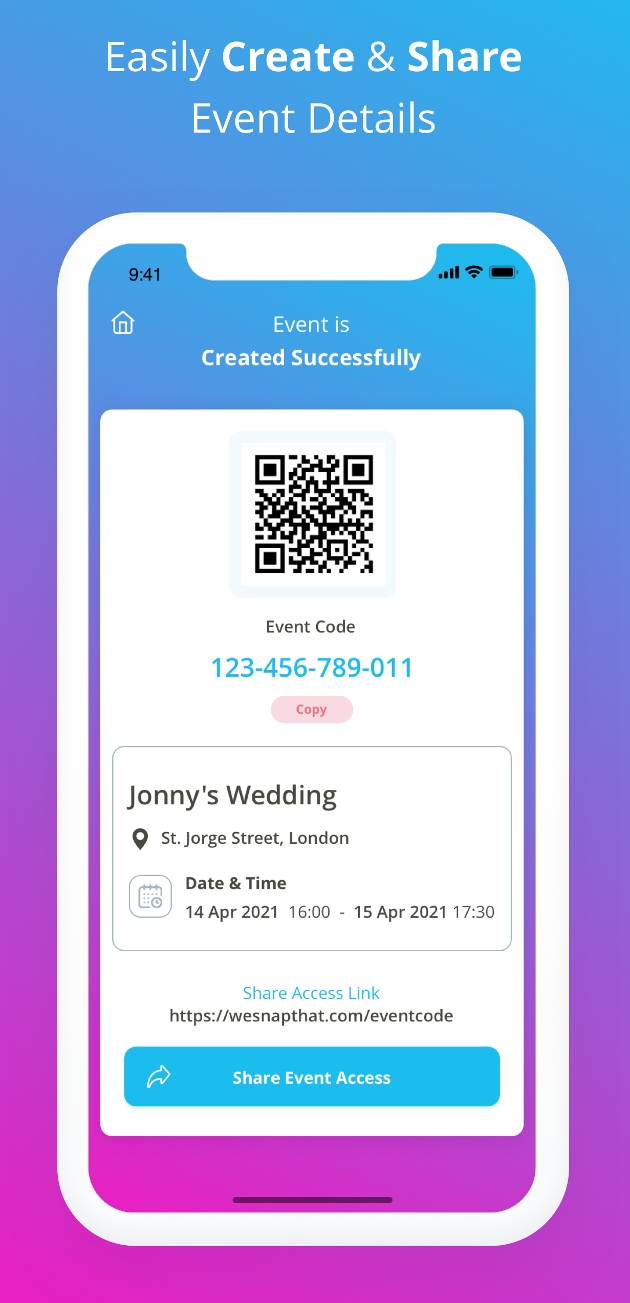 How does it work?
Very simple! Create your tailored private event in 3 simple steps which takes less than a minute to do. You manage everything from start to end dates, no of photos and videos each attendee can upload, who can share media from your event, plus the option to approve each attendee for uploading photos and videos or not!

Once the event is created share the link via WhatsApp, email, text message other social media etc or attendees can scan the QR code or use the unique password.

When the event starts all attendees can easily upload and share their media, for everyone to view and enjoy. Either by using the camera feature or upload multiple photos and videos from their phone gallery WeSnapThat removes the hassle of chasing people for photos and videos or having them lost in your WhatsApp group chats. You will also get photos and videos from attendees who's contact details you don't have

What are the app's main features?
Easily create private events in our fun 3 step process, very quick and fast! You have the option to add an event name, event profile cover, start date and time and end date and time (needed for live streaming, so participants can live stream their prospective of the event and anyone from the event can view it, which is a benefit as some guests may not be able to attend or are aboard). The location, this is shown on the info tab so users can click on the address and it takes you to google maps.

Also, there's the option for you as the event owner to select the number of photos and videos each attendee can upload, used to stop people going wild and sharing everything and anything. The option to select who can share media, just you or the event owner or all attendees. Also, the event owner has the option to manually approve each attendee, as without your approval they cannot upload any media to your event. Plus, an upload time limit, notifications are sent to all users that they have a limited time frame in which to upload all the media before the event closes, removing the hassle of chasing users.

Invite loved ones to participant in your private event by 1. Scanning your unique QR code for your event 2. Sending a Unique link for your private event that can be sent by WhatsApp, email, text other social media etc. 3. a unique password, which can be entered into the app by clicking the plus button on the home page and selecting the option to participate in event.

There is an option to download your own event poster which contains all your information your event so you can print these off to any size from A5 to A0 which can be placed at your event and guests can easily access your event and share memories.

What's more, there's a block user feature on the participants list so you can block unwanted guests. Also, the ability to assign admin roles to other participants to help with your event.

Attendees can only upload when the event starts and have a limited time window when the event finishes which is set by the event owner maybe 24 hours to unlimited. Notifications are sent to push users to get them to upload.

The app has a guest book feature where users can post video or text message directly you. This will be great for when you come back to view your event in later years you can relive those memories and well wishes, especially if attendees are no longer with us.

Security is big part of this app, we have ensured that every user that signs up into the app be it via a full sign up or guest sign up they need to add their first name and surname. This ensures that when they participate in your event you know who they as well as getting notifications when users join your event.

There's a messaging feature, for you to directly contact users who's contact details you do have - so you can always keep in touch as they are essential to your life.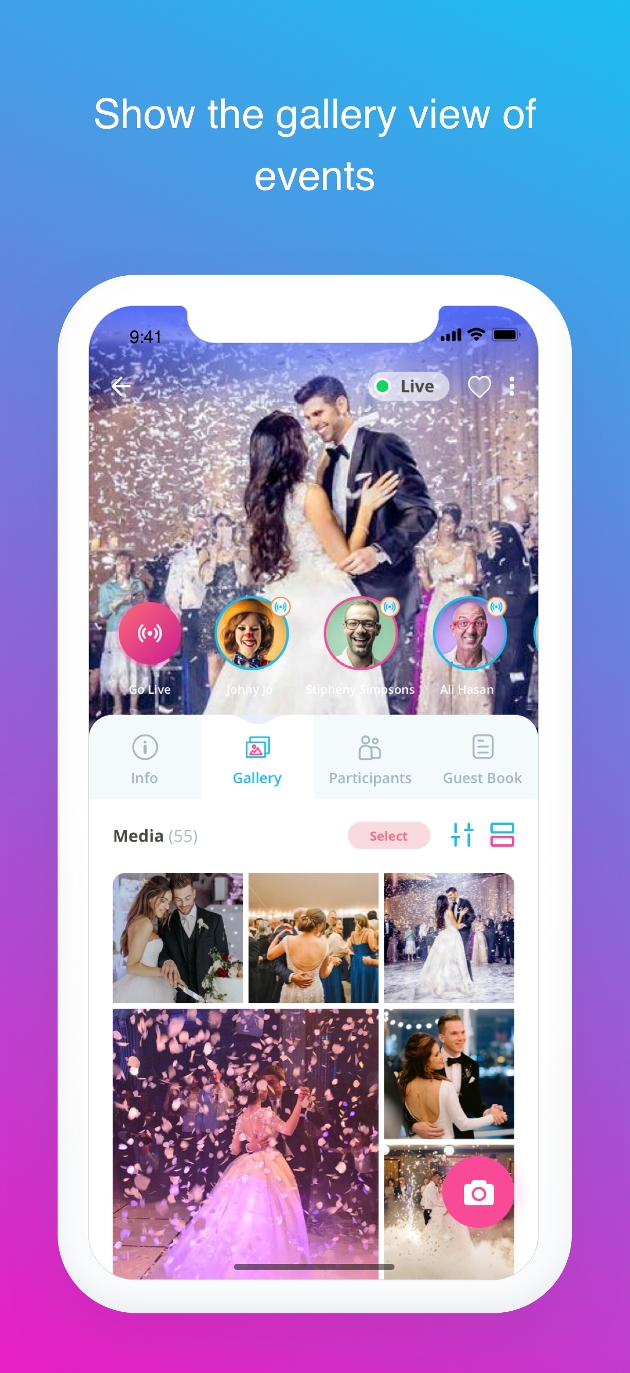 Who can use the app?
The app has been designed to be used by anyone and everyone (all age groups), it is very easy to create events with its 3 step process, the introduction of GIFs to help show you what to do and our gamification style makes it easy and fun to fill in.

Also, sharing the event is very easy we have given options by Scanning a QR code which is unique to your event, a deep linked WhatsApp link so you can share this with your guests, they click it and get into your event by one click. Also, a unique password, which can be entered into the app by clicking the plus button on the home page and selecting the option to participate in event.

Uploading photos and videos is very easy, simply click on the camera icon which takes photos and videos through the camera, or upload multiple photos and videos directly from your phone gallery. Our aim was to create an app with great branding and especially easy and fun to use UI/UX.

Why is it a great idea for weddings?
In this day and age smart phones have the ability to take great photos and videos. Everyone has the ability to capture life's events from all angles, however it is always a struggle to share these images. The bride and groom are focused on their professional photographer to capture their magical moments, all guests who take pictures and videos have no platform to easily share their media apart from WhatsApp where you need everyone contact details. WhatsApp compresses images and videos so they quality is lost and you cannot create large print outs from them, plus photos and video get forgotten in the endless chat messages.

WeSnapThat creates a private, safe, and secure platform for you and guests to easily share media and capture all those moments that may have been missed. You don't need to know everyone's contact details like WhatsApp to create a group, Attendees join quickly through the app and then start sharing to create a perfect photo album of your event. Guests feel more engaged and part of your big day.

Is it safe to use?
WeSnapThat is very safe to use, using Amazon web servers for their high-end security, also all events created on WeSnapThat are private and the only people who can see your content are the people you have invited to that specific event.

As previously mentioned, there's also an option when you create an event that you as the event owner can manually approve each attendee, as without your approval they cannot upload any media to your event; and the added block user feature means you can block unwanted guests. For extra security every user that signs up to the app, be it via a full sign up or guest sign up, needs to add their first name and surname ensuring that when they participate in your event you know who they as well as getting notifications when users join your event.

Are there any costs involved?
The app is absolutely free to use, no hidden costs at all or crazy advertising!

Check out wesnapthat.com