Talhenbont Hall is a family-owned estate built in 1607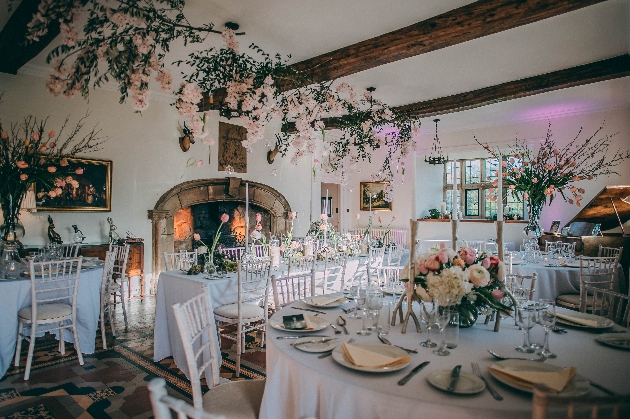 Credit: www.loveclic.co.ukTALHENBONT HALL
01766 810 247 | www.talhenbonthall.co.uk

Talhenbont Hall is a family-owned estate, built in 1607 it's steeped in history and romance as it was constructed by William Vaughan as a wedding present for his new wife, Ann.

A SCENIC SETTING
Nestled in the Welsh countryside on the Llyn Peninsula, Talhenbont Hall is surrounded by stunning grounds, which feature an ancient woodland and formal gardens. The River Dwyfach runs through the estate and there's even a tennis court on site. What's more, you're only two miles from the sea.

WHERE TO WED
You have the choice of several locations for your ceremony. The Vaughan Room, situated in the Elizabethan manor house can host 50 of your nearest and dearest. For slightly larger numbers, Cromwell Hall boasting original beams and an original Minton Floor can host 70. The Grade II listed Coach House with its original features and modern twists can accommodate 150 loved ones for the "I dos."

Finally, for al fresco vows there's the pergoda overlooking the ancient woodland and the River Dwyfach. The seating is amphitheatre-style giving your guests a fantastic view.

Perfect for intimate celebrations, the Vaughan Room can host 30 for a wedding breakfast. It's a muted room with a beautiful fireplace, meanwhile the historical Cromwell Hall can accommodate 70 for the reception. For a bigger bash, there's space in the Coach House for 150 (200 for the evening). A gorgeous place to host your wedding breakfast, it boasts magnificent chandeliers and bi-fold windows looking out over the ancient woodland. It also features a bar hand-built by the owner using wood from the estate.

The estate also features five charming cottages, where there's sleeping accommodation for 42 with plenty more available locally for further guests. The beautiful bridal suite is located in the manor house, and boasts a free-standing bath and four-poster bed.