The Racquet Club is perfectly positioned for access to public transport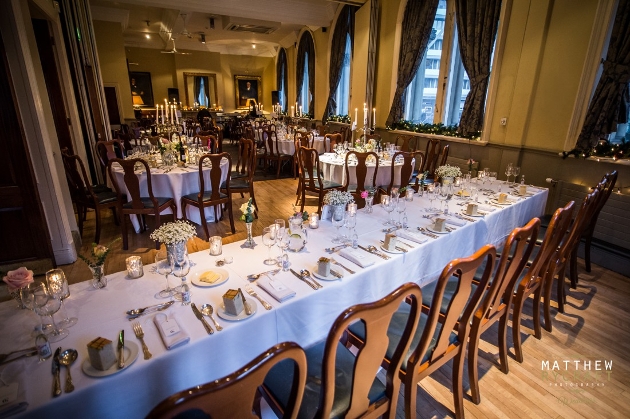 Credit: www.matthewrycraft.co.ukTHE RACQUET CLUB HOTEL
0151 236 6676 | www.racquetclub.org.uk

Located in the commercial district of Liverpool, The Racquet Club is perfectly positioned for access to public transport and car parking facilities. Close to the famous Liverpool Waterfront it's the ideal spot for a wedding. Built in 1859 by Sir James Picton as the headquarters for Sir William Brown, an American shipping merchant, it takes the shape of an Italian Palazzo and has carved plaques above the windows including Isabella I who gave permission and funding for Columbus' voyage, Columbus, Bermejo a Spanish adventurer, Vespucci, Cortez, Queen Anaconana and Francisco Pizarro.

There are eight bedrooms each individually decorated in a blend of traditional and contemporary styles, and the period events floor accommodates wedding and family gatherings. The restaurant benefits from large arched windows in a fantastic airy space with adjacent intimate bar. Throughout, the venue is furnished with an eclectic mix of modern and traditional pieces along with an extensive collection of original artwork.

The Main Room can accommodate 130 loved ones for the ceremony and 138 or the reception, while there's space in the Restaurant for 100 for the "I dos" and dining. For more intimate celebrations, the Club Room can host 25 for the ceremony and 40 for the wedding breakfast, and the Private Dining Room too can hold 25 for the vows or 24 for reception. Overall capacity for the evening bash is 250.