Event Cheshire tells us what's hot in the world of venue styling
The team at Event Cheshire, helmed by Emma Smith, love to keep couples up to date with what's on trend in the world of all things wedding, and have kindly put together their key trends for 2023 and 2024 that are making the headlines here in the UK. With the wedding season in full swing, Emma has already had the priviledge of using her floralscaping skills to explore, design and enhace some of the hottest styling trends in demand among her gorgeous clients. We hand over to Emma to tell us more...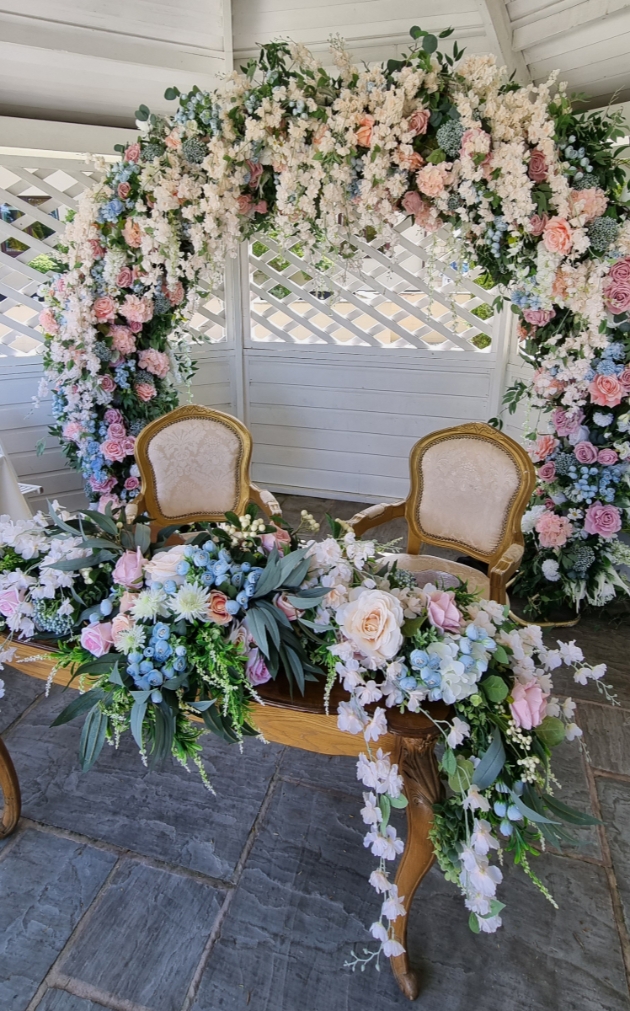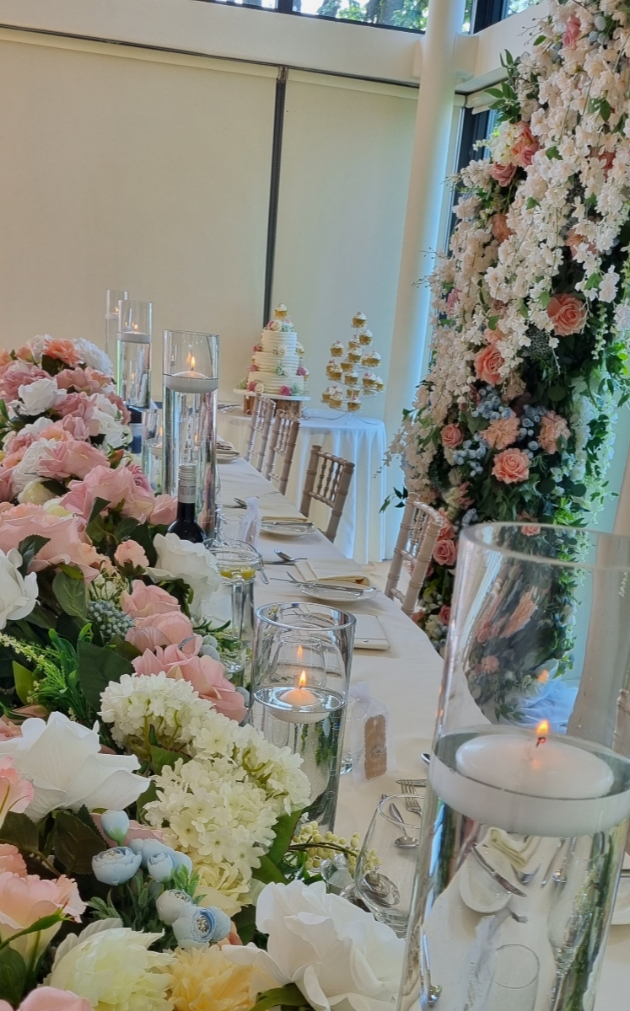 FLORAL

Our passion for florals has never been more apparent than it is now with both the high street fashion trends and home interior styling awash with big bold greenery prints, boho dried floral arrangements, baby's breath, festive blooms and lashings of eucalyptus stems everywhere!

In this floral fantasia world bigger is most definitely better with no Instagram account complete without the perfect flower wall pose. With this trend for theatrical lifestyle dressing showing no signs of disappearing anytime soon it is understandable that for most couples on their big day florals will play a big role in their styling.

Flowers not only provide the perfect backdrop for your photography but they also add beauty and a sophistication to the entire wedding party's look, that is unrivalled. No wedding would be complete without them - with most people agreeing that flowers provide one of the most beautiful, colourful and atmospheric parts of a wedding. But does this fever for floral extravaganza mean it should be a significant consideration for the wedding budget too or is it possible to provide that Pinterest-worthy wedding for less?

As a venue stylist who specialises in luxury floral designs and architecture I would scream absolutely and our clients seem to agree! There has never been a stronger increase in demand for artificial floristry! This bloomin' gorgeous look is becoming increasingly popular as a beautiful, long-lasting, and often cheaper alternative to fresh wedding flowers.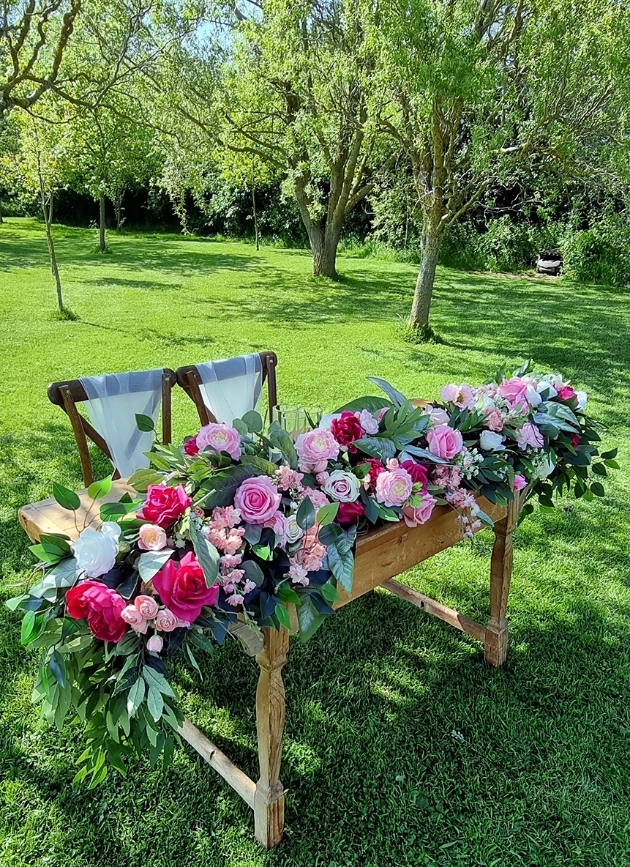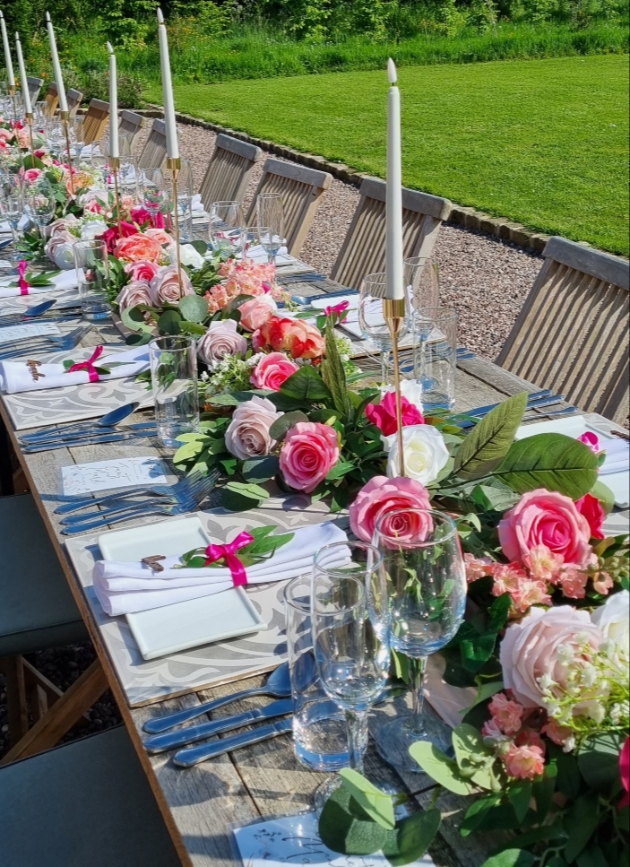 VIVA MAGENTA

As stylists, we know that colour is at the heart of everything we do and with this in mind we naturally look forward to seeing which new colour palette trends will inspire the wedding industry each year! This year, Pantone announced that 2023 would be the year of Viva Magenta: "an unconventional shade for an unconventional time".

Viva Magenta symbolises a bold and irresistible kind of love that's not afraid to display affection, take leaps of faith, or conquer the odds stacked against them. This sounds a pretty perfect choice of colour palette for a romantic modern wedding celebration!

Our favourite Tuscany-themed wedding chose this colour palette to create a striking bold tablescape of florals, which included roses, peonies and italian ruscus to create a high-end lux banqueting table. The fabulous Viva Magenta, nestled between sweet raspberry, creamy ivory and nude coffee mocha tones looked so delicious is left us dreaming of Neapolitan ice-creams in the sunshine.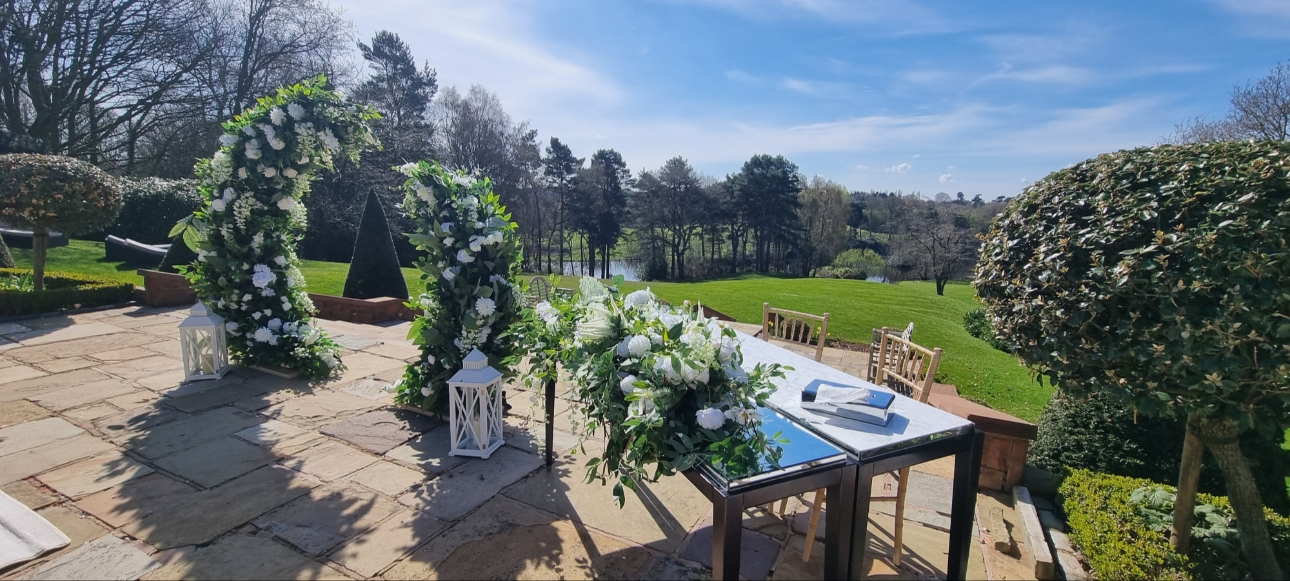 CELESTIAL

We love this styling to the moon and back! The celestial vibe is one of the newest trends to hit the wedding world. Whether you want to go all out and create an out-of-this-world backdrop by using a crescent moon-shaped floral design to provide both a romantic and thematic styling, or whether you prefer to incorporate subtle hints of night sky by adding twinkly star string lighting to illuminate the venue, you're guaranteed to mesmerise your guests and create an atmospheric event.

We loved designing and hand-creating our gorgeous moon arch with lush greenery and florals, this statement design is the focal point of the ceremony and provides an excellent choice for couples who want to subtly incorporate celestial details into their overarching design concept.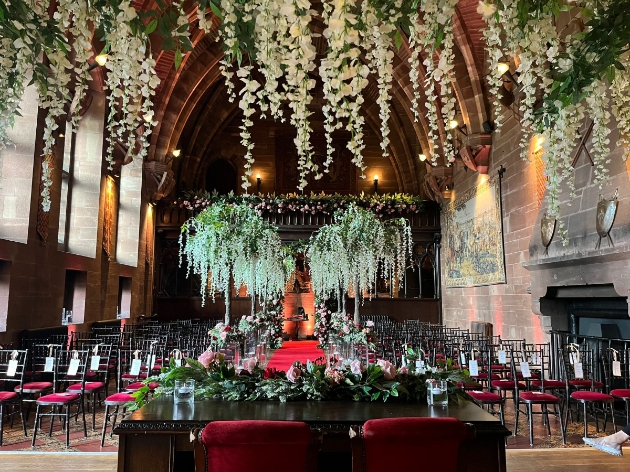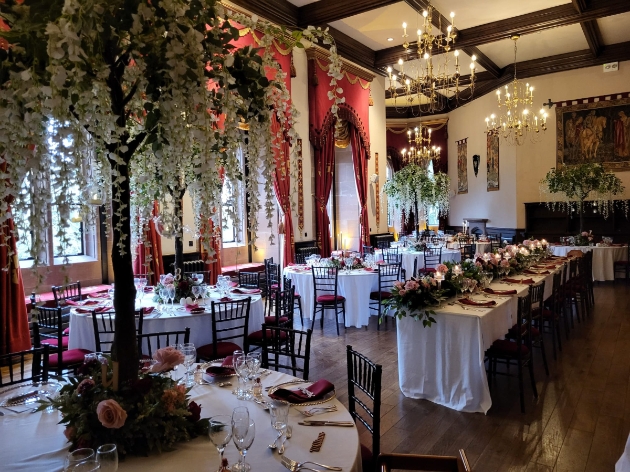 MAXIMALIST

This wedding style is where Event Cheshire's styling heart certainly skips a beat! If you're looking to give your guests an experience that they will never forget, if you are a "more is more" kind of soul and if you love to indulge in the finer things in life then this dream day styling is the one for you!

From the theme and decor to the dress and the food, maximalist weddings give everyone in attendance a chance to really be treated to a day fit for royalty! This is a sensation overload, a feast for all the senses and a first class trip to the extreme in styling. Think large luxury statement venues, opulent tabelscaping, candles aplenty and big bold floral designs everywhere!

When our clients said they wanted to wow their guests, we were only too happy to let our creative juices overflow.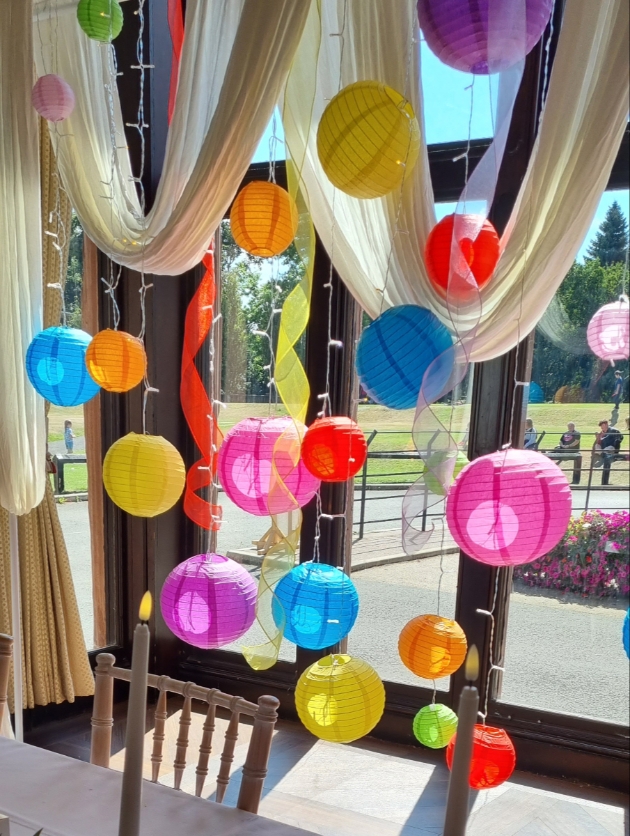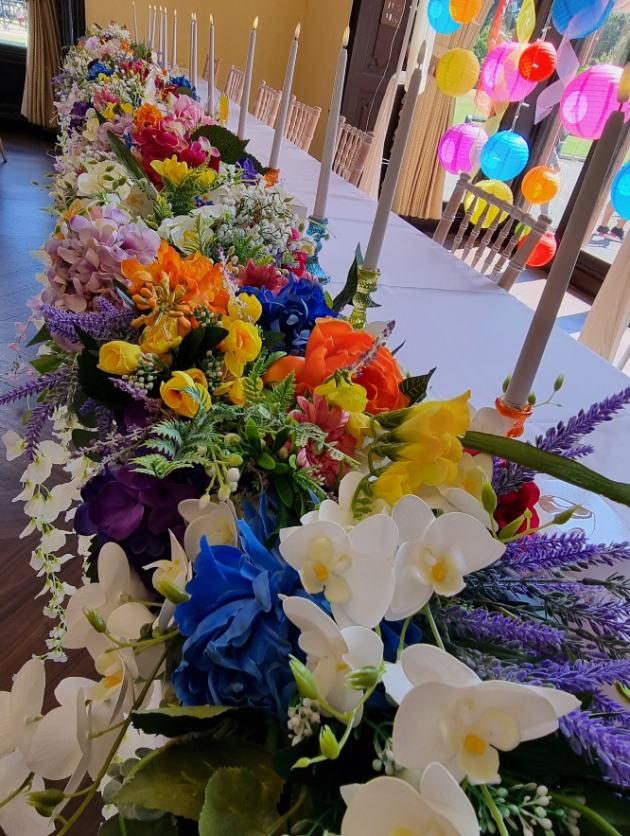 FESTIVAL VIBE

There's nothing quite like a festival wedding in the height of summer to set the tone for a fun carefree wedding day for you and your guests. Whether your wedding is out in the open countryside, or inside a cosy atmospheric tipi, it's possible to create a gorgeous summery feel reminiscent of Woodstock, regardless of the season.

This look is all about a loose freeform styling. Think the pairing of vintage and upcycled relics combined with a scattering of pretty wildflowers and grasses. Whether you choose a pale pastel palette or bold and vibrant tones, the key to this styling vibe should be a relaxed informal affair that's a joy for all the senses. It's all about the detail here - don't be fooled by seemingly effortless decor. Like barely there make-up you really have to ensure that everything blends beautifully.

We recommend you set the mood by using colourful taper candles, which are an excellent way of adding a pop of colour to your tablescape. To create a truly luxury dining experience, we would recommend coordinating your florals, with coloured glassware and linen napkins too!

If you are looking for economical ways to create this style, why not create a floral runner using bud vases filled with single stem flowers, colourful paper hanging lanterns and craft your own stationery designs using luggage labels and floral sprigs?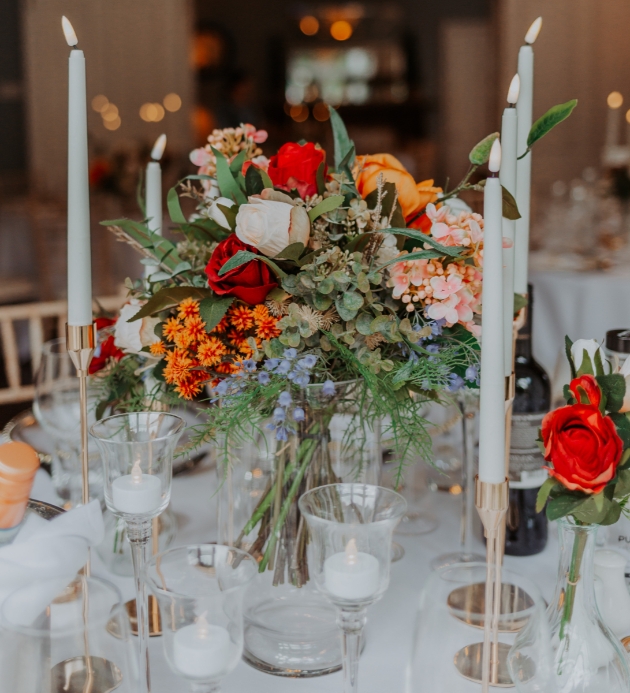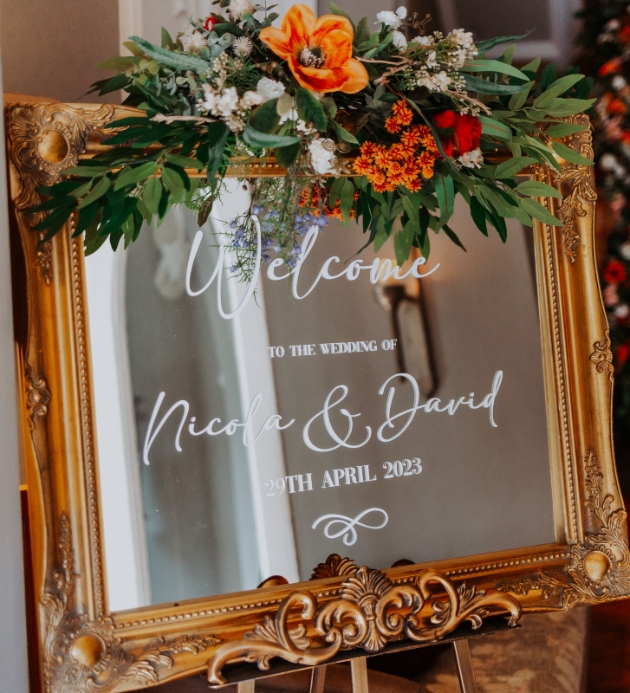 RUST

Rust is trending hard for 2023 weddings. We just love this rich, daring and unexpected colour tone palette to bring an earthy theme to your wedding day. A rust-hued palette adds natural richness to a wedding with shades of copper, terracotta and tangy orange adding opulent styling aesthetics.

Not just exclusively for autumn weddings, we have shown that you can incorporate this colour into both rustic woodland designs and also into more opulent theming.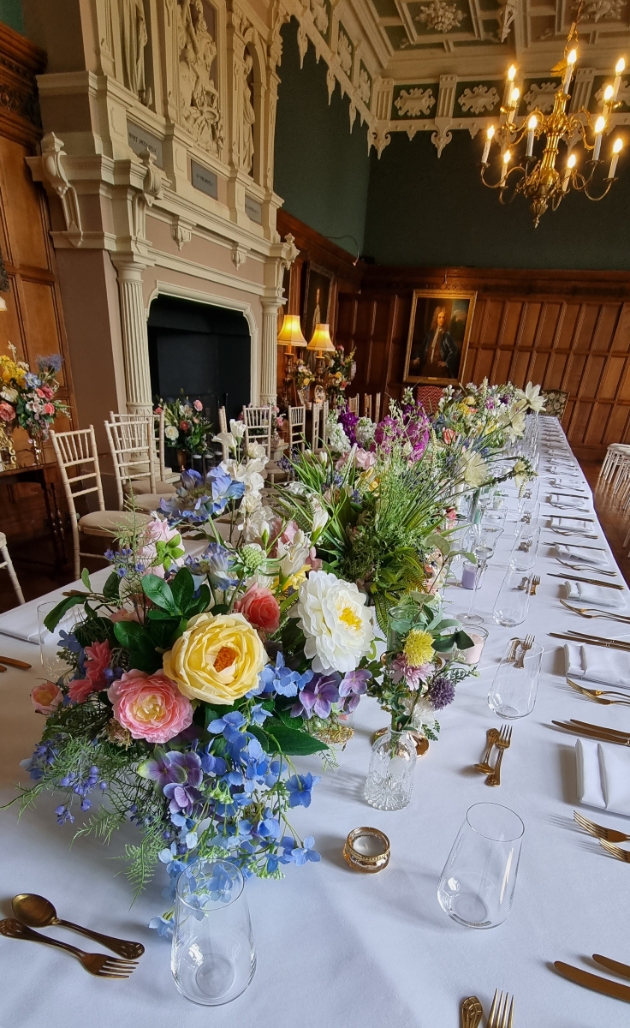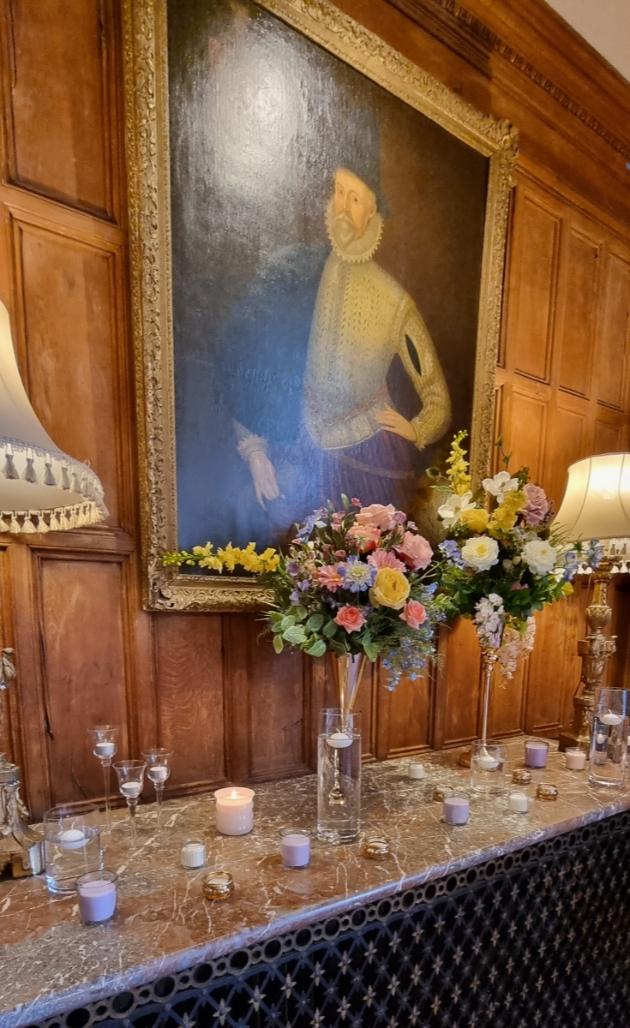 REGENCY

The ultimate way to feel like you've stepped into the Regency era starts and begins with the wedding venue that you've chosen to create the backdrop aesthetics to your day. Stately homes with grand entrances, sweeping staircases, opulent fireplaces and immaculately landscaped gardens set the styling and tone for the day.

To help you achieve this regal look, we recommend pastel colours teamed with accents of ivory and gold metallics. Statement florals such as bouncing hydrangeas and trickling wisteria, complemented with afternoon tea crockery sets, candelabras, bud vases, and accessories such as charger plates are your firm go to styling must haves!

Whatever your styling choice, remember that your day should be like looking in a mirror. It should reflect who you both are and aesthetically should symbolise the joining together of two hearts. Be sure to be true to you!

Learn more about Event Cheshire at www.eventcheshire.com