Manor House Alsager introduces limited edition autumnal glow spa day
As the vibrant hues of autumn paint the landscape, East Cheshire's family-owned, English country Manor House Hotel invites guests to embrace the golden season with its limited edition Autumnal Glow Spa Day. This newly launched Spa Day offers guests an holistic experience indoors and out that beats off the summer holiday blues and captures the beauty of the season.

The Limited Edition Autumnal Glow Spa Day Includes:
Seasonal mocktail
7 hours of access to the indoor spa and English spa garden facilities
Bespoke tote bag and flip flops to take home plus robe and towel hire
Seasonal afternoon tea
60 minute Autumnal Glow Spa Ritual
1 hour reservation in the Relax Lounge following treatment
30 minute Salt Shed Experience
Free spa gift
Guests arrive at the spa where they are given their fluffy robes and towels, as well as bespoke tote bag and flip flops which they can take home with them following their visit. Using the aesthetic and top-class changing rooms, guests can slip into their spa attire and head to the Pool House where they are greeted with a delicious seasonal mocktail. The hub of the spa, the Pool House has underfloor heating, as well as a log burning stove, making even the chilliest of mornings cosier. Housing the UK's first Swim up bar, The Pool House is equipped to enjoy all year round and is an idyllic location to indulge in during the colder months. Guests can enjoy a scrumptious hot chocolate, or warming cocktail at either the comfy indoor stools or outside whilst floating in the heated vitality pool.
Warmed up from the sanctuary of the Pool House guests are encouraged to brave the chilly autumn air in the contemporary 2,000 sqm English Countryside Spa Garden. There are a variety of warming facilities to choose from including the Potting Shed Herbal Sauna, Panoramic Laconicum with heated beds and swing seats, the Salt Steam Inhalation Chamber while the Summer House provides a tranquil vantage point to admire the hazy autumn harvest days across the expansive fields at the back of the spa.
For the bold-hearted, an invigorating Plunge Pool and cold shower bucket offer a refreshing splash into the season, and outdoor hanging day beds, complete with individual heaters, provide an enticing spot to relax, warmed by the glow of fire pits that dot the garden -the perfect place to huddle round and with a warm drink and a catch up around the garden.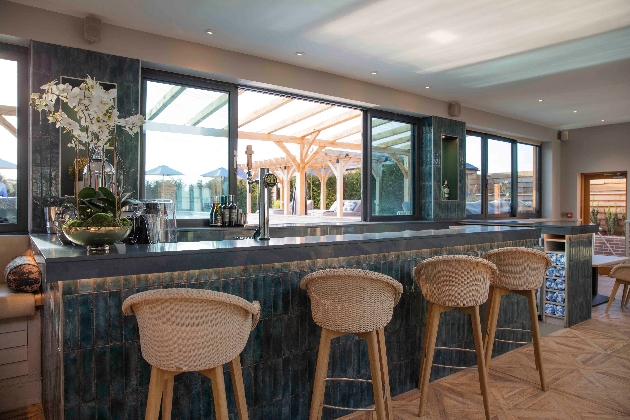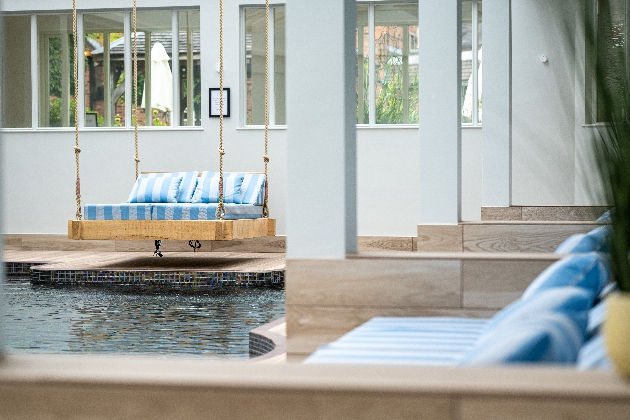 If guests do crave some relief from the cold outdoors, spa-goers can also escape to the refurbished indoor spa, which houses an array of spa experiences to relish including a large serenity pool, surrounded by loungers and an Instagram-able hanging day bed, as well as the indoor Finnish sauna and aromatherapy steam room.

It wouldn't be a spa day without a little indulgence, and for a truly warming experience, guests can enjoy the Salt Shed Experience included in the package, a private guided meditation in a Himalayan salt sauna to induce a meditative state of relaxation - a perfect prelude to the 60-Minute Autumnal Glow Spa Ritual. This bespoke treatment combines a soothing 30-minute Back Massage with a revitalising 30-minute Glow Facial. Following treatments, guests also have access to a comforting relaxation lounge where they can lay in the peace a little longer before heading back out into the main spa.

The indulgence extends to the afternoon, where guests are treated to a delectable seasonal afternoon tea, featuring tantalising bites that celebrate the flavours of the season, such as a hearty Cumberland sausage roll, choice of finger sandwiches including coronation chicken, Roast ham & English mustard, Chargrilled Mediterranean vegetable & pesto, Smoked salmon & cream cheese, and Mature cheddar cheese & house pickle. On the sweeter side, also included are Chatwin's Fruit Scones with traditional clotted cream and Tip Tree jam, as well as a triple chocolate brownie, Carrot cake, cream cheese frosting, Treacle Tart and Bakewell Sponge. As the day draws to a close, a complimentary spa gift ensures that the enchantment of the Autumnal Glow Spa Day lingers long after the experience ends.

The Limited Edition Autumnal Glow Spa Day is available Monday to Thursday at £175, Sunday and Friday at £185, and Saturday at £195, from now until Thursday 30th November.

Check out www.manorhousealsager.com