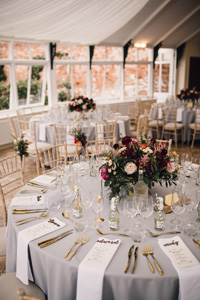 Get naked
Q. We have a stunning country mansion booked for our big day. It seems a shame to detract from our beautiful venue with over-the-top décor. What subtle themes do you suggest?
A. Sarah Callander Beckett says: We've seen a big rise in 'naked' styling – a trend that sees décor taken back to basics. Here are some ways you can achieve this look…

- The naked cake. Ditch the icing, frosting and ornate decorations and opt for exposed sponge with fresh fruit and flowers for an understated, homemade feel.

- Stripped-back style. A muted colour palette, white tableware, candles and sprigs of foliage on wooden trestle tables is a super-chic look that's easily achievable – leaving you free to relax and enjoy the day.

- Fuss-free florals. Weddings are traditionally associated with bountiful bouquets and loaded centrepieces. To keep with the minimalist vibe, opt for just two types of flower interspersed with greenery for a clean look. Glass bottles and vases look stylish without being ostentatious.

- Embrace al fresco settings. Providing the English weather permits it, an outdoor ceremony is the ultimate way to achieve a natural wedding theme. Here at Combermere Abbey, our stunning Edwardian Glasshouse is set in idyllic gardens for beautiful photography.