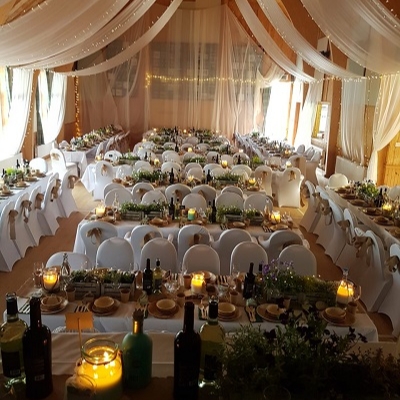 It can be done!
Q. Tell us how to plan a wedding sustainably.
A. Celebrant Gill Collins says: A couple of years ago, I was fortunate enough to attend a wedding where the bride and groom had put every effort into making their big day as sustainable as possible. All of the food was locally-sourced and the chefs prepared and cooked the whole menu onsite, so the fuel cost of transporting any produce was kept to a minimum, while the carbon footprint was reduced. The same principle was applied to the hire of any equipment, such as table cloths and chair covers. The plates and cutlery were all reusable, and no plastic was used at all.

The centrepieces featured plant arrangements that the guests could take home and plant in their own gardens. The candles were made from soy wax, and again, loved ones were encouraged to take them home and reuse the jars. The favours were handmade soaps, created using natural ingredients and wrapped in reusable muslin bags.

The reception was held in a local village hall, which was completely transformed into the most beautiful venue using fabrics and hundreds of fairylights, however I know that these elements have since been passed on and used at another four weddings and one birthday party!

All of the guests were booked into local hotels and ferried to and from the venue in minibuses to reduce the number of vehicles required. So, everything was sourced within a radius of a few miles of the venue and all elements were either reusable or recycled keeping waste to an absolute minimum. This can all be achieved with reasonable ease, all that's required is a slightly different way of thinking.
Celebrant Gill Collins, Collins Ceremonies
www.gillcollinsceremonies.co.uk