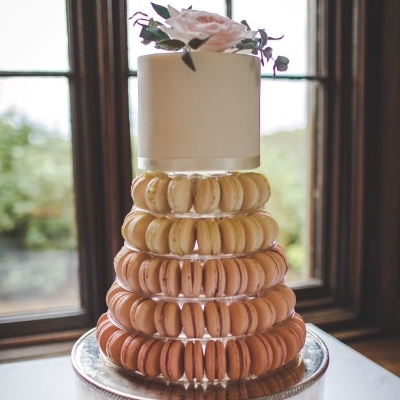 Sweet tooth
Q. We love the idea of a wedding cake as a showstopping centrepiece, but neither of us are keen on sponge. Is there an alternative?
A. Nicola Thomas says: Why not try a different filling? You could always take the more traditional route with a fruit cake, rich with spices and bursting with flavour. Or follow the lead of one of my couples who'll be celebrating with an Irish chocolate biscuit cake in honour of the bride's heritage. Based on the classic chocolate tiffin, the cake is iced and could be used as a single tier of your design or for the whole cake.

Alternatively, you could consider a twist on tradition and opt for a macaron tower, providing an unusual and beautiful centrepiece with the opportunity to incorporate a combination of different flavours such as salted caramel, raspberry, pistachio, coffee, vanilla, chocolate or honey. There are so many possibilities! You can choose to have your macarons all one colour, include hand-painted details, or even opt for a multi-shade ombré effect running up the height of the tower.
Nicola Thomas, Boutqiue Bakery
www.boutiquebakery.co.uk