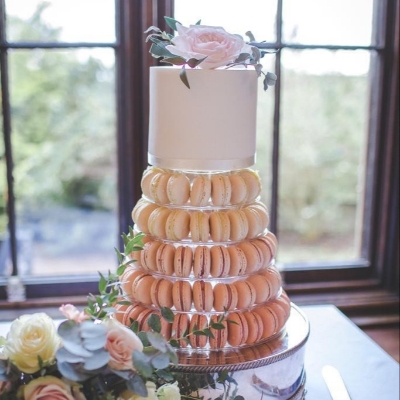 Sweet success
Q. We both have a sweet tooth, but aren't fans of traditional wedding cake. What can you suggest as an alternative?
A. Nicola Thomas says: A macaron tower is the perfect alternative to a traditional wedding cake, providing an unusual and beautiful centrepiece. You can choose to have your macarons all one colour, include hand-painted details, or even opt for a multi-shade ombré effect running up the height of the tower. As each one is no more than a mouthful or two, why not play around with the flavours too - they can all be the same or you can decide between a wide variety of tastes, such as salted caramel, raspberry, pistachio, coffee, vanilla, chocolate or honey – there are so many possibilities!

If you'd still like to include a traditional element to your tower, why not top it with an iced cake? Not only does it give you the opportunity for fabulous cake cutting photographs, but you also get the best of both worlds. If you'd like to add a little more decoration, they can look fabulous festooned with fresh flowers, or equally stunning topped with a single statement sugar bloom.
Nicola Thomas, Boutique Bakery
www.boutiquebakery.co.uk