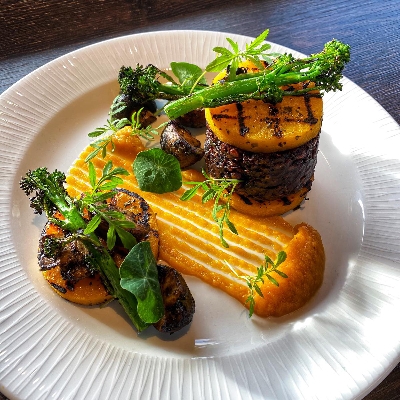 Vegan spice
Q. We want to serve a vegan wedding breakfast, packed with flavour, that all of our guests can enjoy. What would you suggest?
A. Candice Fonseca says: These days us Brits have wide and varied tastes so don't worry too much about how your guests will react to a bit of spice and some heat in your vegan wedding meal.

It's best to take inspiration from the cultures that do vegan food well, such as the Indian subcontinent – the Middle East and Far East for example. To keep everyone happy, I'd avoid going for anything too hot in terms of chilli heat, and instead go for dishes that balance spice with sweetness such as tagines or coconut-based curries.

Traditionally, a wedding breakfast is individually plated with key elements, and if you want to stick to this approach then a star vegetable should take centre stage, for example red peppers stuffed with jewelled couscous works well, or a griddled cauliflower steak dressed with pomegranate, pine nuts and tahini. However, this approach has a couple of potential pitfalls. Some of your less adventurous guests may not like it, and secondly, if the schedule on the day slips even slightly keeping the crunch in the vegetables can become difficult for the kitchen team.

I personally think that serving a wedding breakfast family style on the table in serving bowls is perfect for a vegan feast. It gives you a wider variety of dishes and flavour profiles, and will mean that everyone will find something they like. Ordinarily, serving this way is more costly than plated, simply due to the increased volume of food required, but the fact that there's no expensive protein element does mean you won't be breaking the bank. Think about the flavours you like or dishes that have significance to you and your new spouse, and start from there.

Sit down and chat with the chef, and from there they'll be able to come up with a menu inspired by you, and more to the point, something that's deliverable. Finally, always insist on a tasting – understanding spice is a real skill and you need to be on the same page in terms of expectations!
Candice Fonseca
www.delifonseca.co.uk