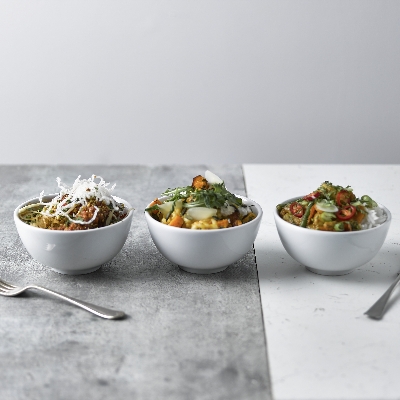 Wonders of the world
Q. We're big fans of international cuisine and would love to reflect this in our wedding-day menu. What can you suggest?
A. James Behan says: A lot of couples are choosing less traditional options when it comes to their wedding breakfast, with street food and international bowl food proving particularly popular. The latter is flexible and allows guests to sample a number of different dishes that will take them on a culinary tour around the world. With this serving style, there's also the added bonus of being able to choose multiple dishes, as opposed to a single main course.

Our menus include a number of these options including lamb tagine with herb couscous and mint yoghurt, Thai crispy chilli beef noodle and papaya salad, and Sri Lankan king prawn curry. All use fragrant herbs, spices and dressings, ideal for couples who love a range of international cuisines and flavours.

Whether you have fond memories of a trip that you'd like to recreate, or you simply want your menu to reflect your heritage and culture, work closely with your wedding caterer to create a bespoke menu that makes your day totally personal to you.
James Behan, National Museums Liverpool
www.liverpoolmuseums.org.uk/venue-hire/weddings