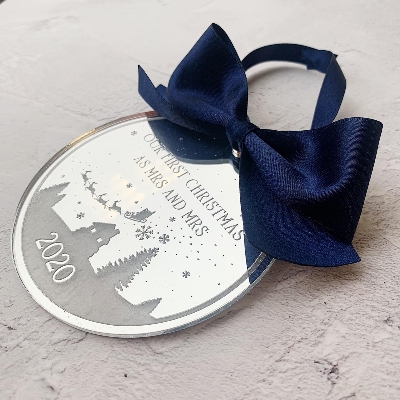 Winter wonderland
Q. What finishing touches can we add to our big day to inject a little more personality and reflect our wintry theme?
A. Emma Roberts says: A lot of our clients tend to opt either for a white and silver, or gold palette over the Christmas period, both of which are amazing as they give a crisp winter wonderland feel. At AE Designs we love working with a pop of colour to bring your day to life, so don't forget your classic Christmas colours such as red, green, black or navy, which work to bring the sparkle to life and provide contrast with lighter hues.

Personalised monograms make a great addition to your wedding stationery and can be used for so many finishing touches as well, tying everything together beautifully – think foiled napkins or coasters, individual menus and cake toppers. Your table plan and welcome sign too can bring your theme together by featuring your monogrammed logo, flower and colour choice, plus any fonts you've used on your stationery.

Different materials such as engraved acrylic or pressed foil offer a lovely range of textures and brings everything to life. We also love engraved acrylic baubles as favours for a festive wedding.
Emma Roberts
www.theaegiftshop.com