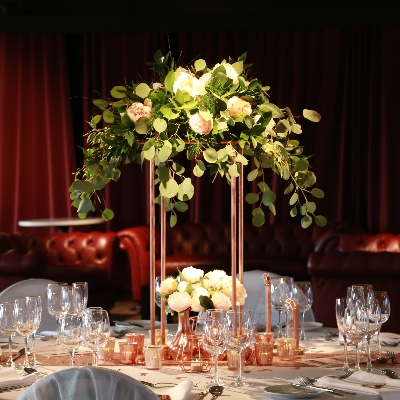 Seasonal style
Q. What are your suggestions for styling a wintry wedding celebration?
A. Amanda Nelson says: Winter brings a wonderful opportunity to add rich, warm colours and tones to your wedding dressings. Be it the rich reds we associate with the festive season, dark sumptuous blues and greens to give a luxurious feel, or crisp winter whites to reflect the scenery around us. 

Accentuating the base palette with metallic golds and coppers can build structure, but will also add warmth and opulence to the look, while beautiful winter foliage can soften the dressings to create a wonderful, welcoming setting. 

Whether your styling is grand or intimate, small details such as berries, pine cones and foliage in silvery tones can add to the wintry feel, while the use of candles and fairylights will reflect the magical sparkle this season brings.  
Amanda Nelson, Wachadoin Events
www.wachadoin.events