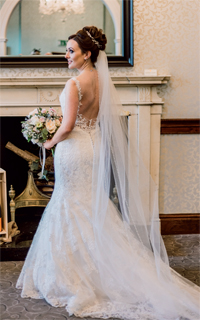 Lovely locks
Q. I have very thin hair, what can I do leading up to my big day to get my tresses looking their best and what style would you recommend to hold all day?
A. Katy Corcoran says: If you think you're limited because you have thin hair, then you couldn't be more wrong! Fine hair is predominantly soft, therefore I advise my clients not to use conditioner on their roots, this makes it more manageable and easier to manipulate in to the style you want. Coconut oil is amazing for leaving your locks healthy, glossy and thick.

I often get asked what are the go-to styles for all-day hold, and I'd suggest a beautiful up do. Use padding underneath the hair for volume and to stop pins from sliding out, it also gives a more comfortable feel, as the grips are not touching your scalp. If you wanted to wear your locks down then I'd suggest pin curling the hair the night before to give volume, taking it out an hour before the ceremony. Lastly, hair extensions are a personal favourite as they hold a shape well and can even come pre-curled.