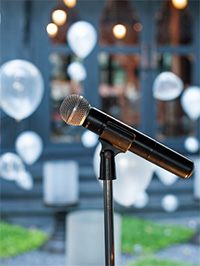 Raise a glass
Q. I recently went to a wedding where the bride gave a speech, and it made me want to do one for my own big day. The only trouble is, I have no experience in public speaking and I'm terrified! Where do I start?
A. Emma Taylor says: The best place to start is with the structure. Luckily, the bride's speech is not a traditional one so it doesn't have conventions to follow and you don't necessarily have to propose a toast. Here's a quick guide to forming your address:

- Open by thanking both you and your partner's families for any outstanding non-financial help they've given. Perhaps remark on the hours your mum or sister have spent accompanying you to wedding fairs and dress fittings. If you feel you've been a bit of a bridezilla then now's the time to 'fess up.

- If you have a friend or relation who's travelled a particularly long way for your bash then mention them next. Follow this by thanking your bridesmaids for their support. A funny anecdote from your hen do that captures the humour and dedication of your best girls wouldn't go amiss.

- Finally, speak about your new husband or wife – how you came to meet and the life journey you're about to embark on. Keep this light and witty, ending with something personal to you as a couple. Try something like, "I look forward to the years ahead; converting Rob to the wonders of yoga, meatfree meals and moisturising."

Write up your speech in double-line spacing and rehearse, rehearse, rehearse. You can also come along to one of my workshops.