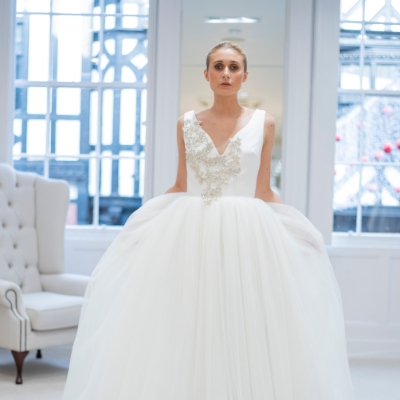 One of a kind
Q. I've tried on lots of styles but still haven't found the dress of my dreams. My friend suggested having it made but I'm worried as I have no idea what's involved. What is the bespoke process?
A. Matthew O'Brien says: Couture can often get caught up in the latest trend, being more about the dress than the model. Whereas, bespoke bridal is the other way around. It's all about the bride; her ideas, needs, foibles and tackling those little problem areas we all have so that she looks and feels amazing. The process is simple. The first step is to make an appointment. You can either come into the showroom with a picture and a design in mind or, as most brides do, come in and try on lots of dresses to find a style or combination of styles you like and look at fabrics, from beautiful silk to exquisite lace. From here I can start to sketch your perfect dress.  
The whole process usually requires three fittings and each time you can come along with a friend and relax with a glass of champagne cocooned in all things fabulous whilst we create your personal masterpiece. I never tire of seeing the delight on a bride's face when they have their final fitting.  
Matthew O'Brien
matthewobrien.co.uk