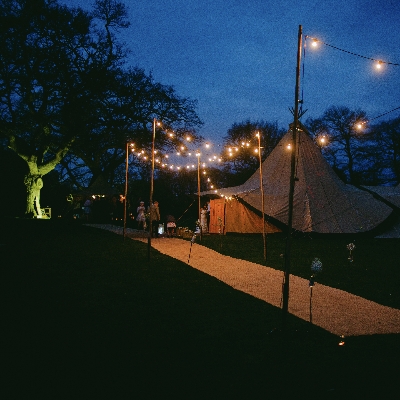 Al fresco vibes
Q. We're planning a festival wedding and would like our shelter to have style with a quirky edge. What are the options?
A. Nat Florey-Abbotts says: We use our tents to create magical boho-style weddings that are truly unforgettable, so we can certainly help with this question! There are a wide range of tents to choose from, the first being tipis. These can be linked together, so however big or small your wedding these will be able to accommodate your guests. If you're looking for something more open however, a stretch tent may be more up your street. They provide essential cover and you have the option of leaving some sides open to create an outside/inside space. If you have food trucks for your guests this open layout is spot on. Our third suggested option is a timber ge-dome. They're rustic yet sleek with huge timber beams holding up a cream canvas making a light and airy space for you to create your perfect wedding inside.

You may also want to look into hiring furniture to kit out your tent, and we offer a vast array. Options include long tables and benches for a festival-style feast, stages for live music and dancefloors for guests to party the night away on. Then there are chill-out areas, which can include Chesterfield sofas, coffee tables, beanbags and cosy firepits – the perfect way to end your night.
Nat Florey-Abbotts, Event in a Tent Ltd
www.event-in-a-tent.co.uk