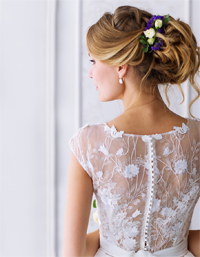 Finding the one
Q. I've booked some bridal shop appointments but I don't know what to expect. Is there anything I need to take with me and should I know what style I'm looking for?
A. Jan Clark says: Preparing for your first boutique visit can be both exciting and nerve-wracking! Finding your dream dress takes some planning and research and a good starting point is to look at necklines and dress shapes. Having an idea in your mind of what suits you will help your consultant eliminate styles for you.

It helps to wear a little make-up and have your hair in a similar style to what you think you'd like for your big day, this will allow you to envision the overall look. Wearing nude underwear and a strapless bra creates a perfect silhouette and helps you look and feel your best.

Try to have a rough idea of how much you want to spend including alterations and accessories, your bridal consultant will then keep to styles that are in your budget so you're not disappointed. Lastly, try not to take too many people with you, as lots of different views can be confusing. Take two or three people with you to make sure your appointment is memorable and enjoyable!