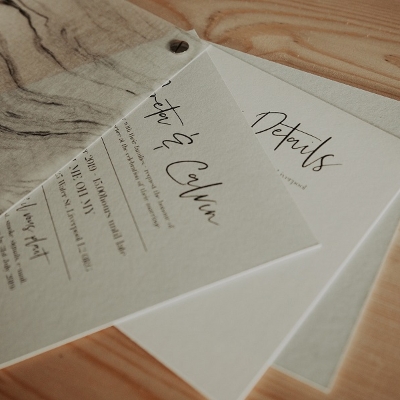 On paper
Q. We're trying to choose our wedding stationery – what styles and designs are set to be popular in 2022? Are there any big trends we should watch out for?
A. Ling Warlow says: 2022 will be an interesting year in terms of wedding stationery and styling! Key trends that emerged early 2020 are still popular, such as the vogue for foliage, especially in the form of laurels, wreaths and watercolour illustrations, but there are also new directions to look out for. My top three trends for this year are minimal styling, dark florals and all things celestial.

Minimal styling invitations use the bare minimum of words, very simple designs focussing on quality card stock and different coloured or textured inserts for information cards. For example, an invitation with a white card and green text; several different greens used on the insert and a contrasting liner for the envelope. This can be enhanced using foil or letterpress for the print – simple, neat and oh-so stylish.

Gorgeous dramatic, dark floral designs involve deep, rich colours against a complementary background. Jewel tones and detailed fonts with interesting swashes and ligatures bringing the text to life. If you know my work, you'll know I have a special interest in anything floral, and I love this style! Florals can be illustrative or photographed, either way, the deeper, darker and richer the colours, the better. This for me is the new bohemian direction.

Lastly, there's a definite trend for all things celestial emerging. Think starry nights, cosmic connections, astrological symbols, the night sky on the day you met – all wonderful ways of creating a fabulously timeless and effortlessly personal design.

There's so much to choose from! I haven't even touched on the trend for colouring, which I personally love – splashes of paint, roughly coloured borders, real fun and great for a DIY stationery vibe. Whatever your palette and carefully chosen theme, this season you're certain to find something that suits.
Ling Warlow, Paper by Dragonfly
www.paperbydragonfly.com