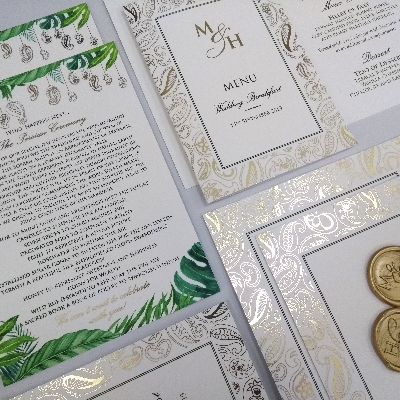 RSVP
Q. What would a full wedding stationery package involve and what timescales should we be working to?
A. Ling Warlow says: Wedding stationery is a very personal thing and is as complicated or simple as you make it. Although, it probably shouldn't be too taxing! Most important is to think about the information your guests need to know: where and when, local accommodation, a note about gifts, and so on. There are all sorts of additional details you can include too such as menus, a timeline, RSVP card, maps, and song requests. It's always advisable to order a few additional invitations just in case you need to send out a second wave, or you find you've missed someone out.

Save-the-date cards are growing in popularity. They're particularly useful for weekday weddings, bank holidays, or peak vacation periods. You should opt to send these out a year ahead, followed by the invitations three to four months before the wedding.

The next steps are: stationery for your ceremony, the wedding breakfast, and to say "thank you." For a church wedding, an order of service is a must – either one per guest, or one per couple. Then we come to the wedding breakfast. You'll need a seating plan and place cards, plus signs to help guests find their tables. You may also choose to have menus, a guest book and further signage. If your guests have pre-ordered their menu choices, it's a good idea to remind them of what they have chosen, either by providing menus, or putting their choices on the back of the place cards. Finally, there's the "thank you" cards. If you'd like them to match, consider ordering along with your other items.

Do give yourself enough time to get things right. A professional designer will need two to three months notice. Be sure to ask for samples of card stocks to manage expectations, and proof read everything before printing. Twice!
Ling Warlow
www.dragonflycouturestationery.com