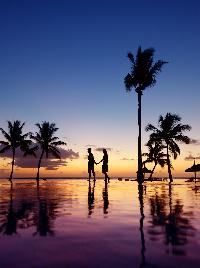 Wanderlust
Q. We're getting married in October and we'd love to go on honeymoon straight afterwards. Where is best to go at that time of year?
A. Sarah Roberts says: During the first part of October you can expect great weather across the whole of Europe. Cooler and less crowded than the summer, you'll be able to snag great rates even at some of the most prestigious beach resorts. Alternatively, why not opt for a more active, cultural break combining several cities across Spain and Italy?

Later in the month, you'd need to look a little further south for traditional beach weather, casting your net as far as the Canary Islands, Crete and Cyprus. However, try to avoid October half term in these destinations when prices rise with the influx of family travellers.

Mid-haul beach destinations like Cape Verde and Dubai both average 28 degrees during October, but they're polar opposites. Traditional, low-rise resorts infused with a mix of colonial cultures versus a destination at the height of development with sophisticated hotels and attractions.

If it just has to be long haul, the Indian Ocean – encompassing the Maldives, Seychelles and Mauritius – offers the ultimate in laid-back luxury retreats aimed specifically at couples. While parts of Asia and South Africa, with their wealth of culture, nature and landscapes, can satiate your more adventurous side.
Sarah Roberts
www.travelcounsellors.co.uk/sarah.roberts