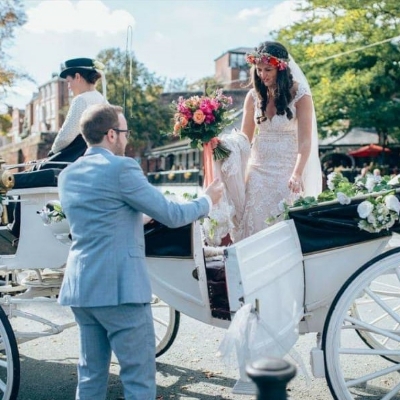 Your chariot awaits
Q. I've always dreamed of travelling to my wedding in a horse-drawn carriage. What do I need to know before booking one?
A. Sarah Ashford says: Indeed, love and marriage go together like horse and carriage! Many have dreamt of the perfect wedding complete with the most romantic of arrivals. So, when looking to make these childhood fantasies a reality, there are several factors to consider.

First, is the distance and time it will take to get to your venue. Horses travel at seven miles per hour over a maximum distance of eight miles. If you're only going a short way, enquire about additional journeys for bridesmaids, mother-of-the-bride, mother-of-the-groom etc and explore the ways you can make the day uniquely yours.

The British weather likes to keep us all guessing, so it really is essential to choose a carriage with a fitted hood. You'll also want to select a company that fully dresses their vehicles and offers to elegantly tie this in with your colour palette at no extra charge.

It's so important too to choose a supplier who's passionate about the welfare, care and training of the horses, with a commitment to excellence, a friendly nature and attention to detail. Look for recommendations or ask on wedding-related social media groups.
Sarah Ashford, Ashcroft Carriages
www.ashcroftcarriages.co.uk