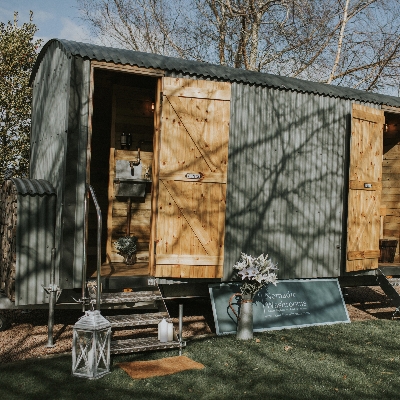 Providing every comfort
Q. Kate owns Welshpool-based company Nomadic Washrooms, with husband Stu, specialising in the hire of luxury shepherd hut toilet trailers.
A. Kate Richards says: Don't forget to hire toilets for an outdoor wedding – they're very important! We know they're often a second thought, but try not to scrimp. No one wants dingy-looking porta loos outside their beautiful marquee, and your guests certainly won't thank you. Putting that extra bit of budget into beautifully-designed shepherd hut toilets will be well worth it. Here are a few things to think about.

- Be accurate with the number of guests attending your wedding when getting a quote from your loo supplier. The last thing you want are overflows due to underestimating use – ew!

- Location is key. They should be close enough to the reception that guests can access them quickly, but not too close so that they're blocking emergency exits or catering alleyways.

- Bathroom emergency kits are a necessity. They should be packed with first aid items, toiletries and sanitary products – a thoughtful gesture your guests will love.

- Add that extra wow factor to your toilets. If ever there was such a thing as a pretty loo, this is it. We've gone that extra mile to include a hire package of external flowers (internal arrangements are already included). We can also arrange décor to match your theme. Or why not go all out and add a helpful and attentive toilet attendant to keep the loos smelling and looking fresh and sparkly all day, and night.

- If you have a weekend festival wedding in the pipeline, you'll need toilets for the two days as well as showers for your glampers.
Kate Richards, Nomadic Washrooms
www.nomadicwashrooms.co.uk