Ask the experts
Here is a selection of Q&As from Your Cheshire & Merseyside Wedding magazine. If you would like your question answered by our experts, please email it to editor@yourcheshiremerseyside.wedding.
To view more Q&A's on a different topic, please select one from the list below.
Hot topic: Wedding dilemmas
Our experts solve your wedding dilemmas
---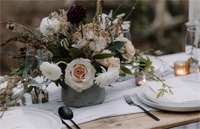 Style your day
Q. We're having an al fresco wedding ceremony in September but I don't know where to begin with styling. What are the latest trends that will work outside?
A. Louise Hughes says: As high-summer starts to fade, September is the perfect time for a fresh take on an outdoor wedding. I'd recommend a theme that's inspired by nature and simple Scandi living, creating a sense of oneness with the wild. Embrace natural imperfections for a calm, undone quality – think dripping candles, casually laid linens and twiggy floral arrangements. Avoid the zing of Pantone's popular Greenery shade for this look and instead opt for its complementary palette, Forest Floor. Consisting of grey greens, woody browns, and mauves use metallic bronze and pewter in moderation to really give this a lift.

Go big on blooms with abundant foliage and loose, unstructured arrangements trailing off tables and draping from ceilings. Choose materials that look like they've been foraged from hedgerows or swept from a woodland floor like dried seedheads, fragrant herbs and autumnal fruit.

Try installing a hanging canopy above the dining tables or dancefloor, fill the space with large collections of pillar candles to give a warm glow and create a beautiful, natural ambience.
---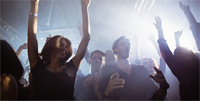 Crowd pleasers
Q. My fiancé and I are big music fans. We're considering a DJ for the evening party so we don't have to worry about our own playlists but how do we avoid typical 'cheesy' wedding music?
A. Jack James says: We'd always recommend a DJ over a playlist. While you may have impeccable music taste, a credible DJ will be able to read your crowd and respond to them, adding energy to the dancefloor when needed. It's also a good idea to opt for a DJ because they'll have enough sound from their PA system to really get the party rocking! I went to a wedding last year where the couple compiled their own playlist, by 10.30pm the little amp they were using had blown and they had no music!

Picking your DJ wisely and giving them a good brief is the key to avoiding 'cheesy' wedding tunes and don't be afraid to ask for mixes or references. Make a list of songs you each love to dance to when you're out with your friends, chances are this will get your pals up partying and soon enough the older crowd will join in when they see how much fun they're having! Focus in on your favourite genres too, your DJ will know how to weave older tracks in to current hits, for example, classic funk like Prince works really well with Bruno Mars tracks and will keep all ages happy. Another tip is to avoid using words like 'chart' or 'pop' music as this could give your DJ too much scope to play cringeworthy novelty hits like Agadoo!
---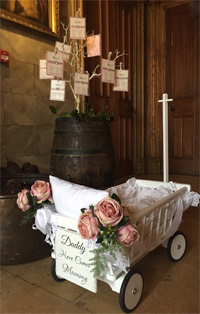 Holding the baby
Q. My partner and I have a baby girl and want to involve her in our day as much as possible but don't know how we can do this without it becoming a burden on our bridesmaids?
A. Collette Bourke says: My husband and I had the same dilemma at our wedding because it was so important for us to include our 10-month-old daughter in our day. We wanted her to look back on our photographs for years to come knowing she had a role in our special day and that's when we hit upon the idea of the Baby Wedding Carriage. We made one up for our nuptials and after the overwhelmingly positive feedback we received we decided to share it with other mums and dads.

We know it's important to match style with practicality and safety so the hire includes a cushion, mattress and satin cover as well as a safety strap. There's also the option to personalise it further with the addition of ribbons, flowers and a custom sign on the back. It really sets the scene when the bridesmaid pulls the baby down the aisle and photographers absolutely love it!

The little one loves the ride and there's room for toys inside to keep them occupied during the ceremony. Your bridesmaids and groomsmen will be happy because it's not left to them to hold the baby and you can keep the pram at home.
---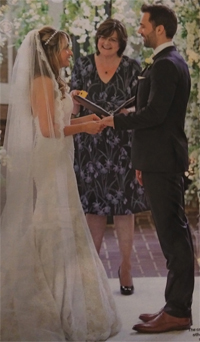 Pen to paper
Q. We really want to write our own personal vows but we don't know where to start! Where do we go for help?
A. Sue Williamson says: Lots of couples come to me looking for help writing their own vows. It often seems like a great idea to begin with but it soon turns in to a daunting task when you're faced with a blank piece of paper on which to tell the world about your love.

Don't be afraid to reach out for help. A wedding celebrant is your go-to expert to guide you through penning the right words. They'll be creative and have conducted many other ceremonies to draw inspiration from. If you've already booked a celebrant then they will get to know you through the course of your meetings so are well equipped to offer help, or you could always hand over the responsibility of writing to them!
---
Contact our experts...
Louise Hughes
Event stylist
---